White House preps paperwork for Nevada national monument, and opponents decry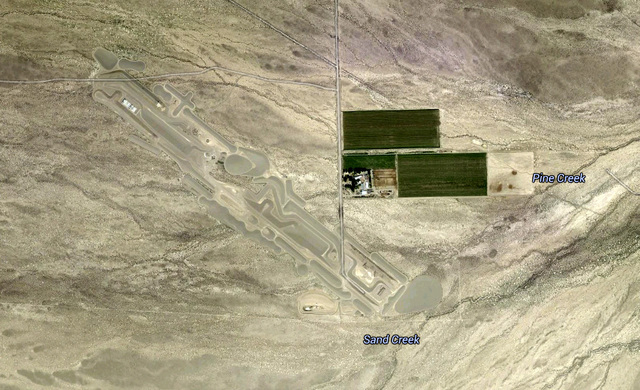 WASHINGTON — The White House has prepared paperwork for President Barack Obama's signature declaring 704,000 acres in central Nevada as the nation's newest national monument, according to documents released Thursday by Rep. Cresent Hardy, R-Nev.
A draft proclamation establishes a "Basin and Range National Monument," encompassing parts of Lincoln and Nye counties, an area that conservationists have touted as containing some of the most compelling desert valleys and rugged mountain ranges in the nation.
The area generally tracks the region designated for federal protection in legislation introduced last year by Sen. Harry Reid, D-Nev., and this year again by Reid and Rep. Dina Titus, D-Nev. The proposal consists of Garden Valley and Coal Valley separated by the Golden Gate Range and also includes a portion of Seaman Range to the east.
Within the area that would be withdrawn from mining and energy leasing is land surrounding "City," a monumental earthen artwork being completed by sculptor Michael Heizer.
The designation would allow for the use of existing roads for the public to access the site, and authorize activities to manage it.
In all, the proposal encompasses 1,100 square miles.
Last fall, Congress created the Tule Springs Fossil Beds National Monument in northern Clark County. But Obama appears poised to create a second one in Nevada under authority granted the president by the 1906 Antiquities Act — a move that would instantly become controversial in the state and on Capitol Hill.
Leaders in the two local counties have said they do not favor it. And Republicans in Congress have introduced legislation to block Obama from creating national monuments in Nevada and elsewhere in the West without approval from Congress.
Hardy said the proposed monument area is underneath the airspace of the Nellis Test and Training Range utilized by the Air Force for its Red Flag exercises and other missions.
"I am appalled and deeply concerned about the national security implications of President Obama's politically motivated effort to permanently tie up more than 700,000 acres of land, most of which is under one of the most heavily used Military Operating Areas in the United States, and all of which is in Nevada's 4th Congressional District," Hardy said in a statement.
Reid spokeswoman Kristen Orthman said Hardy was spreading "mis­information" about the proposal. A clause in the draft proclamation states the monument designation would not preclude the use of military flight training routes, or designation of new units of special use airspace.
"Congressman Hardy is getting a little bit ahead of himself," Orthman said. "We will not allow those who have no interest in the protection of the Basin and Range area to demagogue it with a mis­information campaign built heavy on partisan rhetoric but short on actual facts."
An administration official said the White House works closely with the Department of Defense to protect national security interests in land designations "as has historically always been the case."
"Sen. Reid believes this area deserves protection — that is why he introduced legislation to do so in 2014," Orthman said. "But in lieu of legislation, Sen. Reid fully supports President Obama if he decides to designate this area, which he has the legal authority to do so."
Titus spokesman Caitlin Teare similarly said the Las Vegas congress­woman "supports the president's use of his authority to designate a national monument to protect the public space and art in this important region for future generations."
The six-page document released by Hardy is undated and labeled as a draft. Declining to say where Hardy got it, his spokesman Scott Knuteson said the congress­man has established it was being circulated among federal agencies for comment within the past week.
Sources familiar with the federal bureaucracy said it could be difficult to say how long such a proposal could be tied up in the interagency process or when ultimately it could be presented to Obama for his signature.
"The Basin and Range" refers generally to the area between the Sierra Nevada Mountains in eastern California and the Colorado Plateau region where the corners of Colorado, Utah, Arizona and New Mexico join.
Its topography, built by shifts in the Earth over eons, is characterized by narrow mountain chains alternating with flat arid valleys, or basins.
"The Basin and Range area of southeastern Nevada is an iconic American landscape," according to the draft proclamation that also calls it "one of the most undisturbed corners of the broader Great Basin region."
The region "is one of the most scenic, most unspoiled landscapes," said Brian O'Donnell, executive director of the Conservation Lands Foundation. "It has an abundance of cultural resources, petroglyphs, native American sites. It has important wildlife habitats for a number of sensitive species. It is incredibly worthy of conservation."
But Nye County Commissioner Lorinda Wichman called the proposal "overkill" and said any additional wilderness designations in the county "are going to be met with complaints."
"I do get just a bit appalled at the lack of communication and the bull-in-a-china-shop approach to the actions of this administration," Wichman said.
"Nye County is larger than Switzerland and within Nye's 18,000-plus square miles we are able to generate ad valorum taxes on less than 3 percent of the land mass," Wichman said. "Each time there is more land withdrawn from Nye County for special designations the residents of Nye County lose potential opportunities to fund future services."
In January, Sen. Dean Heller, R-Nev., introduced a bill that would prohibit the designation of national monument land in Nevada "except by express authorization of Congress."
Hardy and Reps. Mark Amodei and Joe Heck, both R-Nev., sponsored a similar House bill.
"Currently, with a quick stroke of the pen, the executive branch can lock up millions of acres of public land without consulting the public or their representation in Congress," Heller said at the time. "This legislation ensures Congress and local officials are not bypassed by the executive branch when it comes to proposed national monuments in Nevada."
The Antiquities Act defines national monuments as protected areas such as "historic landmarks, historic and prehistoric structures, and other objects of historic or scientific interest."
Obama has designated eight monuments by proclamation. The most recent was the San Gabriel Mountains National Monument in Southern California designated last year.
The most controversial was the May 2014 designation of 500,000 acres in the Organ Mountain-Desert Peaks region of southern New Mexico.
The decision generating the most controversy in recent years was when President Bill Clinton in 1996 created the 1.8-million-acre Grand Staircase Escalante National Monument in southern Utah with only 24 hours advance notice to the governor and the congressional delegation of the Republican state.
Contact Steve Tetreault at stetreault@reviewjournal.com or 202-783-1760. Find him on Twitter: @STetreaultDC