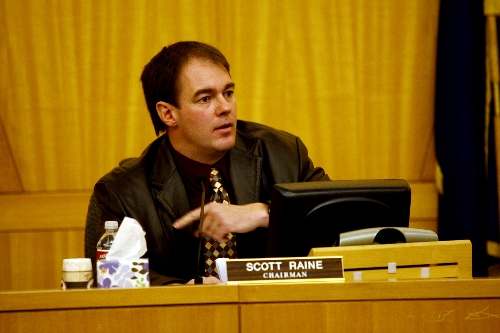 Nevada wildlife commissioners on Friday put off challenging Gov. Brian Sandoval's executive order for a yearlong freeze on all proposed regulations.
Instead, they decided to ask Sandoval to meet and discuss their concerns about a pending plan to change wording in an application for money from the $5 million Wildlife Heritage Trust Account. Late Friday, a Sandoval spokeswoman said the governor would be happy to talk.
Sandoval's general counsel, Lucas Foletta, had warned Board of Wildlife Commissioners Chairman Scott Raine that the governor considers action on the proposed changes a violation of his order that "could result in appropriate action, including the removal of any board member who votes on the item for 'just cause.' "
Sandoval's Jan. 3 freeze order prohibits oversight boards from altering regulations that aren't vital to public health and welfare and could affect the state's economy. Exceptions are allowed, and Wildlife Commissioner Gerald Lent said he thinks cleaning up the trust account application should qualify. It deals with the board's powers, functions and duties essential to Department of Wildlife operations.
"It's a cleanup regulation that's needed. It's not a new regulation," he said.
The board voted 6-0 to table the proposed changes, with Michael McBeath and Grant Wallace abstaining. Raine said he votes only to break ties. A motion by Lent to send Raine and Commissioner Daryl Cappuro to see the governor was approved 6-0 with McBeath and Wallace abstaining.
In public comments, Paul Dixon said he prefers no changes to the Heritage Trust application because existing language ensures proof of how the funds are spent.
In the current state fiscal year, 14 projects totaling $447,318 are funded through the account. They range from big-game captures and transplants to protection of mule deer in the Jackson Mountains, management of sage grouse nesting areas and use of radio-telemetry collars to track cougars.
The account, authorized by Nevada law, has accumulated $5 million since it was established in 1998. Money in the account is generated through auctions of big-game tags, Partnership in Wildlife tag drawings and gifts from citizens.
Contact reporter Keith Rogers at krogers@reviewjournal.com or 702-383-0308.