Will millionaire find reality show match?
February 18, 2013 - 2:03 am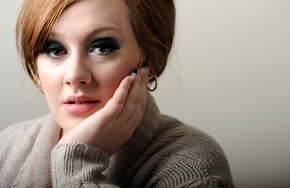 Las Vegas people say the craziest things on TV. On Tuesday's "Millionaire Matchmaker," local millionaire Aimee Elizabeth tries to find a mate by saying these things:
She is sexually wild in bed, but she doesn't want to be touched at all on a first date — even if she dirty dances.
"Dancing is my favorite hobby," Elizabeth says. "I call it 'the stripper strut.' If you become my boyfriend, you become my pole."
She is poetic about this dancing business: "If you don't like to dance, you won't be getting in my pants."
And yet, her "stripper slut" move doesn't involve touching.
"I'll dance very sexy — but there's a good 3 feet between us."
Elizabeth says she's 49, has been married twice; her net worth is more than $4 million; she owns 24 houses; she lives in northwest Vegas; and she wrote a book called "Poverty Sucks!"
"I don't know where to find quality people, and Vegas seems to have a plethora of losers," Elizabeth says.
I watched a review copy of the Bravo episode, but I won't spoil the ending.
ADELE VEGAS RESIDENCY?
Adele wants a regular Vegas gig, according to journalist James Ingham of the Daily Star (a London newspaper that enjoys publishing photos of topless women).
Ingham quoted an anonymous source saying Adele could come here to settle with her family and cut songs; while Elton John is telling her Vegas could help her overcome stage fright.
How would performing for tourists in dry Vegas, home of "Vegas throat," help a singer overcome stage fright? I ask that earnestly.
MAKING BIKINIS ISN'T EASY
For the third year in a row, Vegas designer Cat Thordarson made a bikini for the Sports Illustrated swimsuit issue. Getting a bikini in SI is big, but it doesn't guarantee mad money.
Last year, Thordarson worked at Cartier and Peter Lik retailers to make ends meet.
"This is the first February I haven't worked for somebody else," Thordarson tells me.
In 2000, the Montana native wrapped up art college in Belfast, Ireland, where she designed bright lingerie that could be worn at raves and festivals.
Years later, Thordarson opened a boutique in Missoula, Mont. , then talked her way into a meeting at Sports Illustrated.
"Once I was in the meeting, it was super scary," she says. "If it hadn't been for all my years of selling jewelry and being in high-pressure sales environments, I probably could have buckled under the pressure."
She and her supportive husband, Gari Arevalo, moved to Vegas to minimize bills.
"I do absolutely everything myself. I even did my last photo shoot. I took all the photos myself," she says.
"If even one boutique bought one style of mine, that would keep me busy."
Her green sequin bikini in Sports Illustrated (worn by model Adaora) is a Vegas-y suit, a convertible rectangle top. You can see it at MilkBabyBikini.com.
The SI swimsuit issue also features swimwear by Henderson designer Kate Swim (KateSwim.com). Last year, model Kate Upton wore a Kate Swim design on SI's cover.
'AMERICAN IDOL' IS STILL ON TV
"American Idol" will be filming on the "Love" stage Tuesday (to air Wednesday) and Wednesday (to air Thursday); again Feb. 26-27 (to air Feb. 27-28); then a live show March 5, and another show March 6.
BIRTHDAY boy
Happy birthday to me today. Feel free to gift me a million dollars, or tweet me a virtual million at @VegasAnonymous.
Doug Elfman's column appears Mondays, Tuesdays, Thursdays and Saturdays. He also writes for Neon on Fridays. Email him at delfman@reviewjournal.com. He blogs at reviewjournal.com/elfman.