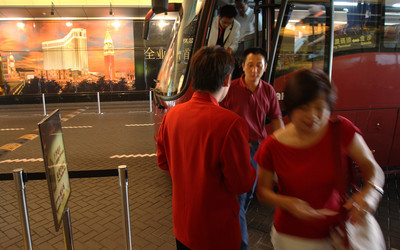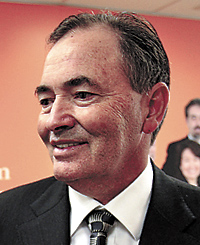 MACAU — The booming casino industry is taxing Macau's infrastructure. How to move potential customers from the peninsula to the Cotai Strip and back concerns gaming operators.
"Getting people to Macau is not a problem," said MGM Mirage International CEO Bob Moon. "It's getting them around once they are here that is the issue."
Macau has about 750 taxicabs, and the hotel-casinos operate their own fleets of private cars. Still, with new hotel-casino construction planned through the end of the decade, Macau's infrastructure is being stretched.
"This is a city of 500,000 people, and the development here in the last five-to-seven years has been remarkable," said Wynn Macau President Ian Michael Coughlin. "The level of infrastructure development that everybody would like to happen automatically doesn't in any city of the world."
Typically, visitors to Macau arrive one of two ways.
From mainland China, casino tour buses transport customers from one of two border-gate crossings.
Most visitors travel for an hour from Hong Kong by high-speed hydrofoil ferry boats. The ferries and the ferry terminal are operated by Chinese billionaire Stanley Ho's Shun Tak Holdings. Ho operates 18 Macau casinos.
Las Vegas Sands Corp. built a second ferry terminal, which opened last week on Taipa near the under-used Macau International Airport. The company will operate almost two dozen ferries that will run between the terminal and Hong Kong. Sands operates two Macau casinos and is building 11 resorts on the developing Cotai Strip.
"There is no question that infrastructure is a concern," said Mark Brown, president of the Sands Macau and Venetian Macau. "That's why we're doing a lot of things on our own. All the things that are being brought up and talked about help everyone."
Other infrastructure projects are on the horizon:
• A light rail system that would connect the Macau Ferry Terminal with the area housing Wynn Macau, Lisboa, StarWorld and the MGM Grand Macau, could be in place by 2009.
• A foot tunnel between Macau and the mainland China region of Zhuhai is pending government approval but has a target date of 2010.
• The most ambitious project on the charts is an 18-mile bridge across the South China Sea that would connect Hong Kong with Macau and Zhuhai.
The bridge has a possible completion date of 2011, and it would allow travelers to take a 30-minute trip by car between Hong Kong and Macau.
"Certainly, there is a lot more to come, such as making better use of the Macau airport with flights from various parts of Asia and China," said Deutsche Bank gaming analyst Bill Lerner.
Crown Macau CEO Greg Hawkins said that resolving the infrastructure issue is the most critical matter facing Macau.
"The demands on Cotai alone are a particular concern," Hawkins said. "We're adding about 150,000 customers a day on top of the current requirement. There are issues when you think about moving that number of people through the current infrastructure mechanism."
Coughlin is confident infrastructure issues will be resolved.
"I believe (infrastructure) is keeping as much a pace as possible," Coughlin said. "There are challenges and, in fairness to the authorities, they are looking to engage with business. We want to be part of the solution."
Moon said the good news is that the Macau government realizes the issues.
"When people get here, the infrastructure to get people around will be lagging behind the development for a couple of years," Moon said. "I think the government is doing all they can to help, but it's rapid growth."
MacauLas Vegas, Half a World AwayIn Depth Package