Workforce Connections offers layoff aversion advice
January 13, 2013 - 2:05 am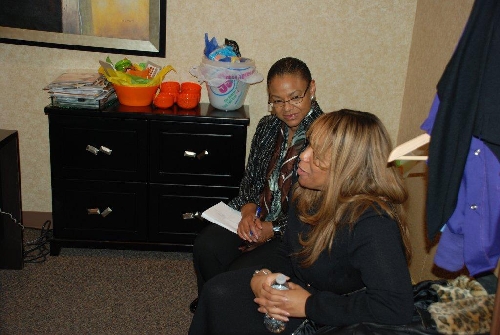 Nationally, businesses are struggling with an increasing number of factors that affect the bottom line. These factors include increased competition, overseas production and technological and global economic change – all of which contribute to a crisis situation that can lead to serious operational and financial challenges. Locally, businesses in Southern Nevada are dealing not only with these factors, but also local issues that result in business challenges worse than any place else in America.
Enter the Layoff Aversion Business Services department of Workforce Connections. The focus is to help Southern Nevada small businesses that are at-risk of laying off employees and/or business interruption through turnaround assistance. The department team includes Janice Greer, business services manager, and Kenadie Cobbin-Richardson, business services representative. No matter what type of obstacle a company is experiencing, Workforce Connections' comprehensive consulting services address the individual needs of each client.
"My process is to first perform a comprehensive assessment of the business and the goals and aspirations of the business owner," Cobbin-Richardson said. "With that information, I am able to deploy a team of highly professional resource partners who are committed to finding strategic alternatives to complex business problems. Together, we have a fresh perspective and an ability to see opportunities and challenges to help companies restore viability, enhance enterprise value and optimize their competitive edge."  
For Drs. Mark and Inga Degen, meeting Cobbin-Richardson came just in the nick of time. She specializes in health care, and it is one of the business sectors that Nevada Gov. Brian Sandoval supports in the state's attempt to diversify its economy. Cobbin-Richardson was excited to take on the challenge. 
The Degens moved to Southern Nevada in 2003 and established the Red Rock Oral & Maxillofacial Surgery Centre. At that time, Las Vegas was the fastest-growing city in the country and businesses were experiencing phenomenal growth. Nevada's population grew by more than 700,000 people over the past decade, and 500,000 of them settled in Southern Nevada. In the U.S. Census Bureau Brief, "Population Distribution and Change: 2000 to 2010," Nevada boasted the greatest population growth in the nation from 2000 to 2010 at 35.1 percent.
Then the bottom fell out. Once hit by the recession in 2007, Nevada's economy took a nosedive. According to the Brookings Report "Unify Regionalize Diversify: An Economic Development Agenda for Nevada," Nevada ranked among the bottom four states in the nation over the past few years relative to economic growth. Nevada has fared significantly worse than most other states in terms of job losses, unemployment and real estate struggles.
The recession, in short, exposed a local economy that was dangerously out of balance. How? Nevada's economy is heavily dominated by consumption-oriented industries, which are heavily influenced by consumer spending patterns and disposable income. Therefore, the economy is disproportionately affected by swings in the business cycle.
Nevada's three largest consumption industries – construction and real estate, tourism and gaming, and retail – account for 46.9 percent of all jobs in the state, compared with less than 33 percent of all jobs nationally. Ultimately, these industries accounted for 83 percent of the state's job losses from 2007-2011. This was not good news for the Degens.
The Degens' patients no longer had insurance to pay for necessary medical procedures such as dental implants and extractions for impacted wisdom teeth. Patients, moreover, were certainly not able to consider elective procedures such as microdermabrasion, Botox or Juvederm.
As both a medical doctor and doctor of dental surgery, Mark Degen was able to offer his patients the most advanced medical and surgical techniques as well as the latest technology to ensure the highest quality care. But no one could pay for his expertise or technology. For the Degens, employee layoffs were imminent and practice closure a possibility if something did not change.  
Unfortunately, most independent medical practices are facing these same challenges.
"Across the nation, doctors list shrinking insurance reimbursements, changing regulations, rising business and drug costs among the factors preventing them from keeping their practices afloat," Cobbin-Richardson said. "On average, there's a 10 to 15 percent profit leak in a private practice. Much of that is tied to money owed to the practice by patients or insurers."
The Degens' problems were not simple as they represented the complex business challenges of compounding factors: the national recession, Southern Nevada's record breaking unemployment and the inherent challenges of the business of health care.
After assessing the business and Mark Degen's aspirations, Cobbin-Richardson deployed Workforce Connections' resource partner, Tina Drago, to take the case.
Drago's resume includes consulting with the Pentagon and the Defense Department. She has more than 20 years of domestic and international experience with both commercial and government entities.  Her forté is the strategic positioning and management of products and/or services through marketing and operation efficiency models where return on investment is emphasized.
For the Mark Degen, Drago's primary objective was to effectively grow the business through strategic marketing, operational controls and overall business development.  
Cobbin-Richardson and her team of resource partners, take each Workforce Connections client through six defined consulting stages. Mark Degen went through these stages, and Cobbin-Richardson shares the process in an effort to support others who have found their business in a similar situation.
1) Assessment/diagnosis: For a medical practice, this stage includes an assessment of business operations, financial management, human resource management, information management, organizational governance, patient care systems, quality management and risk management.
With this assessment complete, consultants were able to identify three major areas of need for Red Rock Oral & Maxillofacial Surgery Center: financial management, including alternate financing options for patients; human resource management; and marketing recent office-based surgery accreditation by the Accreditation Association for Ambulatory Health Care.
2) Feedback/decision to act: For business owners and for doctors particularly, this is the most difficult stage. Doctors are skeptical about anyone being able to really impact their business in a positive way.
In hindsight, Mark Degen agrees that it wasn't easy to get him to open up. When asked what he would tell other business owners, he said, "Don't be afraid. I am in a completely different place than I was a year ago. It was necessary for me to open up my mind and my business to get the help I needed."  
3) Implementation: With Mark Degen's permission and assistance, Drago was able to implement the plan. Drago introduced five different medical finance companies for evaluation; reviewed cash flow management options that would complement Degen's current accounting software; and wrote a customized marketing plan that included digital, traditional and public relations components.
Next, Drago needed to evaluate the staff and its treatment plan process. The outcome of the evaluation called for new employee performance models and office efficiency procedures that met Degen's needs. The staff also needed to be cross-trained in three distinct areas: surgical, consultations and administration.
4) Evaluation: With the new office protocol, the day-to-day operations were more effective and efficient.
With the new financing options, Mark Degen was able to significantly increase the number of procedures per week, as patients were able to obtain financing regardless of their credit score.
5) Continuation/progress monitoring: Over the next several months, Drago monitored the office progress and made small adjustments.
According to Mark Degen, "Since initiating Workforce Connections' Layoff Aversion program in May 2012, Red Rock has recognized a 10 percent annual increase over last year's numbers within six months; retained three employees for whom employment was at risk; and added an additional three employees as of December 2012 – a 100 percent increase in staff. Overall Red Rock has been able to right our business and grow with the assistance of the Workforce Connections 'Dream Team' of consultants."
6) Completion/termination: After working with Red Rock Oral & Maxillofacial Surgery Centre for six months, the case was closed and Mark Degen was well-equipped to manage his growing practice. Red Rock Oral & Maxillofacial Surgery Centre is located at 4730 S. Fort Apache Road. 
Workforce Connections' Layoff Aversion Business Services department employs a team of professionals to guide companies in implementing processes and systems to keep the businesses performance focused, strategically-aligned and results-driven. The objective is to make business plan execution a manageable task for companies at any stage of their business life cycle.  
Workforce Connections is located at 7251 W. Lake Mead Blvd. For more information visit the website at www.nvworkforceconnections.org or contact a member of the staff at 702-638-8750.