Wynn, Clooney exchange barbs over heated dinner conversation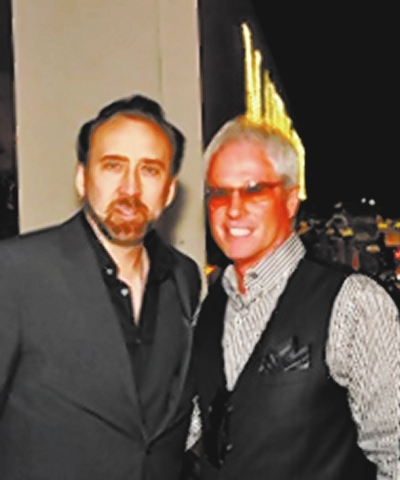 Hotel-casino developer Steve Wynn and actor George Clooney offered vastly different accounts Tuesday of a dinner that ended in verbal fireworks.
Wynn said Clooney "got drunk" from downing tequila shots and stormed off after delivering an F-bomb.
The two-time Oscar winner issued the following statement in an email sent through his publicist: "There were nine people at that table … so you can ask them. … Steve likes to go on rants.
"He called the president an asshole … that is a fact … I said the President was my longtime friend and then he said 'your friend is an asshole.' … At that point I told Steve that HE was an asshole and I wasn't going to sit at his table while he was being such a jackass.
"And I walked out. There were obviously quite a few more adjectives and adverbs used by both of us. Those are all the facts. It had nothing to do with politics and everything to do with character."
The incident occurred two weeks ago at Botero restaurant, inside Wynn's Encore hotel.
Clooney was in Las Vegas to promote his Casamigos tequila during the Wine &Spirits Wholesalers of America convention.
Clooney and his Casamigos business partners Rande Gerber and Michael Meldman had joined Wynn and a group that included Wynn's wife, Andrea Hissom, Larry Ruvo, founder of Southern Wine &Spirits, and two executives with celebrity powerhouse Creative Artists Agency.
Dinner had ended, and "the place was empty," Wynn said.
Clooney took exception, Wynn said, when one of the CAA execs told a joke about former Soviet Union President Mikhail Gorbachev.
"He stood up and threw a hissy fit" at the CAA guy, Wynn said in a telephone interview, his first comments on the dust-up.
"Then he sat down and started talking about the Affordable Care Act, and that's when I spoke up," said Wynn, a frequent critic of Obamacare. "He didn't like that either. I think my discussion about the Affordable Care Act was the straw that broke the camel's back.
"When he's drinking, he considers himself a close personal buddy of the president.
"He got up and said, 'I don't have to listen to this (expletive) stuff. The only person who got excited at the table was George, and he ran off to another bar."
Clooney's partners were "mortified," Wynn said.
"Clooney's fun to be with when he's sober," Wynn added. "If you have a chance to drink with him, you want to get there early, and don't stay late.
"Everybody who's in my business, the casino business, knows to take actors with a grain of salt."
LEAVING LAS VEGAS
Friends of LJ Harness are gathering Thursday for a farewell party at the Siena Italian Authenic Trattoria and Deli.
Harness is moving back to Sarasota, Fla., with girlfriend Tiffani Foote after five years in Las Vegas as marketing and promotions director for Cadillac of Las Vegas.
The event, which begins at 7:30 p.m., features Kent Foote and the Vegas Good Fellas jazz band, with Harness sitting in on the drums.
Harness will be saluted for his impact in the community as a prolific fundraiser for the Wounded Warriors Project, the Marine Corps' Toys for Tots Foundation, Opportunity Village and Nevada Society for the Prevention of Cruelty to Animals, as well as his efforts in founding The Vegas Underground, a weekly jam session for local musicians.
My favorite Harness story: Two years ago, Harness brought Nicolas Cage to the SPCA's annual fundraiser at Spanish Trail Country Club. Cage addressed the group and donated film memorabilia to the SPCA event.
The most prized donation was a rare poster for "Leaving Las Vegas," the 1995 film that Cage won a Best Actor Oscar for.
Harness' then-81-year-old mother, bidding by telephone from Sarasota, won the poster, which was signed by Cage, co-star Elisabeth Shue and director Mike Figgis. Cage later added a personal note to the poster.
SIGHTINGS
Luxor headliners Jabbawockeez, performing on stage at Coachella with Pharrell Williams, who danced with the former winners of "America's Best Dance Crew." … Actor and comedian Jim Belushi, getting a tour Saturday of Guy Fieri's Vegas Kitchen &Bar at the Quad.
THE PUNCH LINE
"This weekend over 37,000 people went to Denver to participate in the fourth annual Cannabis Cup. And they all made memories that would last a few minutes." — Seth Meyers
Norm Clarke's column appears Sunday, Monday, Wednesday and Friday. He can be reached at 702-383-0244 or email him at norm@reviewjournal.com. Find more online at normclarke.com. Follow Norm on Twitter @Norm_Clarke.