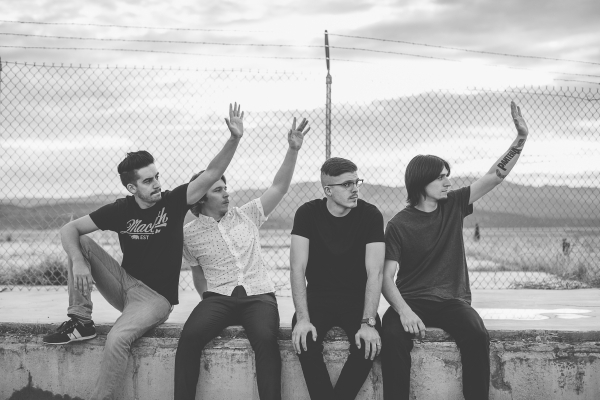 Editor's note: Vegas Voices is a weekly question-and-answer series featuring notable Las Vegans.
By day, Jered Jones produces the "Dave, Mahoney & DK Morning Show" on KXTE, 107.5-FM. At night — well, weekend nights, anyway — he's the frontman of a local power pop quartet called the Offset Season. In advance of the outfit's album-release party Aug. 11 at Vinyl at the Hard Rock Hotel, we spoke with the Las Vegas native about what he loves about this town and misconceptions about being from here, along with balancing the seemingly incongruous aspects of his job and being an aspiring musician.
Review-Journal: What do you love about Las Vegas?
Jered Jones: I like how Las Vegas is perceived as such a "how-can-you-grow-up-there" town, and yet, it's such a small town. Everybody knows everyone.
RJ: Along those same lines, what do you think are some misconceptions about Vegas?
Jones: No, we don't all live on the Strip. The lifestyle of Vegas isn't what the lifestyle of Vegas is perceived as. There's a lot more community than people think, especially in time of need. Whenever the people of Las Vegas need to stand up, they do.
RJ: What do think pop culture gets wrong about Las Vegas when they portray it in movies or television?
Jones: They make it seem like — especially "C.S.I.," the biggest show that was probably about Las Vegas: First of all, there are nowhere near as many creepy ass crimes like that.
RJ: What goes into being a producer?
Jones: When it comes to radio producers, it's all behind-the-scenes stuff. Anything that needs to get done behind the scenes, you're kind of like the guy behind the curtain. You're not really the one for the spotlight. You do everything for the team.
RJ: What have been some of the challenges?
Jones: Waking up that early every day.
RJ: What time do you have to go to bed?
Jones: I go to bed about 8 o'clock every single night and get up at 3:30.
RJ: That makes being a musician kind of hard, I imagine?
Jones: Yeah, it's difficult on the weekdays, but you know, that's what weekends are for.
RJ: Part of your job is lining up guests for the morning show. What have been some memorable guests that you've lined up?
Jones: Just recently, Chris Hansen, from "To Catch a Predator." We were talking about him one day on the morning show and I just casually sent out the most nonchalant tweet of all time. I was like "@ChrisHansen, want to hop on the Dave, Mahoney & DK Morning Show and talk about your new show? And he said, '€˜Sure,' and immediately, 20 minutes later, I got an email from his PR person, and he was lined up for the next week.
RJ: Who have you gone after that you haven't been able to land?
Jones: I haven't been able to get Nicolas Cage. There's a passion for Nicolas Cage among every single member of the show. And even though he lives in Las Vegas — I even know the girl who baby-sits his kids — it's still impossible to get the man on the show. Every single time I try to talk to somebody, they're like, "Oh, he's out of the country."
Read more from Dave Herrera at bestoflasvegas.com. Contact him at dherrera@reviewjournal.com.