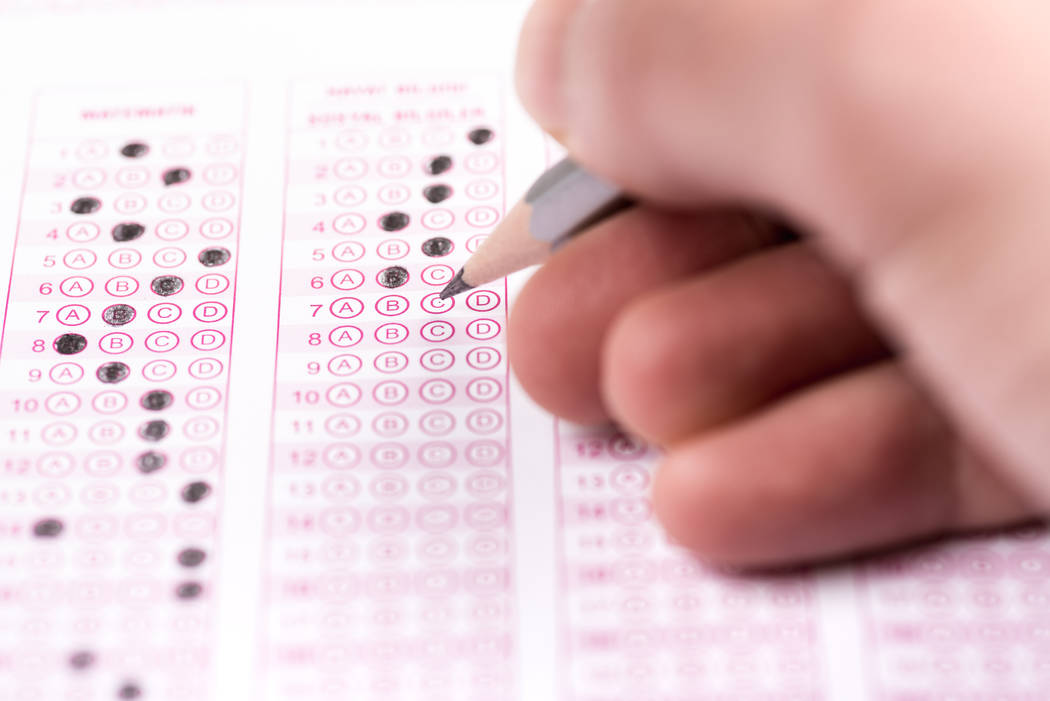 Nevada schools have a lot to be proud of. We already had one of the fastest-improving graduation rates in the country, and we posted another 7-point gain this year. Nevada is also the national leader in growth of passing scores on the Advanced Placement college preparation test, led by growth in 2015 by the Clark County School District, which was named AP school district of the year.
A few weeks ago, the state Department of Education released lists of Shining Star schools that overcome incredible hurdles to lead the way in providing high-quality education to all students and closing opportunity gaps. The district was proud to have 26 schools on that list.
Still, we know that we can do much more to ensure that every student succeeds. The state department also released a list of Rising Star schools that meet criteria for state intervention under Nevada law. Together, the Clark County School District and the Nevada Department of Education have a vision to ensure that students are proficient throughout K-12, and that we raise the scores of our 11th-grade students who take the ACT so they are prepared to succeed in college or career.
We know our students are no less capable than students in other states across the country. We, the adults, need to ensure we are creating the educational conditions necessary for students to thrive. In this regard, we can and must do better.
Nevada's Every Student Succeeds Act plan articulates a different way of doing business for our students and our teachers. Nevada's plan is anchored by three key strategies to make the state the fastest-improving in the nation.
First, we outline a focus on improving our lowest-performing schools by providing additional supports and strategies. Second, we declare a dedication to supporting and developing great school leaders. Third, we make a commitment to using data in our classrooms to better serve students.
These three strategies and our dedication to state-, district- and school-level partnership come into clear focus in what will be the largest joint commitment to school improvement in Nevada's history: The new Partnership Network, which is a collaboration between the Nevada Department of Education and the district.
The Partnership Network will consist of 30 district schools in neighborhoods with unique challenges that are committed to improving educational options for students. Many of the schools are on the Rising Star list. The network will be supported by approximately $14 million in state and federal funding over three years.
This effort will complement the additional support for schools already put in place by Gov. Brian Sandoval and state legislators, including: Victory Schools serving students in low-income areas, Zoom Schools serving English language learners, interventions to ensure students can Read by Grade 3, and funding from Senate Bill 178 for our students who need additional support. Collectively, these dollars will support a comprehensive approach to school improvement across Partnership Network schools.
The Clark County School District has been working to reorganize and put more autonomy in the hands of school leaders who know best what their students need to succeed. The Partnership Network also complements this neighborhood control effort by providing school leaders with some options on what interventions to implement.
Each Partnership Network school will be teamed with nonprofits that specialize in school and district professional development to build instructional leadership expertise across the network. Each school will have access to funding to offer before- and after-school learning to students. Each high school in the Partnership Network will be adopted by the College Board to increase course offerings and teacher professional development to deliver Advanced Placement classes. Finally, because we know National Board-certified teachers are better equipped to help improve student learning outcomes, Partnership Network teachers will be supported to become National Board-certified.
We also know that social emotional health matters, and students in these schools often come to school with significant out-of-school challenges. This is why the Partnership Network includes a commitment to removing barriers to learning for students and creating a positive school climate. Each Partnership Network school will co-create a multi-tiered system of support plan with the University of Nevada, and every school will have a social worker on campus and access to a community health center.
The Partnership Network is not a "set it and forget it" school improvement approach. The idea is to create a community of practice and support among these 30 schools so they can learn from one another. Schools within the highest-performing education systems operate as a coherent system and network, with leaders and teachers strategically and meaningfully learning from one another within schools and across schools. The Department of Education and the Clark County School District will evaluate what is working and what is not. Strategies and nonprofit partners that are not seeing success will be replaced with those that are. Schools that continue to struggle despite the additional support will remain eligible for more intensive interventions.
We also know this will not fix all of the problems in our schools, and that we must augment this effort in our schools by continuing to grow our partnerships with parents, families and communities.
The Partnership Network aims to prove that demography is not destiny. We are proud to partner together to tell the educators and students in our most at-risk schools that we believe in them, and we are willing to offer them the support they need to succeed. The efforts Nevada has made to improve education are starting to pay off, and we look forward to being able to say that Nevada schools are the fastest-improving in the nation.
Brett Barley is deputy state superintendent with the Nevada Department of Education. Mike Barton is chief academic officer with the Clark County School District.