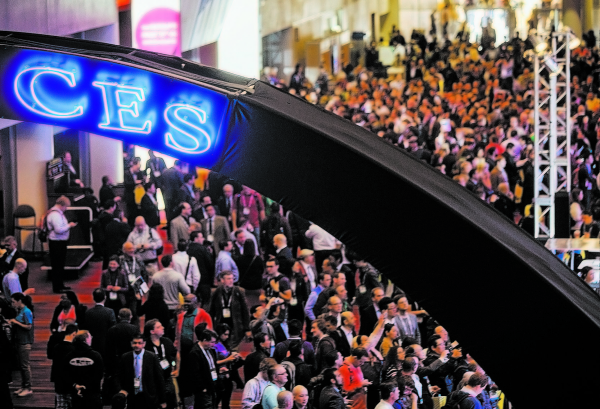 For nearly four decades, Las Vegas has been a welcoming, gracious and vibrant host to CES, the annual innovation trade show. The city opens its arms — as well as its hotel rooms, restaurants and exhibition space — to the more than 150,000 attendees who travel from around the world to experience firsthand the latest in consumer technology. And attendees — including almost 50,000 from outside the United States who offer above-average lengths of hotel stay — in turn open their wallets to take advantage of everything Las Vegas has to offer. It's a symbiotic and successful partnership, one that must be fostered and nourished to continue to grow.
Las Vegas has been good to CES. The first year we moved CES to Las Vegas, in 1978, show attendance and exhibit space nearly doubled. And since then, we have had a home in the Las Vegas Convention Center, a venue that has always been able to accommodate the continued interest in and growth of our show, which returns Jan. 6-9.
In turn, CES contributes more than $210 million in nongaming revenue annually to the Nevada economy, in the form of hundreds of thousands of hotel room nights, restaurant meals, bar tabs, taxi rides (and in 2016, for the first time, Uber and Lyft), concert and show tickets, tax revenues and much more. But as CES evolves — encompassing once-siloed industries such as cars, health and entertainment content — our show is straining the capacity limits of the convention center. Already, we've had to expand our show across multiple campuses up and down the Strip. We use the Las Vegas Convention Center, Sands Convention Center and Mandalay Bay Convention Center as well as the Aria, Renaissance, Venetian, Westgate and Wynn/Encore hotels to accommodate various exhibitors and press events.
It's time to rethink the convention center footprint to make it a premier facility for future trade shows. To foster a productive experience for business travelers, the convention center must build on its city's warm and enthusiastic welcome and create a stellar convention experience for show goers.
On Oct. 22, the LVCVA presented a plan to the Southern Nevada Tourism Infrastructure Committee, which was established by Gov. Brian Sandoval, requesting a footprint expansion for the convention center. This project is critical to major trade show producers such as CES and Las Vegas itself, because the continued growth of our show is good business for the city and the state.
International visitors will be a key growth market for CES in the coming years. Without additional space at the Las Vegas Convention Center, we will not be able to fully implement our plan to attract those new visitors, an audience we estimate will require an additional 600,000 square feet of exhibit space to accommodate more exhibitors and attendees. The LVCVA's plan for a revitalized Las Vegas Convention Center District addresses the needs of CES and many other clients at the convention center.
The LVCVA has been diligent in its planning for the expansion and renovation of the facility, and its leaders have worked directly with major conference hosts such as CES throughout the process to ensure our needs are met. We have expressed the need for more space at the facility for years, and we fully support this proposal.
CES is the global stage for innovation, a vibrant market that brings the entire technology ecosystem together in one place to connect, explore and get deals done. As show host, we strive to provide exhibitors and attendees the very best and most productive business experience possible. And the experience that Las Vegas provides as a destination is second to none — an outstanding place to do business and have fun. And, no, the two don't have to be mutually exclusive.
Las Vegas is the convention capital of the world, and it is in our best interest to host CES here. It is also in the best interest of the city to make sure that shows such as ours continue to call Las Vegas home. Trade shows in Las Vegas are a win-win — organizations like mine benefit from the wealth of amenities the city has to offer, and the city benefits by adding more jobs, more visitors and more revenue every year. Gov. Sandoval and Las Vegas have an opportunity to invest in their future by supporting the Las Vegas Convention Center District plan.
— Best-selling author Gary Shapiro is president and CEO of the Consumer Electronics Association. Follow him on Twitter: @GaryShapiro.