3 reasons to recall Woodhouse and Cannizzaro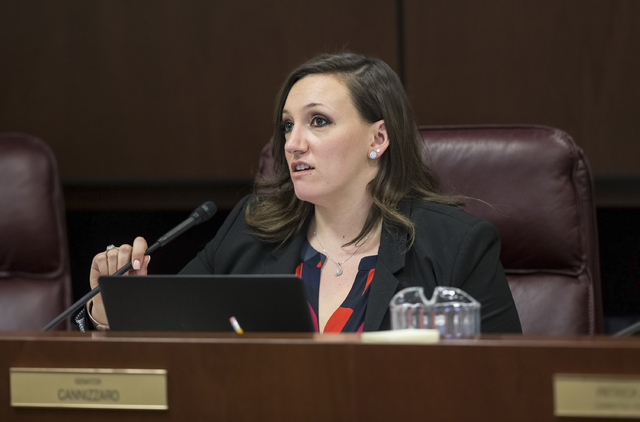 If Democrats take full control of state government in 2019, Nevada will become California — without the beaches.
Just think about all the far-left bills passed by the Democrat Legislature but vetoed by Gov. Brian Sandoval this year.
That's why the GOP has launched recall campaigns against three state senators: Joyce Woodhouse, D-Henderson, Nicole Cannizzaro, D-Las Vegas, and Patricia Farley, I-Las Vegas, who caucuses with Democrats.
The recalls, if successful, would give Republicans a chance at claiming a majority in the Senate for the 2019 Legislature — and a way to block Democrats' most partisan legislation if a Democrat is elected governor next year.
Recalls shouldn't be taken lightly, but they are more than justified in each of these cases. The case against Farley is straightforward. Voters elected her as a Republican, but now she caucuses and generally votes with Democrats.
Democrats are howling that the recalls are completely unwarranted and an attack on democracy. But there are plenty of reasons for voters to support the recalls. Here are three (or four) reasons why voters should also recall Woodhouse and Cannizzaro.
1. They voted to raise your property taxes. In 2017, the top priority of county governments was raising your property taxes. Democrats couldn't find the votes to do it immediately, so Woodhouse and Cannizzaro both voted for a constitutional amendment to increase property taxes when a house is sold.
To go forward in 2019, the amendment needs majority approval in both houses. If Woodhouse and Cannizzaro are recalled, that amendment dies. If you don't want the government raising your property taxes, recall Woodhouse and Cannizzaro.
2a. Cannizzaro: Rename airport after Harry Reid.If Cannizzaro got her way, you and 45 million others would be flying into Harry Reid International Airport. Cannizzaro was a primary sponsor of a failed effort to rename McCarran International Airport after the longtime U.S. senator and former majority leader.
There's more. Here's what the bill said about Reid to justify the rebrand. Reid "gained a reputation as a consensus builder praised by members of both the Democratic and Republican parties for his logical and equitable approach to problem solving."
While Cannizzaro's support for rolling back labor reforms is more concerning, if this bit of revisionist history doesn't get Republicans upset and out to the polls, nothing will.
2b. Woodhouse: Make Nevada a sanctuary state. Ten Senate Democrats, including Woodhouse, sponsored a bill to make Nevada a sanctuary state. This bill would have prevented Nevada law enforcement officers from letting federal officials know when police arrest illegal immigrants.
To understand how extreme this position is, consider what they wanted to ban. Las Vegas police make about 50,000 arrests per year but notifies Immigration and Customs Enforcement just 1,500 times that someone is an undocumented immigrant.
ICE only comes and gets about 170 of them a year. Woodhouse wanted to eliminate law enforcement's ability to deport the worst of the worst.
3. Second Amendment attacks. Both Woodhouse and Cannizzaro took steps to limit your Second Amendment rights. They voted to restrict your ability to carry guns in libraries. They also sponsored a bill to take away someone's gun rights without due process.
Victor Joecks' column appears in the Nevada section each Sunday, Wednesday and Friday. Contact him at vjoecks@reviewjournal.com or 702-383-4698. Follow @victorjoecks on Twitter.