Kihuen faces credible claims of sexual harassment. He still has nothing to lose by running for reelection.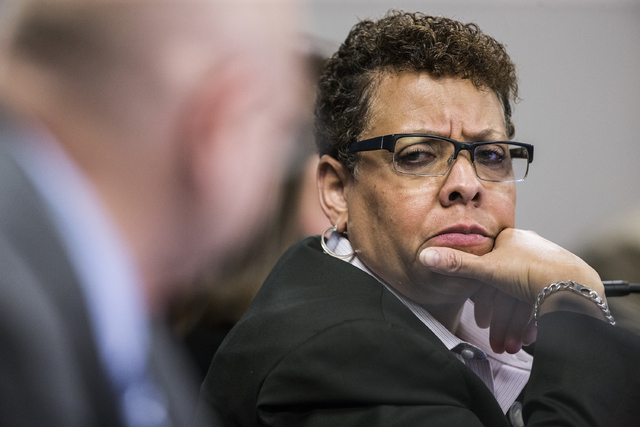 Defying abortion groups, union bosses and Rep. Nancy Pelosi isn't a great way for a Democrat to save his political career. It's the only choice Rep. Ruben Kihuen has left, however, and it just might work.
In December 2017, Kihuen announced that he wouldn't be running for re-election after multiple women accused him of sexual misconduct. Kihuen vigorously denies that he did anything inappropriate, and a House Ethics Committee investigation is under way.
Kihuen's seat strongly favors Democrats, and many Democrats pounced at the chance to run. Former-Rep. Stephen Horsford, who lost the seat in 2014, said he would quit his job in D.C. and come back to Nevada to seek his old office. State Sen. Pat Spearman, D-North Las Vegas, and Medicare-for-all proponent Amy Vilela are also running. North Las Vegas Mayor John Lee is considering the race, although he's yet to make a final decision.
What a difference three months makes. Candidate filing opened last week, and a Democratic operative in D.C. now says Kihuen is "keeping all his options open" when it comes to seeking re-election. Candidate filing ends this Friday.
Democrats are understandably furious, but if Kihuen doesn't run, his path back to Congress is nonexistent. Politically, not running looks like an admission of guilt. He'll also have gone from rising star to has-been. Why would donors and party insiders give him a second chance when there are plenty of other scandal-free Democrats who'd vote the same way?
His best route back to Congress is running for re-election now. He's the incumbent, which gives him high name ID, and he has $406,000 in the bank. Plus, a sitting congressman always has the ability to raise money if he'll put in the work.
A crowded primary field helps, too. Horsford's the strongest challenger, but Spearman could eat into his base of support from African-American voters. Vilela takes in support from fans of Bernie Sanders. If Lee gets in the race, he'll appeal to moderate and rural Democrats. Kihuen could win just by consolidating Hispanic support and taking advantage of voters who default to the incumbent.
Kihuen won the 2016 primary with 12,221 votes out of 30,602 cast. Assuming turnout is 25 percent lower, he could win again with just 8,000 votes.
The only downside for Kihuen is that running again might lead to more accusations of harassment. But it's hard to imagine allegations alone, especially anonymous ones, doing that much additional political damage.
If he wins the primary, the Democrats now desperate for Kihuen to drop out will become his biggest fans. It's happened before. In 2016, Kihuen's first accuser said she told someone with the Democratic Congressional Campaign Committee that he had harassed her. Democrats ignored the issue.
The DCCC and Pelosi "knew about these allegations last year," Kihuen said four months ago. "They looked into them. They didn't find anything, and they continued investing millions of dollars in my campaign."
Kihuen's seat could be the difference in who controls the House. Democrats, just like too many Republicans did with Roy Moore, would support him post-primary in the name of political expediency.
Kihuen's political career is dying quickly. That's why he has nothing to lose by ignoring the Democratic establishment and running for re-election.
Victor Joecks' column appears in the Opinion section each Sunday, Wednesday and Friday. Listen to him discuss his columns each Monday at 9 a.m. with Kevin Wall on 790 Talk Now. Contact him at vjoecks@reviewjournal.com or 702-383-4698. Follow @victorjoecks on Twitter.