VICTOR JOECKS: How Lombardo can top Hawkeye actor Renner as real-life superhero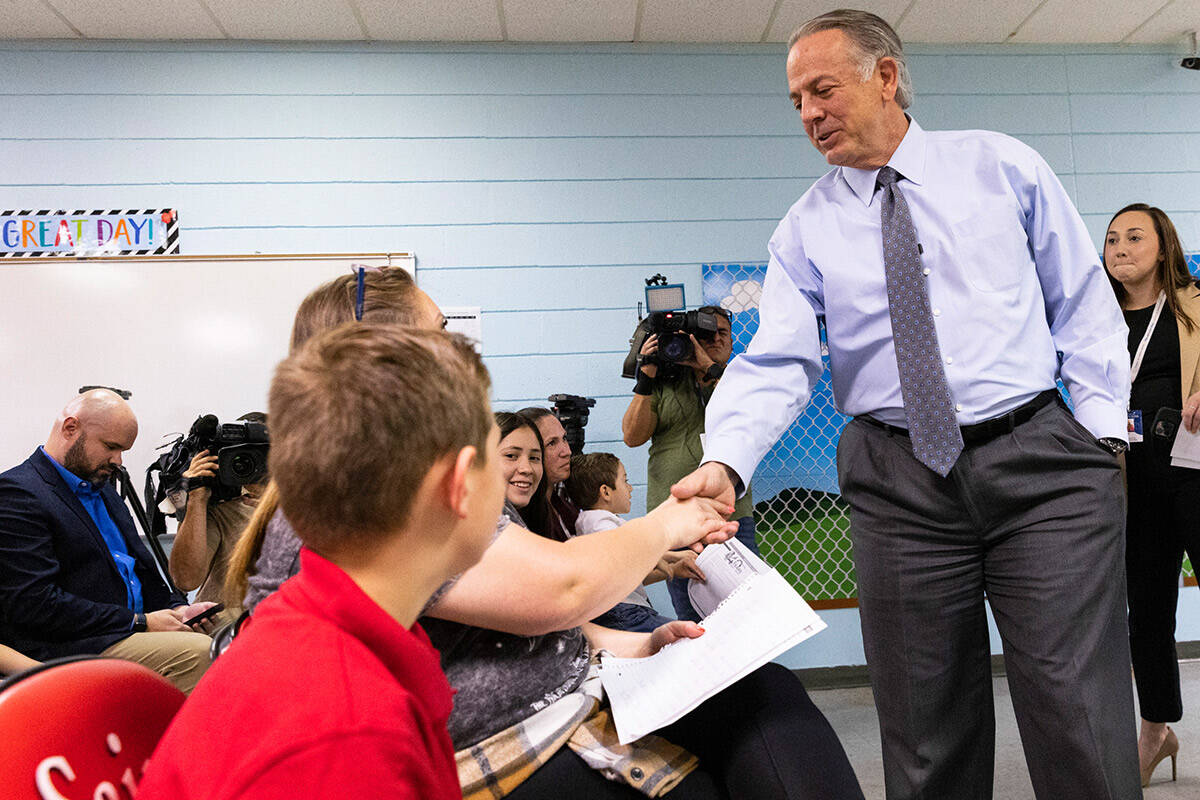 Movie star Jeremy Renner's highest grossing performance may end up being in Carson City, not in "The Avengers."
On Monday, he visited the Legislative Building in Carson City to support subsidizing the film industry in Nevada. State Sen. Roberta Lange's proposal, Senate Bill 496, seeks to give away billions of dollars to movie production companies through transferable tax credits. Supporters claim this will incentivize new production facilities in Las Vegas.
Renner wants to bring some of that largesse to Northern Nevada, where he lives. Fine. The Legislature is filled with lobbyists trying to get special deals for special interests.
But lawmakers generally don't fawn over lobbyists. In this case, though, many legislators excitedly posted pictures of themselves with Renner on social media.
"Today the NV legislature summoned (the) Avengers, and Hawkeye (Jeremy Renner) answered," state Sen. Edgar Flores tweeted. A video he posted showed him posing with Renner. The narrator said Flores "became the official Latino Avenger today. Call me El Senador."
Cringe.
"Avengers, Assemble!" state Sen. Fabian Doñate tweeted. "Awesome experience getting the chance to speak with Jeremy Renner today. Nevada should invest in the film industry and bring these high-paying union jobs to our state."
The spectacle was reminiscent of how a high school nerd would act after interacting with a popular jock. "He talked to me! Yes, really, me. I was even right next to him. It's the best day of my life." Reminder: The only reason he did that is because he wants something. The jock wanted someone to do his homework. Renner wants politicians to give billions of taxpayer dollars to his industry.
That's why the whole display felt so gross. If a legislator wants to be a huge "Avengers" aficionado on his own time, go for it. The movies were fun. But don't leverage your position as a steward of taxpayer dollars to bask in someone else's fame and then brag about it on social media.
It's unclear if Renner will succeed in his mission to direct film subsidies to Northern Nevada. Lange was fairly dismissive of the proposal, worried it would derail her original bill. But given how quickly things change during the last days of the legislative session, your wallet isn't safe yet.
In better news, Gov. Joe Lombardo has given Democrats an ultimatum. He put out a statement Thursday reiterating his commitment to withholding support for the budget if Democrats don't pass his policy priorities. Democrat leadership quickly responded by claiming they wouldn't consider nonbudget bills during a special session.
Good luck. Nevada governors win special sessions. The governor sets the agenda. Legislators have to stay in Carson City, instead of returning to their families and earning their normal incomes. The governor has the bigger megaphone.
All this makes a special session over these issues unlikely. The A's stadium is a different matter. Lombardo's policy demands are both modest and popular. That both sides are chirping at each other now leaves plenty of time to reach an agreement behind the scenes.
Renner may play a superhero in the movies. But if Lombardo stands strong and delivers more school choice, he'll be a real-life superhero to students stuck in Nevada's failing schools.
Contact Victor Joecks at vjoecks@reviewjournal.com or 702-383-4698. Follow @victorjoecks on Twitter.