Character assassination always left's plan to derail Kavanaugh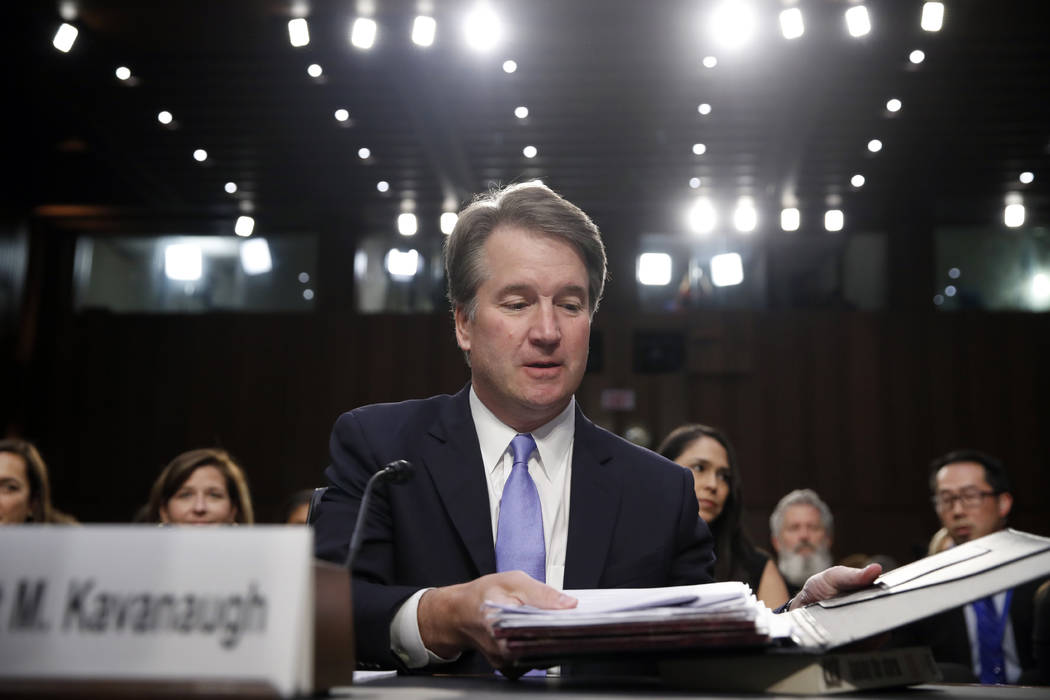 I told you so. Once the GOP allowed the reputation of Alabama Senate candidate Roy Moore to be destroyed based on 40-year-old "he said, she said" charges, I knew it would never end. Character assassination would become a weapon of the left.
I was right.
The rules have been rewritten.
Anyone can make up anything, anytime, without proof or witnesses. Any liberal who wants to stop a fine conservative from being elected or appointed can invent, out of thin air, any fantastic fiction they want.
All of that is in play here with accuser Christine Blasey Ford and the public humiliation of Judge Brett Kavanaugh, President Donald Trump's nominee to replace Anthony Kennedy on the U.S. Supreme Court.
Her story is unbelievable. It's clearly a last-minute Hail Mary by the left to delay and derail Kavanaugh's appointment. And it's not even original.
It's almost an exact copy of the smearing of Clarence Thomas, another GOP Supreme Court nominee forced to defend himself against slanderous, unprovable sexual misconduct charges. (Thomas was confirmed.)
Ford says a drunken, teenage Kavanaugh sexually assaulted her more than 30 years ago at a high school house party. He denies the allegation. She can't prove Kavanaugh was there. She doesn't remember key details. She has no idea how she got to the party or how she got home. The person she alleges was the only witness, Kavanaugh's high school friend Mark Judge, says it never happened. And she never reported it to anyone — not to her parents, her friends or police.
Then there's the absurd coincidences. The accuser hates Trump. She is an ultra-liberal Bernie Sanders donor. She marched in an anti-Trump parade in California filled with liberal feminists. She has taken down her social media accounts.
And the accuser's lawyer, Debra Katz, just happens to be a Democratic donor — who downplayed sexual misconduct allegations against Democrats including President Bill Clinton and Sen. Al Franken.
But here's the real clincher: California Sen. Dianne Feinstein, the ranking Democrat on the Judiciary Committee, first learned about Christine Blasey Ford's allegations against Kavanaugh in July. She interviewed Kavanaugh personally and never asked him about the allegations. Her fellow Democrat senators submitted thousands of questions, but never thought to mention … sexual assault?
This is a desperate, intentional frame job. This is a liberal conspiracy, just like the Democratic National Committee fixing the Democratic presidential nomination for Hillary Clinton.
This is a national disgrace. I never imagined Democrats could go this low. It doesn't get any lower than the smearing of a fine, All-American gentleman like Judge Brett Kavanaugh.
This is the guy every father wants to marry his daughter. This is the guy every father wants to coach his daughter's basketball team.
This is also the guy every conservative wants on the U.S. Supreme Court.
Wayne Allyn Root (Wayne@ROOTforAmerica.com) is host of the nationally syndicated "WAR Now: The Wayne Allyn Root Show." Listen from 3 to 6 p.m. daily at 790 Talk Now and watch at 5 p.m. on Newsmax TV, now on DirecTV and Dish. His RJ columns run Thursdays and Sundays.