RUBEN NAVARRETTE JR.: Mayorkas is not a good fit for DHS secretary
February 7, 2023 - 4:31 pm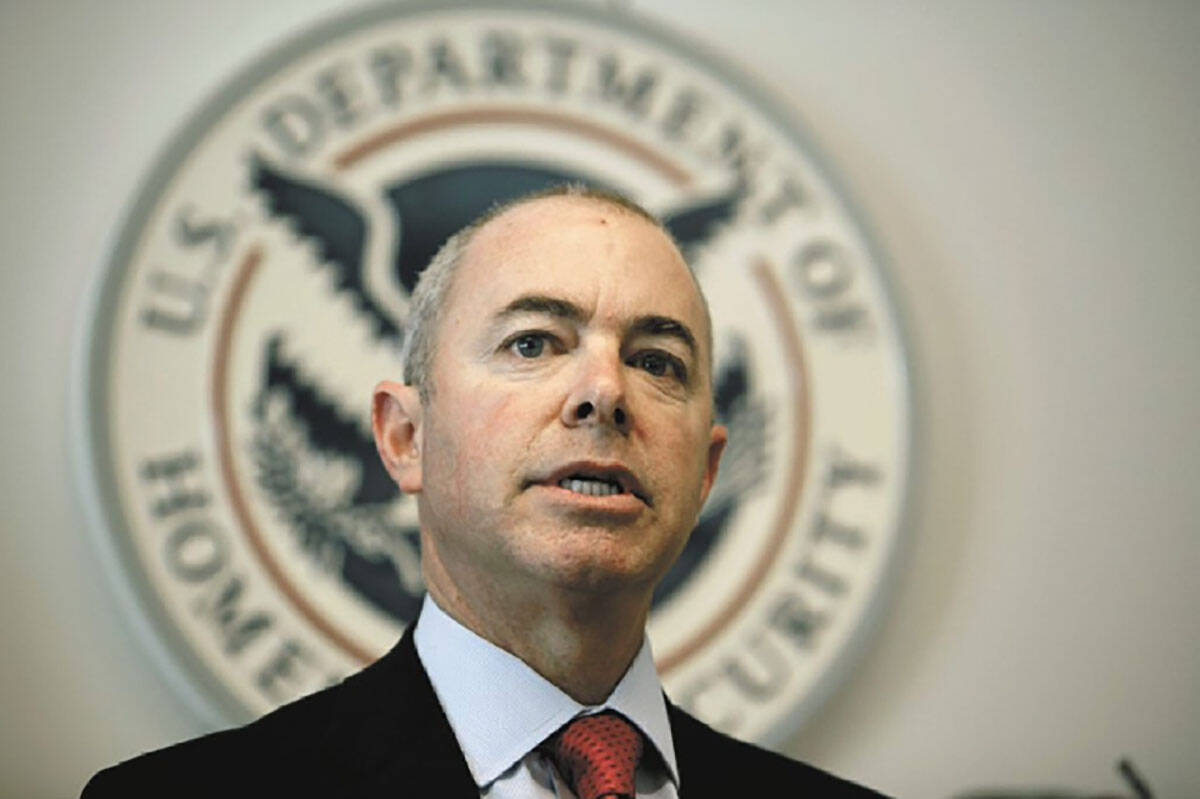 Alejandro Mayorkas is both Latino and a refugee. That means that, for House Republicans, the homeland security secretary started out with two strikes.
Mayorkas — a former U.S. attorney and former director of U.S. Citizenship and Immigration Services — was sworn in as DHS secretary in February 2021. Just six months later, before Mayorkas had even finished decorating his office, Rep. Andy Biggs, R-Ariz., said he intended to file articles of impeachment against the homeland security secretary over the Biden administration's mishandling of the crisis at the U.S.-Mexico border.
Over the past 18 months, the drumbeat for impeaching Mayorkas has gotten louder. House Speaker Kevin McCarthy has said Mayorkas should either resign or be impeached.
Last week, the Republican-controlled House Judiciary Committee held hearings on the chaotic situation at the border. The narrative was that Biden's border policies — as carried out by Mayorkas — are making communities around the country less safe.
When discussing immigration, Republicans love to oversimplify. Now they want to punish a career bureaucrat for — as they see it — singlehandedly creating the worst migrant crisis in decades.
In House Republicans' eyes, the fact that tens of thousands of desperate people from all over the globe are pounding on America's door, looking for safe haven and second chances, is not really attributable to poverty, hurricanes, floods, political assassinations, civil unrest, gang violence, lack of jobs or Russia's war against Ukraine.
No, they say this border madness is the mischief and mayhem of just one man: Alejandro Mayorkas. Born in Havana in 1959 and brought to the United States the following year as a refugee by his parents, who were looking for — you guessed it — safe haven and a second chance, Mayorkas makes the perfect scapegoat for the GOP.
Same as it ever was. The history of U.S. immigration policy has always been about shirking responsibility and finding fall guys.
Worried about crime, a bad economy or national identity, earlier generations of Americans blamed the Germans, Irish, Chinese, Italians, Jews. Anyone who looked different, or spoke a different language, was cast as a villain out to harm America.
From California to Washington, D.C., today's Republicans have shown that their favorite immigrant scapegoats are Latinos. Nothing gets the GOP base — which is overwhelmingly white — more fired up than Mexican flags and being told to "press 1 for English."
So now that they control the House — however tentative McCarthy's grasp on the gavel — Republicans are making it their first priority to purge someone whom they never trusted to head the department tasked with protecting the homeland.
Put bluntly, if Mayorkas had been born "Miller" or "Mayfield" or "Moffit," Republicans wouldn't be trying to make him the convenient foil for a border crisis that is more complicated than politicians admit.
How complicated? For one thing, Republicans deserve as much blame as anyone for the decades-old phenomenon of poor and desperate people in the south heading north. For the past three decades, the party that bills itself as "pro-business" has gone soft on employers of undocumented immigrants — which has, in turn, resulted in more hiring and more immigrants who cross the border seeking to be hired.
Still, while impeachment would be racist and unfair, I wouldn't be sorry to see Mayorkas resign or be fired by the president. I was an early supporter. I loved his life story, and I was impressed by his résumé. But I've since decided that this guy is just wrong for this job. Mayorkas is a lawyer, and he acts like a politician.
For instance, the secretary has been less than honest with regard to Title 42 — the section of the U.S. Code that allows the United States to keep out migrants under the pretext of protecting public health. There is no doubt the administration was relieved when the Supreme Court, in December, extended the life of Title 42. Yet, Mayorkas said in interviews that the administration had tried hard for months to end the provision. If so, those efforts would come as news to reporters who cover the border. The truth is that the administration had kept Title 42 in place for nearly two years despite President Joe Biden's pledge to end it.
Mayorkas must go. Not because one man caused the crisis on the U.S.-Mexico border. That's GOP nonsense. But because dishonesty and double talk make any crisis — including this one — worse.
Ruben Navarrette's email address is crimscribe@icloud.com. His podcast, "Ruben in the Center," is available through every podcast app.