5 players to watch during the Las Vegas-Tacoma series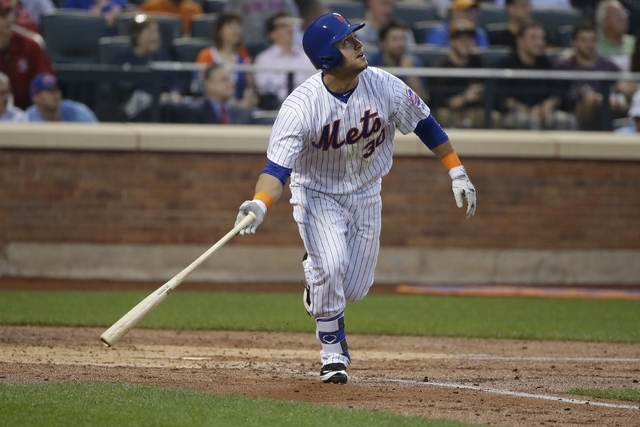 The 51s hit the road for a four-game series with the Tacoma Rainiers before coming back home for Independence Day. Here are five players to watch in the series against Tacoma:
Michael Conforto, LF, Las Vegas
Conforto burst onto the major league scene during last year's World Series, but struggled in 2016 with New York to a tune of a .222/.296/.431. He managed 10 home runs, but saw his strikeout numbers spike from a successful rookie campaign in 2015.
He was sent to Las Vegas on June 26 and went 4-for-12 with a pair of walks and no extra-base hits in his three Triple-A games so far. Conforto has shown the talent to succeed and the major league level and his stay with the 51s could be a short one.
Cody Martin, RHP, Tacoma
While his season stats don't jump off the page – 6-5 with a 4.43 ERA – Martin has been spectacular his last two outings, going 14 innings and allowing just one run on six hits and no walks while striking out 11. He has been used out of the bullpen and the rotation but seems to have found his groove in the rotation.
Martin is scheduled to pitch Friday in the second game of the series. He has made two appearances against Las Vegas this season, totalling 5 1/3 innings and allowing six runs.
Mike Zunino, C, Tacoma
A former top prospect and Mariners catcher of the future, Zunino has never been able to turn it on at the major league level. That has not stopped him from hitting the minors, slashing .282/.366/.516 with a team-leading 15 home runs and 51 RBIs.
He has homered in each of the previous two series against Las Vegas this season and has been on base in six of the seven games in the season series.
Dilson Herrera, 2B, Las Vegas
Herrera, who was recently named the MLB All-Star Futures Game, struggled mightily in the most recent series against Sacremento, going just 1-15 at the plate in three games. He was also removed from the game Tuesday with an apparent injury.
Herrera has been an offensive force all season for the 51s, batting .285/.331/.448 before the recent series so there is reason to believe the games against Sacramento were a hiccup and not a legitimate cause of concern.
Zach Shank, 3B, Tacoma
Shank has only played 20 games with Tacoma this season, but he has made them count. In a smaller sample size than most of his teammates, all three of his triple slash line numbers lead the Rainiers: .391/.429/.578. He also has just eight strikeouts in 64 at-bats.
On June 18 his average was .286 and has raised it more than 100 points after a stretch in which he has multiple hits in four of his last five games.