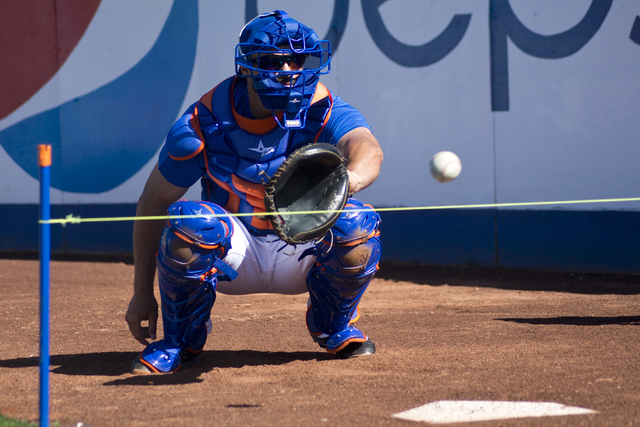 Friday's 8-4 loss to Reno came with a hefty price tag for the 51s.
Because of Southwest's technical glitch Wednesday, the team's flight on Friday was canceled, forcing it to charter a different one, which manager Wally Backman said cost $68,000.
That made for a long day for the 51s. At 2:50 a.m. back in Las Vegas, clubhouse manager Steve Dwyer, who coordinates team travel, received a call from trainer Deb Iwanow telling him the flight had been canceled.
"My wife nudged me and said 'Your phone's ringing,'" Dwyer said. "I saw Deb's name and knew it couldn't be good."
Too many phone calls later, Dwyer, with some help from Brian Small, the Mets' manager of team travel, arranged a chartered flight.
But the plane had to fly from Portland to Omaha and the crew had to scramble to wake up, leaving the 51s stuck at the airport in Omaha for most of the day, catching quick naps on the airport floor while they waited.
Catcher Nevin Ashley said they arrived at the airport around 6 a.m. and didn't leave until around 2:45 p.m.
"I'm sure it had some effect on them because you're sitting at the airport so long, but you can't make it an excuse," Backman said. "You've got to come ready to play and there were six other teams that had flights canceled. Reno was one of them."
After their flight was canceled, the Aces thought about bussing from Reno but wound up chartering a flight of their own instead.
Manager Phil Nevin said it was an inconvenience but that his team's day of travel wasn't bad at all.
The Aces certainly didn't let it affect them, coming out and jumping on 51s starter Duane Below immediately, scoring two runs in the first.
They added five more in the second on Ildemaro Vargas, Chris Owings and Mitch Haniger home runs to give them a 7-0 lead.
In total, Below gave up a season-high eight runs in his outing.
"He was just missing up, missing his spots early. The first inning, I think he missed three or four spots and every one of them he got hit," Ashley said. "We got ahead 0-2 and I think he gave up five hits with an 0-2 count and when you do that, it's never going to be a good day for you."
Meanwhile, Reno starter Anthony Banda tossed a quality start, giving up two runs on five hits in 7 1/3 innings.
"He worked quick, got the momentum and he filled up the strike zone," Ashley said. "He threw some offspeed pitches and we got a little timid and then he'd just pump some strikes in there."
Ashley finished the day with a team-high two hits. He scored a run in the ninth as the 51s were chipping away at Reno's big lead.
Las Vegas scored three of its four runs in the last two innings with one on a Dilson Herrera pinch-hit single, one on a Travis Taijeron double and one on a fielder's choice.
But by that point, the game had been essentially out of reach for seven innings, concluding a long day of travel on a sour note.
"(Duane) wasn't sharp at all and that was really the whole game," Backman said. "We played a good game after two innings but we were too far behind to catch up."
Betsy Helfand can be reached at bhelfand@reviewjournal.com. Follow on Twitter: @BetsyHelfand