51s finally get timely hits, roll to 9-3 win at Sacramento
April 20, 2016 - 11:54 pm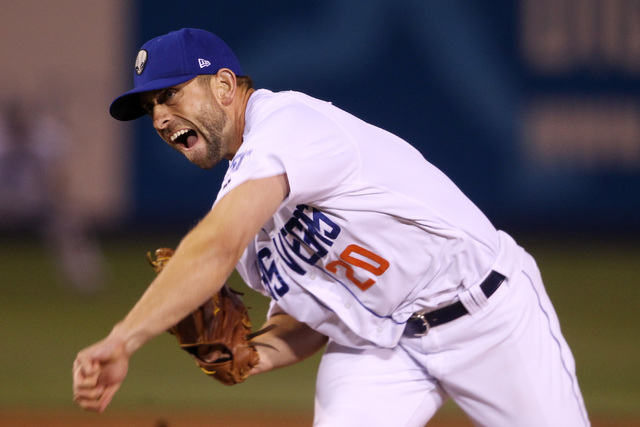 For the first five games of their road trip, the 51s struggled to hit with runners in scoring position.
Twice, the 51s didn't have one hit, and once they were 2-for-16. For the five games, they hit .100 (5-for-50) with runners in scoring position.
But on Wednesday, Las Vegas was markedly better in those situations, going 6-for-15 in a 9-3 Pacific Coast League victory over the Sacramento River Cats at Raley Field in Sacramento, California.
"We had a pitchers meeting and a hitters meeting today and just talked about a few things, and the players seemed to respond tonight, so hopefully that carries over," 51s manager Wally Backman said. "We got some timely hitting tonight, some big hits from guys and the pitching was good."
With the pitchers, the main focus was attacking the strike zone, pitching ahead in counts and trusting the catchers.
With the group of veteran catchers, the focus was on handling and providing leadership for a relatively young staff and calling games.
And with the hitters, the focus was on hitting the fastball.
"We've been seeing a lot of offspeed stuff, but when our hitters have been getting the fastball, they haven't been making solid contact," Backman said. "We want our hitters to hit the fastball and lay off the breaking stuff until they get two strikes. They did a much better job tonight. Those are the things you want to carry over."
The 51s did the most damage in the fifth inning, scoring four runs on a Dilson Herrera double, a Matt Reynolds homer and a Rene Rivera two-run ground-rule double.
That, combined with a solid six innings from Duane Below, who was making his first start of the season, helped the 51s even their record at 6-6.
Below, who started the season at extended spring training to get stretched out and to be with his wife as she gave birth, gave up three runs — two in the first inning and one in the sixth. He struck out five in his 90-pitch outing.
"Below wasn't real sharp in the first inning, but then he really settled in and pitched a real nice game," Backman said. "It's a typical Duane Below game that we've had in the past. He always keeps us in games, going back to last year."
Below will join Seth Lugo, Gabriel Ynoa, Sean Gilmartin and Stolmy Pimentel in the rotation.
When Jabob deGrom returns to the New York Mets this weekend from the family medical emergency list, Rafael Montero probably will return to the Las Vegas rotation.
But that won't affect Below now that he's back with the 51s, more likely bumping Pimentel to the bullpen.
"He's definitely one of our guys in the rotation," Backman said of Below. "He will not get pushed out of the rotation."
INJURY NOTES
First baseman T.J. Rivera left the game in the sixth inning after being hit just below the left knee by a 95 mph fastball. Backman said Rivera was day to day and could play Thursday.
Reliever Chase Huchingson was placed on the disabled list Wednesday. Backman said Huchingson had elbow issues in spring training and currently has a sore elbow.
"We're being cautious, because when we get home, we want to have an X-ray to his elbow," Backman said.
Betsy Helfand can be reached at bhelfand@reviewjournal.com. Follow on Twitter: @BetsyHelfand