51s lose three of four to El Paso, fall out of first
September 3, 2015 - 10:10 pm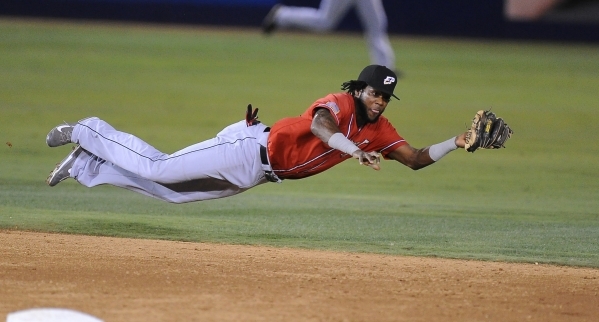 Too many long balls. Too many backward steps.
That's how the 51s lost their grip on first place in the Pacific Coast League's Pacific Southern Division after Thursday night's 10-1 loss to El Paso at Cashman Field.
The Chihuahuas (75-64) leapfrogged Las Vegas and into first place by one-half game after taking three of four in the series and hitting nine home runs in the process.
As a result, the 51s (75-65) are going to have to handle last-place Tacoma, which comes to town at 7:05 p.m. today for the final four-game series of the regular season, and hope they get help from Reno, which hosts El Paso for five games in the next four days.
"Every win is a good win," El Paso manager Jamie Quirk said. "This club doesn't get too high or too low. We preach playing every inning, and that's what they've done."
The Chihuahuas wasted little time taking the lead, as Rymer Liriano led off the second with a homer to left field on the first pitch from starter Seth Lugo (2-2) to give El Paso a 1-0 lead. And given the 51s' struggles at the plate for most of the series, even a one-run deficit loomed big.
And the hole got far deeper when Will Middlebrooks hit a long two-run homer to left in the fourth to increase the Chihuahuas' lead to 3-0.
But eventually, Las Vegas got untracked offensively. Brandon Nimmo hit a solo homer to right with two outs in the fourth to get the 51s on the board.
El Paso answered right away, as Jake Goebbert homered off reliever Matthew Bowman in the fifth and the Chihuahuas got their three-run cushion back, 4-1.
El Paso added three runs in the sixth after loading the bases with no one out. Casey McElroy drove in a run with a fielder's choice grounder, and Hunter Renfroe singled in the other two, giving the Chihuahuas a 7-1 lead.
For good measure, the Chihuahuas added three runs in the seventh after batting around to chase away what remained of the dollar beer night crowd of 5,399.
El Paso also got a great effort from starter Daniel McCutchen (9-8), who limited the 51s to four hits in seven innings.
And while 51s manager Wally Backman kept going to his bullpen trying to find someone who could get the Chihuahuas out (eight pitchers saw action), he had a bigger issue with an offense that was unable to put a rally together.
Nimmo thought he had an RBI base hit with two on in the sixth and two outs, but his hard shot back up the middle went off the leg of McCutchen to second baseman Ramiro Pena, and Nimmo was thrown out to end the inning.
It was that kind of night for the 51s, who will send Dillon Gee (7-3, 4.87 ERA) to the mound tonight against the Rainiers' Adam Sampson (2-3, 6.82) in attempt to turn things around.
"The last two games, we faced guys who pitched to our hitters' weaknesses," Backman said. "We had a plan, but we weren't able to execute the plan, and when you can't execute, that's what's going to happen.
"But we're not out of this by no means. We have to play better baseball, there's no question about it. We need to win three out of four, but our focus is on (tonight)."
NOTES — After missing the past three games with laryngitis, longtime 51s announcer Russ Langer was back at the microphone Thursday. But Langer will miss tonight's and Saturday's games with Tacoma, as he will be with the UNLV football team calling the Rebels' season opener at Northern Illinois. Jerry Reuss, who filled in for Langer from Monday through Wednesday, will call the action tonight and Saturday. … El Paso won the season series 10-6 and would have the first tiebreaker if the teams finish tied for first based on head-to-head results. … The final fireworks show of the season is scheduled for tonight.