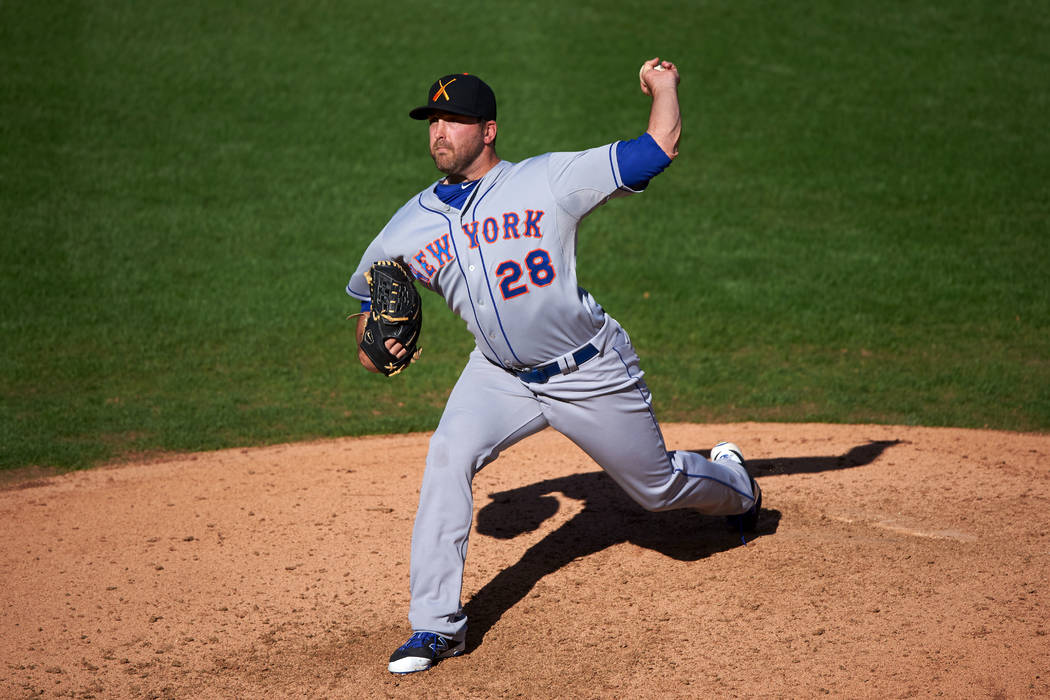 As the New York Mets' minor league assistant pitching coordinator, Phil Regan receives daily updates on the organization's pitching prospects.
But there's one in particular in Las Vegas who is special to Regan.
Lately, those reports have shown a lot of zeros from Kyle Regnault, who is 1-0 with a 0.00 ERA in seven appearances with the 51s.
Regan thinks Regnault eventually will pitch in the majors. If he does, the 28-year-old left-hander will have Regan to thank.
A random encounter with Regan at the Martin Downs Golf Course in Palm City, Florida, in the 2013 offseason provided Regnault with the break he had been seeking for years.
Regnault went undrafted out of college after missing about three years because of Tommy John surgery and NCAA transfer rules. He wound up playing in independent ball in the Can-Am League.
He went 1-6 with a 3.80 ERA in his first year, but the team folded and he was selected by Quebec in a dispersal draft. After his first season in Quebec, he met Regan, then the pitching coach for Class-A Advanced St. Lucie, by chance while working his offseason job as a bag boy at the golf course.
Regan was at the course, which is about 25 minutes south of the Mets' complex in Port St. Lucie, Florida, with his friend Randy Niemann, a pitching coach in the St. Louis Cardinals' organization.
Thanks to his co-worker's persistence, Regnault approached the two.
"He's like, 'Hey, man, the Mets pitching coach is out there today,' and I was like, 'Yeah, that's cool," and he's like, "Yeah, man, you should go talk to him,' and I was like, 'No, you know, it doesn't really work like that,'" Regnault said.
But that day it did work like that. Regnault met them at the ninth hole, interrupting their golf game for about 20 minutes.
Regnault told Regan he was a pitcher in independent ball. The word "left-handed" intrigued Regan, as did Regnault's size, so Regan invited Regnault to throw for him.
"He had a nice curveball and a nice delivery, and his fastball was pretty good," Regan said.
Regan was confident the Mets would sign Regnault, but the timing wasn't quite right — it's harder to get signed in spring as opposed to fall because teams are often releasing players then, he said — so Regnault went back to Quebec.
During that season, Regan asked Regnault to throw for the Mets in October.
Regnault showed up to St. Lucie ready to pitch on the day Regan requested. Instead, he sat in the minor league clubhouse for about an hour. Eventually, Regan showed up, told him it wouldn't work that day and that he would be in touch.
In the interim, with few opportunities to really throw, Regnault lobbed baseball-sized rocks into a river to keep his arm ready.
When the time finally came for him to pitch, he impressed enough people in the organization to get signed.
"There had been a long time there where things just weren't really working out the way I hoped they (would), so to finally get that opportunity with Phil was awesome, and to think it would come at a golf course is just a kind of crazy story," Regnault said.
Working his way up
Regnault's journey with Regan didn't end there.
After signing with the Mets, he was assigned to St. Lucie for the 2015 season. His pitching coach there? Regan.
Regnault posted a 1.99 ERA in 39 games that season. When major leaguers would come for rehab, Regnault would pick their brains. Same with Regan's.
"He knows more about baseball, more about pitching, than anyone I've ever met," Regnault said.
He followed his successful season with a stint in the Arizona Fall League and posted a 1.17 ERA in 7 2/3 innings.
Last year, Regnault again struggled with a shoulder injury that sidelined him for months.
It was a frustrating season, but he responded with a 1.17 ERA in 15 1/3 innings in Double-A Binghamton to begin this season, earning a promotion to Triple A.
"From what I've seen in spring training and what I've seen in the last year plus, he looks a lot more confident," 51s pitching coach Frank Viola said. "He's got a lot more zip on his fastball, and his breaking ball is crisper. … He looks healthy, and he's throwing the ball really, really well."
Still in St. Lucie, Regan keeps an eye on Regnault from afar, reading Viola's reports on him. The two caught up recently and talked about Regnault's velocity and what he was working on with Viola.
As Regnault continues what was once an unlikely journey toward the big leagues, the organization had one thing it wanted to see from Regan, too.
"The Mets told me to keep golfing," he said jokingly.
More 51s: Follow all of our Las Vegas 51s coverage online at reviewjournal.com/51s and @RJ_Sports on Twitter.
Contact Betsy Helfand at bhelfand@reviewjournal.com. Follow @BetsyHelfand on Twitter.
Kyle Regnault's 2017 stats
W-L; ERA; G; GS; SV; IP; R; ER; SO
Double-A Binghamton; 2-0; 1.17; 11; 0; 1; 15.1; 2; 2; 18
Triple-A Las Vegas; 1-0; 0.00; 7; 0; 0; 7.1; 0; 0; 6