A big week of baseball ahead of us
February 26, 2015 - 9:30 am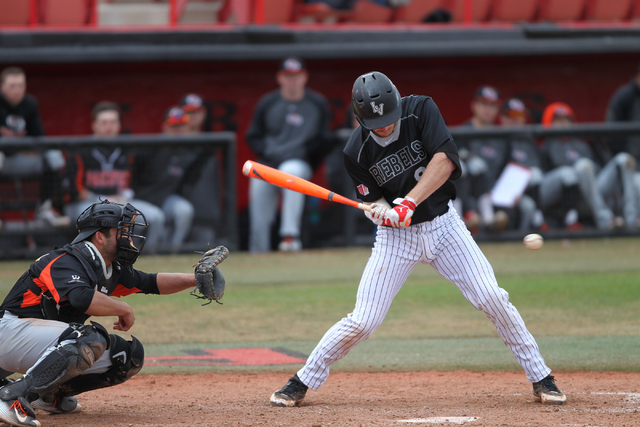 Hey Rebel Fans,
Hope you all have had a good week! We are coming off a four-game series against a Pacific team where we were able get a win in each game. The Tigers put up a great fight and even though they haven't gotten into the win column yet, they are a lot better than their record shows. Those guys could hit and they played well the whole weekend. We just showed up to play everyday and were ready to go, and that's exactly what we needed to do.
Coming off the Grand Canyon game last week, we needed to get our heads on straight. We don't get shut out like that. So it was good for us to come out and send a message to our younger guys that we are better than that.
After eight games, we are 6-2 to open the year and we are pretty excited about that. We know it is a long year and we still have a lot of work to do, but it is a good start. One of the main reasons we have won is because our pitching has been fantastic. As a team we have a 2.15 earned run average, which is the lowest in the (Mountain West) conference!
Every single one of our pitchers is coming out and throwing strikes. Our walks are down, our pitch count is down and our guys our getting the opposing hitters out early in the count. We don't have a ton of strikeouts, but we are getting outs and we aren't allowing teams to score a bunch of runs. Everybody is coming out and getting the job done. From our Friday night starter to the last guy out of the bullpen, everyone is pitching well. It makes things much easier for the team.
Also, a nice surprise to start the year is the fact that our freshmen have made the quick transition to Division I baseball. They are playing really well right now and it's exciting to see that. We are going to need those guys down the road. I know they are young, but we are going to have to count on them. They are an integral part of our lineup this year. It is really big, especially early on, to get their confidence up and for them get comfortable playing in front of crowds and against the better pitching. It's good for these guys to have those opportunities early on and they are succeeding in those situations. That is really exciting.
This week we open Mountain West play at Fresno State. The Bulldogs are going to be good this year. They are talented and every year they are a tough matchup. We really have to come out and be at the top of our game. Those guys are good. I know they are coming off a tough week, as they were swept by Reno, but UNR is also solid. Our whole conference is up this year.
Fresno is well coached and extremely competitive. We are going to have to continue to pitch like we have and we are going to have start swinging it a little bit better and hopefully get things rolling on Friday. I think the forecast is for cooler weather so we are going to have to show up and be ready to play. We know how important each game is, especially conference games.
Before coming back to Las Vegas we will head to Stillwater, Okla., to play two midweek games against No. 10 Oklahoma State. Going to those types of places is really cool. People in college towns like Stillwater live by their respective university. The fans are intense and really into the game, but they are never disrespectful. It is really cool to play in that kind of atmosphere. Fans show up because these schools have a great tradition, but they also support good baseball by both teams. It is way cool.
We have a big week ahead of us. Thanks for all of your support so far this season! See you at Earl E. Wilson Stadium when we get back to town.
-Erik VanMeetren