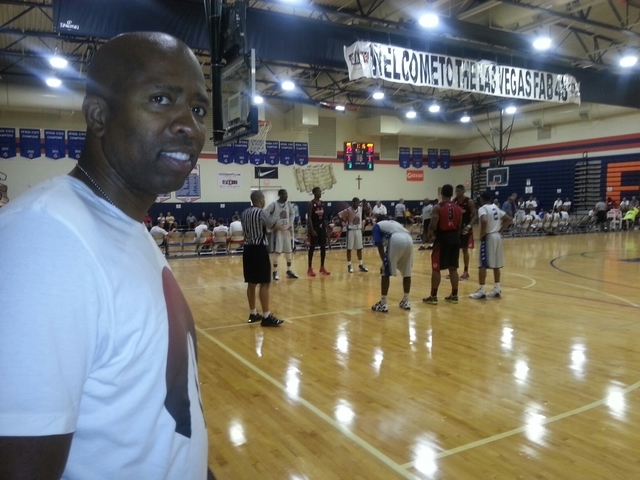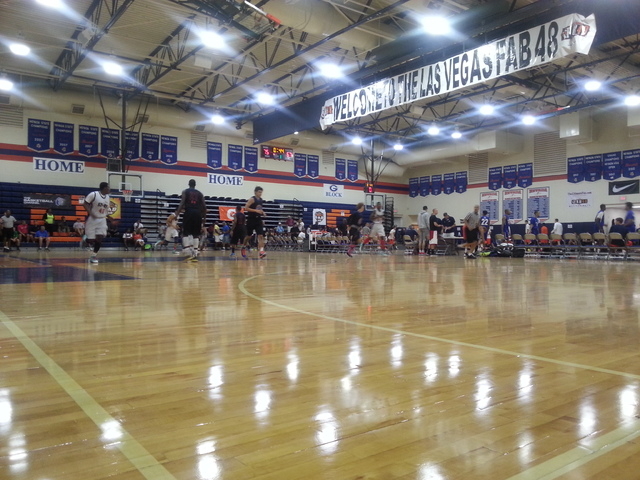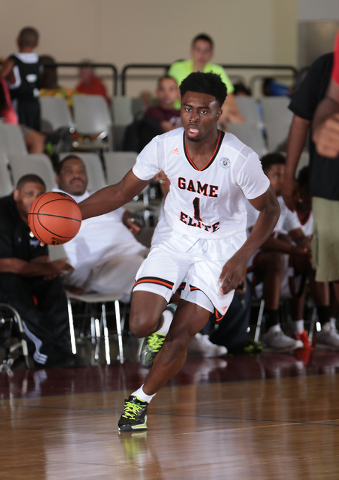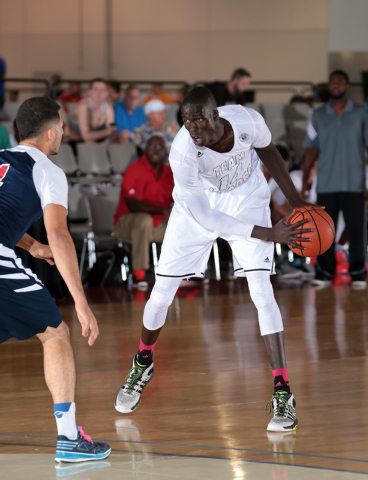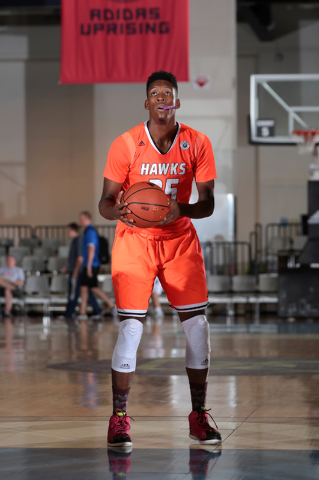 Day 2 of my AAU Tournament coverage, as I continue blogging live from the two biggest 17-and-under events taking place this week — adidas' Super 64 at Cashman Center, and the Las Vegas Fab 48 at Bishop Gorman and four remote locations — blogging live with interesting tidbits, observations, sightings, notes, quotes and anecdotes. Be sure to check back frequently throughout the day, or follow me on Twitter on @AP_WG, as I'll be updating here frequently and tweeting live from the sites I visit.
JET-SETTING SPONSOR
Since his rookie year in the NBA, Kenny Smith has sponsored the Aim High AAU program. This year it's participating in the Fab 48 event, and "The Jet" says he's amazed by the evolution of AAU basketball since his playing days.
"When I played, basically, the games were in black and white; this is color," said Smith, who teams with Ernie Johnson, Charles Barkley and Shaquille O'Neal on TNT for some of the most entertaining NBA commentary on television. "With the amount of teams that's here, it's unbelievable. The amount of cities that participate, (that) all come to Vegas – it's incredible."
During March Madness, Smith and Barkley are joined by former Rancho and UNLV star Greg Anthony for round-the-clock analysis on the NCAA Tournament. Reminded this is Anthony's town, Smith paused for a moment – with a smile – and said he loves joining forces with the former Runnin' Rebel.
"I love Greg, we always have great battles of wit," Smith said. "When we're on the same team, in terms of concept, I don't think that anyone gets an opinion out because we double team guys when we have the same opinion and have a lot of fun. All our stuff is unscripted, there's no thought process behind it other than to have your opinion (and) have fun."
While it's quite possible he's run across a dozen or so future NBA players during his involvement with AAU basketball, Smith conceded the percentage is low, and his proudest moments come from those who earn a degree thanks to using basketball as a vehicle to get their education.
"I think I have more fun seeing the kids that come back and say, 'I got a great education, I have a great job,'" he said. "There are far and few (that make it to) the NBA."
LON-GING FOR VEGAS
Former UNLV coach Lon Kruger will bring his Oklahoma Sooners to Las Vegas for the MGM Grand Showcase on Dec. 20, as they'll face Washington as part of the annual Coaches vs. Cancer event. The Runnin' Rebels will play former Mountain West-rival Utah, now a member of the Pac 12 Conference, after Kruger's Sooners take on Washington.
"I'm really excited about it, the MGM does a good job in the city," said Kruger, who still owns a home in Las Vegas. "To be in the same tournament with UNLV and Coach (Dave) Rice, the cause – Coaches vs. Cancer – everything is positive about it. I'm excited to bring the team to Vegas. It was a very easy decision to accept the invitation.
"My wife and I love living here and have a lot of friends here and anytime we can come back we enjoy that opportunity. People are great, there are good people in Las Vegas.
Kruger said he still loves the city and appreciates the excitement basketball brings to the Entertainment Capital at any time during the year.
"Summer recruiting, coaches in town for tournaments, NBA Summer League, USA Basketball – there's nowhere else in the world that has more variety," Kruger said. "Vegas has become the cornerstone for a lot of things, and deservedly so. People love coming here, they host these events, they do a terrific job and coaches enjoy it."
SAN-CHIZZLE ON COR-DIZZLE
While strolling around Gorman's gym and athletic offices with Gaels men's basketball coach Grant Rice, I ran into football coach Tony Sanchez and took advantage of the opportunity to ask about the newest addition to his roster, Cordell Broadus, the highly touted 6-foot-2, 185-pound wide receiver who will finish his high school career at Gorman.
And oh yes, for those who have been in the dark since he arrived, he's the son of rap artist, entertainer and youth football enthusiast Snoop Dogg.
But according to Sanchez, the common bystander would never get the "I-dizzle" his new "Receiv-izzle" is Snoop's pup.
"Him and his wife have done a phenomenal job of raising all of their kids," Sanchez said. "They're very respectful, they'll look you in the eye (and) they do a great job of carrying themselves on campus. A lot of people know the entertainer, but there's a lot more to the people and they're doing a great job.
"Cordell didn't come in and try to make it about himself; he came in, and literally, the first thing he basically did … he asked what could we do for the team. He's a guy who will have a significant role, but won't have to carry the burden. We have a lot of great players on this team, and I think he actually enjoys that. I think he enjoys the camaraderie, he enjoys starting to become a part of this history and tradition at Bishop Gorman, so he's handled it marvelously."
Broadus, who is being touted a one of the nation's best incoming senior receivers, hasn't committed to any colleges yet, but reportedly is being heavily recruited by several big-name schools, including Florida State, LSU, Notre Dame and Tennessee.
Sanchez said the rest of his team hasn't gotten caught up in Broadus' famous father, not when it's business as usual to have celebrity kids on campus annually. Last year Randall Cunningham Jr. was the starting quarterback for the Gaels.
"It's not a big deal around here," Sanchez said. "You walk out on the basketball courts and there's (Charles) O'Bannon. Then you walk out to the baseball field and there's Greg Maddux. Muhammad Ali's sitting in the stands watching a freshman football game. So at Gorman it's just not a big deal."
—
JAY WRIGHT
Villanova's Jay Wright easily challenges Louisville's Rick Pitino as the best dressed head coach in college basketball. But given the sharp-dressed Wildcat's itinerary, don't expect to see Wright sporting any of his Hugo Boss or Gabriele D'Annunzio custom-tailored suits the next two weeks.
In fact, you'd be hard-pressed to find anyone with a busier itinerary than Wright, who boarded a plane in Philadelphia at 7 a.m. on Thursday, arrived in Las Vegas at 9:45 a.m., and headed straight to Bishop Gorman for the Fab 48. After catching several games in the main gym, the two-time Big East Coach of the Year checked into his hotel and ended up at Cashman Center for the night games in the Super 64.
He left at 5:45 a.m. on Friday, for Colorado Springs, where he'll attend the 17-and-under national tryouts at the U.S. Olympic Center. After that, it's back to the airport, and back to Las Vegas for the Friday night action. Where? He doesn't know, as long as the plane arrives in time for him to get to one of the two venues to see the nation's top talent.
After a weekend of basketball, Wright will fly back to Philadelphia for his annual Summer Jam on Monday. The event brings together former Villanova players, coaches and families, in what he calls "a big party for the fun of it, just to keep our family together." On Tuesday, he'll be back in Las Vegas for Team USA's training camp at UNLV, and the Team USA Fantasy Camp.
"There is a lot of basketball and we get tired – but it's fun," said Wright, who was an assistant at UNLV from 1992-94. "You become so appreciative of what you're doing."
REFEREE CAMPERS
Players aren't the only ones honing their skills at adidas' Super 64 event, as the Court Club Elite officials' camp is also participating.
Rob Rorke, the director of operations for referee development for Court Club Elite, said 80 referees were selected through an application process for this event.
"This is our accumulation of all of our training for the year," Rorke said. "This is the best basketball in the summer and with that we're able to take advantage of it. What every coach in the country is really looking for is consistency. I think if you talk to the coaches, that would be the No. 1 response you would get. With our program, our No. 1 goal is to create a like-minded approach. We use that terminology a lot – like-mindedness."
Now in its fourth season at this event, Rorke said this is the largest group he's ever brought to Las Vegas. Referees generally rotate from the court to a video room and to a classroom. They'll usually work just one game per day, and rarely get a second-game assignment.
"We really believe strongly that a lot of our work and a lot of what we're going to do and accomplish this week is done in the video room," Rorke said. "So with that we don't want to burn out the officials mentally."
The organization, which includes referees from Canada and Russia, is a members-only group.
"This is a great opportunity to build your game, but more importantly to work with the best talent," said referee Michael Land, who is in from Los Angeles. "The concentration of talent here, at the level the game is played, you probably wouldn't see that on a high school court, or even a junior college court at one time."
Kenneth Williams, an official for a little more than 20 years, said he likes the fact he is able to share what he learns with colleagues in Fort Worth, Texas.
"It's important for me because not only can I hone my skills, but I can also take what I learn back my local chapter and share what we do to get better at the high school and collegiate level," Williams said.
CLUB GORMAN
Fab 48 tournament director Gary Charles hired his brother-in-law Lorenzo Jenkins as the house dee jay. DJ Lo sits high atop the stands in Bishop Gorman, and is spinning some of the latest hip hop and R&B, while implementing old school joints by classic artists like Doug E. Fresh, Newcleus, Kurtis Blow and Grandmaster Flash.
When he fired up a classic jam by Sugarhill Gang on Thursday, it wasn't the ever-popular Rappers Delight, which all walks of life are familiar with, but rather the B-side cut 8th Wonder. Jenkins said anyone who remembers when rap burst on to the scene out of Brooklyn and the Bronx, knows more than the hits that radio made popular. He also said he's more than happy to play sounds from the Boogie Down over modern-day hip hop.
"The difference between today (and original hip hop) is there is more talk about materialistic things, things that somewhat disrespect women, lyrics of a more violent nature," said Jenkins, who is the girls varsity coach at Malverne High School in Long Island. "Back in the day it was all about telling a story, the fairy tale. Like Slick Rick and Dana Dane – it was nice and smooth."