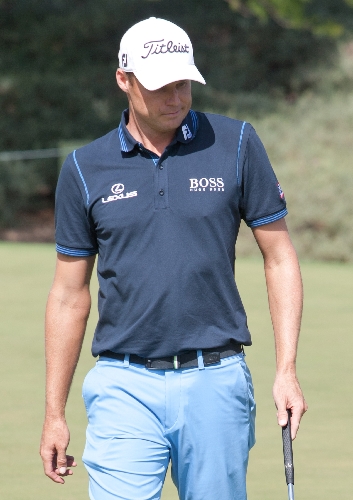 Most days, a 5-under-par round of golf would be reason to celebrate.
But when the leader shoots twice as low, you feel fortunate to be within striking distance.
That was Nick Watney's approach Thursday after his solid 66 had him on the leaderboard at TPC Summerlin, five shots behind first-round leader and playing partner Ryan Moore at the Justin Timberlake Shriners Hospitals for Children Open.
"It's acceptable," Watney said. "I didn't make very many putts. I guess Ryan took them all for the group."
Watney's bogey-free round included three birdies on his front nine (he started from No. 10). But he didn't make up any significant ground, as Moore equaled the course record with a 10-under 61.
"Ryan played really well," said Watney, a Henderson resident who will play with Moore and fellow UNLV alumnus Charley Hoffman again this afternoon when their group tees off at 12:03 p.m. from the first tee. "But I wasn't focusing on what he was doing. You just have to worry about yourself."
Watney's steady first-round play can be credited to his ability to keep the ball in play and not have to take many risks.
"I was hitting it pretty well off the tee," he said. "I was able to keep it in play. I just need to make a few more putts."
Having three players with Las Vegas ties in the same group, coupled with Moore's big round, generated a good-sized gallery, particularly on Thursday when crowds tend to be sparse.
"That was nice to see so many people come out to support us and watch," Watney said. "Ryan had an amazing round, and the fans seemed to be getting into it. Hopefully, they'll come back out (today)."
■ LUNDE RALLIES – Former UNLV star Bill Lunde knows he has to have a big week at TPC Summerlin as he attempts to retain his PGA Tour card.
Lunde overcame a slow start in which he was 1 over after seven holes to finish with birdies on two of his last three holes to finish at 67.
"It was a little frustrating because I couldn't get any momentum going," Lunde said. "But there's the part of the course the last few holes where you can take advantage, and I was able to do that."
Lunde, No. 157 on the money list with $347,759, is trying to get into the top 125 to keep his playing privileges. A good week would get him closer to David Mathis, who is No. 125 with $588,000.
"Honestly, I'm not trying to think about it," said Lunde, who plans to play the final three events of the Fall Series after Las Vegas. "There's worse things in life than not having your card. I've been on both sides of it."
Another good round today will keep Lunde on the course this weekend and give him a chance to earn a paycheck.
"I feel like I got a little momentum going at the end (Thursday)," he said. "I'm just going to try to build on it."
■ OTHER LOCAL SCORES – While Moore had his 61, Watney a 66 and Lunde a 67, other golfers with Las Vegas ties had a mixed bag of results.
Scott Piercy had a solid first round, finishing at 67, and Chris Riley started well with a 68. But Kevin Na had to battle to finish at 68, Hoffman struggled to a 70, and Chad Campbell shot 73.
Contact reporter Steve Carp at scarp@reviewjournal.com or 702-387-2913. Follow him on Twitter: @stevecarprj.