Active sports: Las Vegas surrounded by snowboarding sites
January 13, 2016 - 12:15 am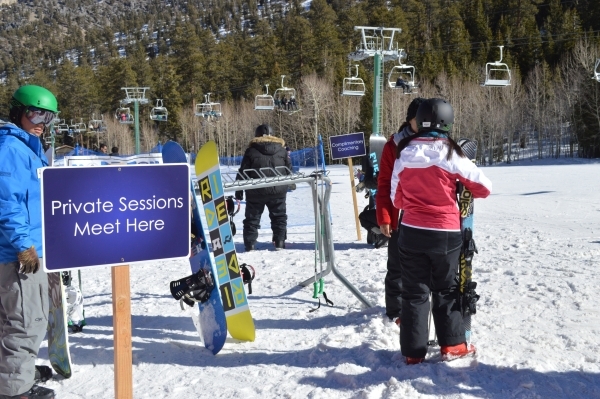 January is National Learn to Ski & Snowboard Month, and with Lee Canyon in our backyard, about an hour from downtown Las Vegas, and Southern Utah's Brian Head and Eagle Point Resorts close enough for a weekend getaway, there are plenty of options to pick a new sport and enjoy winter.
Given this winter's El Nino weather system, there's plenty of fresh powder that makes for pristine conditions. Plus, getting outside and enjoying a bluebird powder day has been proved to elevate a person's level of happiness.
Since ski resorts need to cultivate lifelong skiers and snowboarders to sustain their business, they take Learn to Ski & Snowboard Month seriously. In fact, Lee Canyon turned the traditional ski school model upside down a few years ago when it launched its complimentary coaching program. The program offers guests the chance to work with a ski or snowboard instructor at no charge, and no reservations are required.
Group and private lessons are still offered, but if you're a beginner who needs a little more help nailing a toe side turn or whose skis are dusty and skills are rusty, it's a great way to brush up on basics.
Brian Head offers a special for Learn to Ski and Snowboard package in January in which guests receive a lesson, rental and lift ticket for $45. This package is for first-timers only. Eagle Point's Learn to Ski/Snowboard 2 package is offered all season, and a full-day lesson, rental and lift ticket runs $105, with a half-day $75. (Check each resort's website for information on holiday pricing.)
What to know before you go:
Lift Tickets
Buy lift tickets online, because at most ski areas you'll pay substantially more at the lift ticket window. Be prepared to pay more on holidays and less on early or midweek days. Visit the resort's website for the best deal.
Getting There
Lee Canyon — By Car: Take U.S. 95 north to state Route 156 south (Lee Canyon Road) for 17.4 miles to Lee Canyon. Go green: Currently, there is no shuttle service offered from the city to Lee Canyon. Skiers and snowboarders are encouraged to carpool. The Lee Canyon Locals Facebook page is a great way to connect with fellow skiers/snowboarders to ride-share; DeLux: Arrive in style with private transportation through Transportation Concierges of Las Vegas. (Your driver will wait at the resort while you ski or ride, so you call the shots. 702-767-8726.)
Brian Head Resort — Car: Take Interstate 15 north to exit 75 in Parowan and drive 14 miles to land at the resort. (About three hours from Las Vegas). Go Green: Leave your car in Cedar City, Utah, and take the Brian Head Express Shuttle, 435-590-1473. Deluxe: Hop a flight from Las Vegas to Cedar City on Delta Airlines.
Eagle Point Resort — Formerly Mount Holly and then Elk Meadows, "The Point" reopened in 2010 and its lifts run Friday through Monday. Lee Canyon All Access season pass-holders receive 10 free days of skiing/riding at Eagle Point. Car: take I-15 north, take exit 109 toward Beaver/Milford and then take state Route 153 for 21 miles to the resort. (This is a winding mountain road that offers stunning views of the Tushar Mountains. If traveling at night, beware of wildlife on the roads — almost four hours.) Go green: Use the Powder Shuttle, which makes runs from Las Vegas, 435-862-7641. Deluxe: Stay slopeside in a ski-in/ski-out condo for as little as $89 per night on Thursday and Sunday and $149 on Friday and Saturday. Lift tickets included.
Stephanie Forte is a longtime rock climber and snowboarder. She is one of the voices behind Beyond Vegas, a social media community for outdoor enthusiasts.
CALENDAR
Running
* Saturday: Valley of Fire 50K, 10K, 5K, marathon and half marathon (times vary).
* Sunday: Sin City Shoot Out 5K/10K (7:30 a.m./8:30 a.m.) Sunset Park.
* Sunday: Stomp Out Bullying 5K (8 a.m. walk/8:30 a.m. run) Floyd Lamb State Park.
Mountain biking
* Friday: Nevada State Downhill Championships, Bootleg Canyon (times vary).
Cycling
* Saturday: McGhie's & LVAC 15-mile social/30-mile fitness ride, 7 a.m.
* Saturday: Pro Cylery 25-mile/50-mile road ride, 8 a.m.
* Saturday: Broken Spoke's 30-mile ride, 8 a.m.
* Sunday: Southwest Bikes Sunday Morning Ride, 7:30 a.m.
Outdoors
* Thursday: Hiking the Appalachian Trail (course), 7 p.m. REI, Henderson.
* Saturday: First Creek Canyon Hike (times vary).
— Las Vegas Review-Journal