Travis Taijeron gets key hit as 51s snap three-game losing streak
April 30, 2017 - 12:13 am
Updated April 30, 2017 - 12:29 am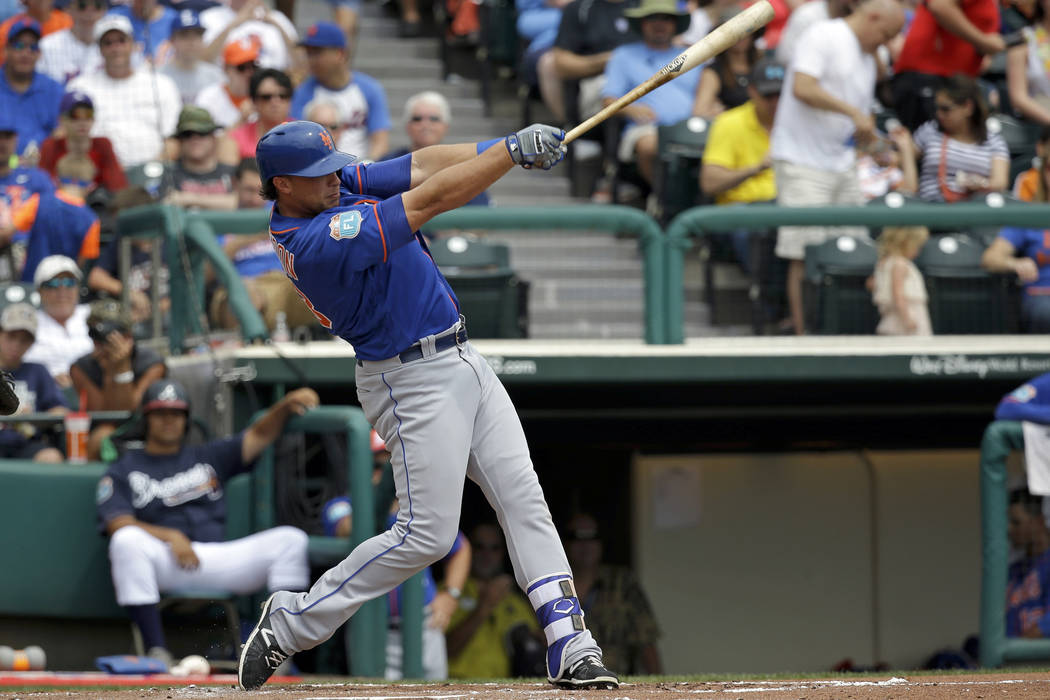 Travis Taijeron had a feeling the Albuquerque Isotopes might intentionally walk Dominic Smith to get to him in the eighth inning with a one-run lead.
But even though he knew it might be coming, it still bothered him.
"If somebody does something like that any time, I use it to my advantage because it pisses me off," Taijeron said. "Be a man. Pitch to the guys. That's baseball."
Taijeron made right-hander Johendi Jiminian pay, doubling off the wall and driving in the go-ahead run as the 51s beat Albuquerque 5-4 on Saturday night at Cashman Field.
Taijeron's two-out double drove in Desmond Jennings, who walked to begin the inning, and Smith as Las Vegas snapped a three-game losing streak.
"I knew what they were going to throw me. They had a pitcher's meeting every single time I came up pretty much tonight," Taijeron said. "They had just been throwing me offspeed the entire night, and so I knew exactly what was going to happen, even though the guy was throwing hard. (I was) just kind of waiting for my pitch."
Taijeron drove in the first run of the game, with his fourth-inning sacrifice fly scoring Amed Rosario.
The 51s (11-12) added another run in the fifth on Desmond Jennings' RBI triple.
Meanwhile, Las Vegas starter Rafael Montero cruised through his first five innings. He struck out nine and didn't allow a hit.
"I thought that he attacked the strike zone well," 51s manager Pedro Lopez said. "At one point I knew he had seven, eight strikeouts. The one thing he did, he worked ahead and mixed pitches well."
Montero helped his cause with two hits — a single and a double — and scored a run, but he left with a no-decision after giving up two runs in the sixth.
Derrik Gibson collected the Isotopes' first hit with one out in the sixth. The next batter, Jordan Patterson, hit a two-run opposite-field home run to tie the game.
"Montero did a really good job, set the tone and unfortunately made that mistake, that changeup that was hit for a two-run home run," Lopez said.
Patterson's at-bat ended Montero's night at 88 pitches. In his second start back from the New York Mets, the 51s were trying to hold him to 80 to 85 pitches.
After he left, reliever Ben Rowen came in and promptly allowed a double to Stephen Cardullo.
The next batter, Chris Denorfia grounded back to Rowen and he threw the ball away, allowing Cardullo to score. The Isotopes (11-11) scored once more in the inning on Daniel Castro's RBI single.
The 51s struck back in the bottom of the inning with Rosario's first Triple-A home run before completing the comeback two innings later with Taijeron's double.
"Montero had a great start today. You've got to tip his hat to him. He went six innings, no hits. He was consistent, good tempo, throwing strikes and not just that, he was raking at the plate. He had two hits. What more could we ask for?" Taijeron said. "All we could do behind him was do as best as we can to get runs for the kid. Unfortunately that didn't happen until a little bit later, but it ended up working out in the end. … We needed it. We needed a win."
Up next
Who: Albuquerque Isotopes at 51s
When: 12:05 p.m. Sunday
Where: Cashman Field
Starters: Zach Jemiola (2-1, 6.87 ERA), Isotopes, vs. Tyler Pill (0-0, 0.00 ERA)
Next five
Monday: Albuquerque at Las Vegas, 7:05 p.m.
Tuesday: Tacoma at Las Vegas, 7:05 p.m.
Wednesday: Tacoma at Las Vegas, 10:35 a.m.
Thursday: Tacoma at Las Vegas, 7:05 p.m.
Friday: Tacoma at Las Vegas, 7:05 p.m.
Update
The 51s added outfielder Arnaldo Berrios to the roster Saturday, taking the active roster back up to 25 after Sean Gilmartin was recalled by the Mets on Friday. Berrios was in extended spring training after spending last year in Brooklyn (Class A Short Season).
Contact Betsy Helfand at bhelfand@reviewjournal.com. Follow @BetsyHelfand on Twitter.