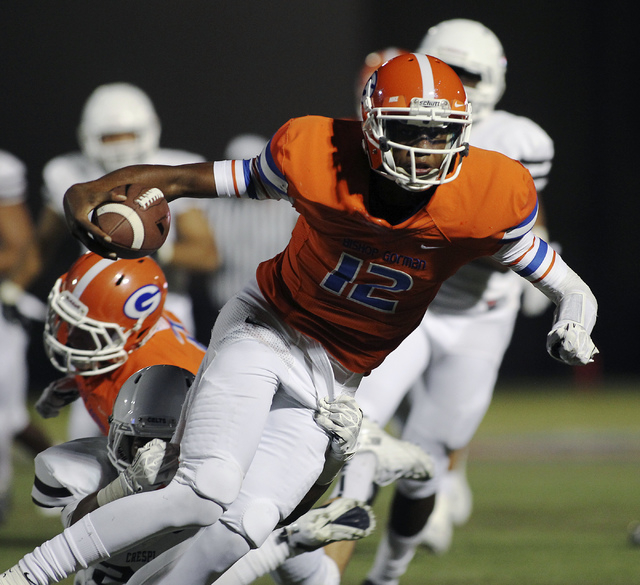 It was difficult not to notice Sydney Badger and Randall Cunningham.
They were the distance runner every female was trying to catch and the high jumper sailing over his competition, the ones with targets on their backs.
And they were the ones making jaws drop on cross country courses, tracks and football fields.
Badger wrapped up her career as arguably the best female distance runner in Centennial High's history.
After guiding Bishop Gorman's football team to a state title, Cunningham completed his high school track career by flirting with the nation's best mark in the high jump.
The two are the Review-Journal's Athletes of the Year.
"Sydney's determination is one of her biggest assets," said Centennial girls cross country and track coach Roy Sessions. "She knows the target is on her back. She trains year-round. She always wants to improve."
Badger's back was the view opponents had most often.
She won the state cross country title in Reno in November, finishing the 3.1-mile race in 18 minutes, 40 seconds. Her time was 19 seconds better than her nearest competitor, as she shook off the haunting memories of two previous state meets when she held the lead in the closing stretch but collapsed.
"We had to figure out what was going on with her physically, and we got there this year," Sessions said. "She has the foot speed, and she has the endurance."
Badger followed up with a scintillating track season, capped by wins in all four of her events at the state meet in Reno in May.
Badger, who will run at Michigan next season, won the 1,600-meter run in 4:55.99 on the first day of the meet and came back on the second day to win the 800 (2:10.28) and the 3,200 (11:13.41) and to run a leg on the victorious 1,600 relay team — all in the span of about two hours.
"I wish she would have had a little more time (between races) so she could go after a couple records," Sessions said. "We had to be very smart to make sure she could win, but she could have had even better times if she had more rest. The records were all within her reach.
"By far, she is the best female distance runner I've ever coached. She still has so much more improvement she can make. People will be surprised by what she can do."
Cunningham's leaping ability didn't come as a surprise, though he still leaves spectators and fellow competitors in awe.
The son of the UNLV and NFL quarterback, Cunningham cleared at least 7 feet in the high jump in six meets this season, including a season-best 7-2 at the Mt. SAC Relays on April 19. It was the second-best mark in the nation this year by a high school jumper, according to Dyestat.com.
Cunningham had the nation's best jump of 7-3¼ as a junior.
"He's extremely gifted," Bishop Gorman track coach Scott Cooley said. "He's one of those kids that you see maybe once every 10 years."
Cunningham cleared 6-11 to win the state meet and finished second in the meet in the long jump with an effort of 22-8¼.
"He's really just one of those special kids," Cooley said. "He spends a lot of time on the track, and he spends a lot of time lifting and training with his father. He's extremely competitive."
Cunningham used that competitive nature on the gridiron, helping the Gaels to their fifth straight state football title.
In his only season as the starting quarterback, Cunningham threw for 1,773 yards and 16 touchdowns and ran for 1,425 yards and 14 TDs.
"We had a lot of confidence that he would be able to lead us," Gorman football coach Tony Sanchez said. "He's such a good kid and such a hard worker. We tailored our offense to fit what we had. We went to more of a read option to let him use his ability."
The backup to record-setting quarterback Jarrett Solomon for two seasons, Cunningham had plenty of attention before the season even started.
He responded by helping the Gaels to a 13-2 record and rushing for 213 yards and four TDs in the state title game.
"I don't know if I've seen as much hype for a high school kid," Sanchez said. "It was a little unfair, but he managed it really well. He always stayed upbeat.
"He's the type of kid you instantly like. He makes you want to work harder."
Contact reporter Bartt Davis at bdavis@reviewjournal.com or 702-387-5230.