AAU basketball tournaments day 4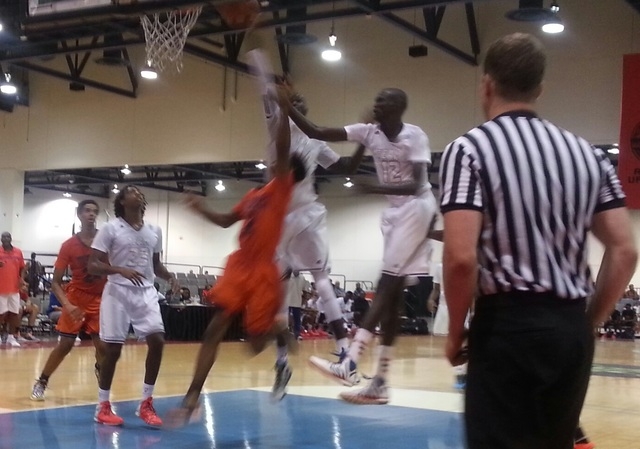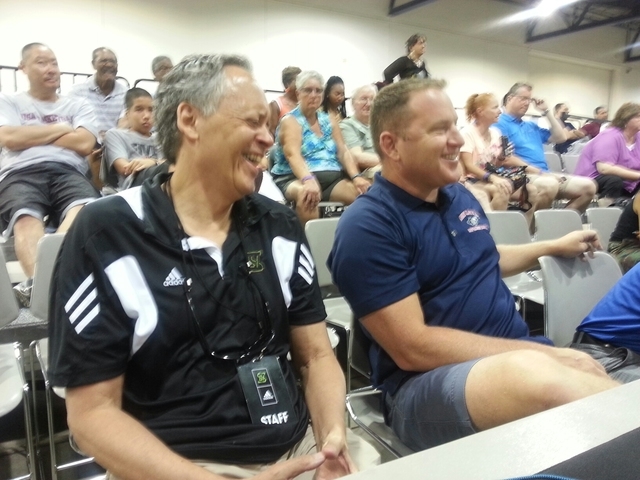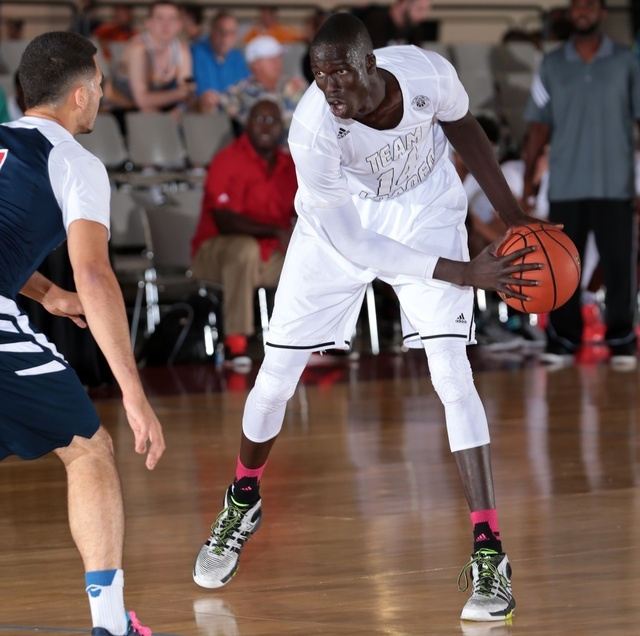 Day 4 of my AAU Tournament coverage, as I conclude my live blogging from the two biggest 17-and-under events taking place this week – adidas' Super 64 and the Las Vegas Fab 48. Be sure to check back throughout the day, or follow me on Twitter on @AP_WG, as I'll be updating frequently and tweeting live.
JETER DOWN TO FINAL FOUR; MUMS THE WORD ON COLLEGE CHOICE
Bishop Gorman senior-to-be Chase Jeter assured me Sunday he has not made a decision, despite numerous reporters who were in town for the AAU tournament this week, saying he'll choose Duke next week.
Jeter, who finished his AAU career with Dream Vision by scoring 24 points and grabbing 17 rebounds in a 79-64 loss to Indiana Elite at Rancho High, said he's narrowed his choices down to UCLA, Arizona, Duke and UNLV.
"I'm going to make my decision this week," Jeter said. "I haven't made my decision, I'm going to make it soon."
He also said he is working closely with ESPNU – which televised Sunday's title game live – to broadcast his announcement to a nationwide audience. Jeter, considered to be a top-10 recruit in the nation, was happy he was able to bring his AAU career to a close on national television.
"I've been with this organization since I was in the 8th grade, so I just feel like being with this program and ending it on this note was a strong note to end on," Jeter said.
TWO-TIME SOUTHEAST DIVISION GIRLS' MVP CHOOSES UNLV
While the nation's premier boys basketball players have been on display but remain hush-hush on where they'll attend college, one of Southern Nevada's top returning senior girls basketball players announced Sunday she will stay home.
Liberty's Paris Strawther verbally committed Sunday to play basketball at UNLV.
"A lot went into my decision, and I couldn't have made it this far without the support of my family, and my coaches from the Henderson Heat and Liberty High School," said Strawther, a first-team all-state selection last year. "In the end I know that UNLV is the best total fit for me."
Strawther, who was being courted by several colleges including New Mexico, Boise State and San Diego State, led Liberty in scoring (12.4 points per game), rebounding (10.5), blocked shots (1.3) and field goal percentage (.500) last season.
"I'm just looking forward to working with the coaching staff, former players, current players, and all the new recruits, so we can make Lady Rebel basketball a household name again," said Strawther, who helped the Patriots to the Division I state championship game last season.
Strawther, the Southeast League's Most Valuable Player in each of the last two years, was a McDonald's All-American Nominee during her junior season.
UCSB COACH EXCITED FOR ARBOR VIEW-GRAD BURKS' ARRIVAL
UCSB coach Bobby Williams was in town this week for the AAU events, and said his 2014-15 squad might be the deepest he's coached. Part of that roster includes Arbor View-graduate Justin Burks, the two-time Northwest League Most Valuable Player.
Burks, who averaged 23.2 points, 6.7 rebounds and 2.0 steals and led the Aggies to their second straight league title, joins a roster that returns four starters to a Gauchos team that went 12-4 in Big West play last season.
"I think we have a really nice returning team," Williams said. "We're returning our starting point guard, starting three man, starting four man, starting five man … and I think there's a good upside to every one of those kids. We have good depth at every position and then I think we've added four really nice pieces that are three freshmen and a JC transfer that will give us the best depth we've had, maybe ever in my 17 years at Santa Barbara."
In addition to an intoxicating smile and well-grounded personality, Burks adds athleticism and explosiveness to the Gauchos, who could be favored to win the conference.
"I think he'll blend in immediately, because he just fits so well, he's such a good kid," Williams said. "He's easy to be around, the players loved him when he was there. Justin comes out of a long heritage of 6-foot-6, versatile (mold) … who could play more than one position.
"We've had so much success with guys like him that we're really excited about it."
Williams said if everyone remains healthy, Burks' freshman season will serve as an educational one. But if there are injuries, "he's going to have to be put in a position where we're going to need him to produce early."
SUPER 64 DIRECTOR HAS EVOLVED ALONG WITH SUMMER HOOPS IN LAS VEGAS
Ron Montoya has lived in Southern Nevada for 39 years. He spent 36 years in the Clark County School District as a teacher and administrator – the last 12 years as the principal at Valley High School – but his passion has always been basketball. After starting for St. Mary's men's basketball team, and his playing days came to an end, he eventually landed at Basic High School as a coach from 1979-1984.
For the past the past 11 years he's served as director of adidas' Super 64 tournament. Montoya is the director of three Gauntlet series events – the qualifiers in Dallas and Orlando, and the national event that has taken place all week at Cashman Center that concludes Sunday at Rancho High School with the championship game.
I sat with Montoya during part of a tournament game on Saturday, reminiscing about the evolution of summer hoops in Las Vegas and after 30 minutes of conversation that covered five decades, he was absolutely correct when he said "we could sit here for hours."
Indeed.
"When I first started coaching AAU, it was all about the development of kids," Montoya said. "I had one AAU team with Greg Anthony – he was just a phenomenal kid, the toughest kid I've ever met. Another kid I loved was Johnny Welch. And the great thing about it was, I knew them since they were in the 8th grade and fundamentals were what it was all about. At Hyde Park, I had Danny Tarkanian in 1975."
Just listening to him talk about the former Runnin' Rebels, and old-school summer hoops, brought back so many fond memories. It also brought up the one man who gets lost when people are handing out credit for who started summer basketball in Las Vegas.
Most like to think it was Sonny Vaccaro. Montoya and I know different.
"Nobody gives John Farrell the credit for starting summer basketball," he said. "It was not Sonny Vaccaro, it was John Farrell. And his first tournament was four teams, and he brought the kids in from all over the United States. John was a good guy.
"It was such a fun time back then. That was before Kobe Bryant came here (in 1995). When I was younger, I could still play, I used to play with my players; I was really excited about the game. I felt I brought a lot to the kids because I could teach them how to shoot, I could play defense and I could explain it and I could do it on the floor – that was the advantage."
Over the years, Farrell's summer four-team invitational turned into a large Nike-sponsored event, due to Vaccaro's eventual involvement. Vaccaro was a sports marketing executive who was best known for helping orchestrate Michael Jordan's first sneaker deal. And with his connections, teams like the New York Gauchos, Indiana Elite and Atlanta Celtics were annual entrants that paraded into town like NBA teams that play exhibition games at the Thomas and Mack Center.
The tournament grew into the nation's premier off-season event, as the top high school players would come to Sin City annually and provide highlight reels inside UNLV's north and south gyms.
As the industry grew, so did the demand for bigger and better events. Money and endorsements didn't hurt. I'll never forget interviewing Vaccaro in 1995, when he was with adidas and introduced Las Vegas to the inaugural Big Time Tournament that his goal was to be the only game in town each summer, and wanted to put the Nike event he helped grow, out of business.
He did. And eventually, when Vaccaro switched to Reebok, it became the Reebok Big Time.
Fast forward to now, and the industry has grown so large there are plenty of tournaments to go around – both nationwide and culminating in Las Vegas – including Montoya's Super 64 and the Las Vegas Fab 48 – both of which I've been highlighting this past week.
"Play is a lot better, the coaching is much better, there is more fundamentals involved, kids take care of their bodies much better and shoe companies take good care of us," Montoya said.
SUDANESE SEVEN-FOOTER REMIND US OF TWO NBA KEVINS
Remember the name Thon Maker.
He's plays like Kevin Durant on the offensive end, and swats like Kevin Garnett on the defensive end.
He's 7-foot-1.
And he'll be a junior.
In high school.
I've watched him play three separate games this week in the Super 64, and was in awe each time. Talk about a basketball specimen.
"He has skills to bring it up, he can hit the 3-ball, he's comfortable with doing anything he needs to do on the offensive end," Team Loaded coach Michael Blackwell said. "On the defensive end, he protects the basket."
I'm still baffled by the play I saw on Friday, when he scooped up a loose ball at one end, looked up court, dribbled like a point guard to the other end, crossed over into the key, and went in for a reverse layup. If you don't believe me, that a 7-footer that immediately brings to mind Manute Bol or Dikembe Mutombo because of his imposing height, do yourself a favor and watch him on You Tube.
Oh yeah, he has a brother, Matur.
He's 6-foot-10.
And he'll be a sophomore.
In high school.
"When you have two kids that are 6-10 and 7-foot-1, obviously they're going to bring attention," Blackwell said. "Walking through the airport, people want to take pictures, they bring a lot of attention. (But) the other teams know who they are, so they get up to play (against us) and that's a good thing because you want that other team to get up for you. The thing we run into a big problem with, is officials don't know sometimes how to referee (the Makers). Sometimes they get penalized for their length, and they allow other teams to do a lot more as far as pushing in the post. It's a good and bad thing with their height."
When I took a few minutes to interview the Sudanese brothers, it's safe to say I was just as impressed with their humbleness and gentle care toward doing an interview. They were savvy, but yet still just high school kids who appreciated being appreciated. Thon has been over in American for about four years, while his younger brother has been here a little more than a year.
"Basketball is much more physical over here then what they're used to," Blackwell said.
Said Thon Maker: Everybody has to come at me. When I'm on offense, they have to do their best to defend me or try to foul, or double team. It's always tough. But I love it."
Matur said his first summer with Team Loaded has provided him with valuable experience, while he's learned to toughen up playing alongside his brother.
"He's always going at me," Matur Maker said of his brother. But that just makes me work harder to compete and rebound against him. And that's good because the basketball is different over here. It's faster and much more competitive."
Asked about playing in Las Vegas, where Thon has played before, he said: "It's a beautiful city, the basketball atmosphere is great right now."
But Matur summed it up with a ginormous smile to accompany two words: "It's hot"
WHERE'S CARP?
I think it's become somewhat of a tradition now, when covering basketball events that include college coaches in my presence. They all want to know where Review-Journal sports writer Steve Carp is at, and if he'll be around.
During a winter tournament at the Orleans a couple seasons back, it was Colorado State coach Larry Eustachy making the inquiry: "Where's my buddy Steve Carp?" A few weeks back at the NBA Summer League there were coaches and reporters wondering if he would be back after being on the scene on opening day, when the LeBron bomb dropped that he'd be taking his talents back to Cleveland. This week it was former UNLV men's basketball assistant and current Villanova head coach Jay Wright asked me: "Where's Carp? Steve Carp, is he still around?"
Yeah, he's still around. He's not in town this weekend, but he's certainly still around, covering everything from Boxing, to Golf, to UNLV athletics, to the NBA Summer League. Needless to say he's a staple mark when it comes to sports journalism in Southern Nevada.
Carp will celebrate his 26th year covering the Las Vegas sports scene next month – and a good portion of that was on the UNLV men's basketball beat, including the Runnin' Rebels' championship season in 1990.
"I'm no celebrity Willie, it's not like that," said Carp, when I phoned him to tell him Wright was asking for him.
No Steve, but believe it or not, you've built your own legendary status and deserve any and all compliments you receive my friend.