Massive crowd delays, nearly cancels LaMelo Ball AAU game in Las Vegas
Updated July 27, 2017 - 7:37 pm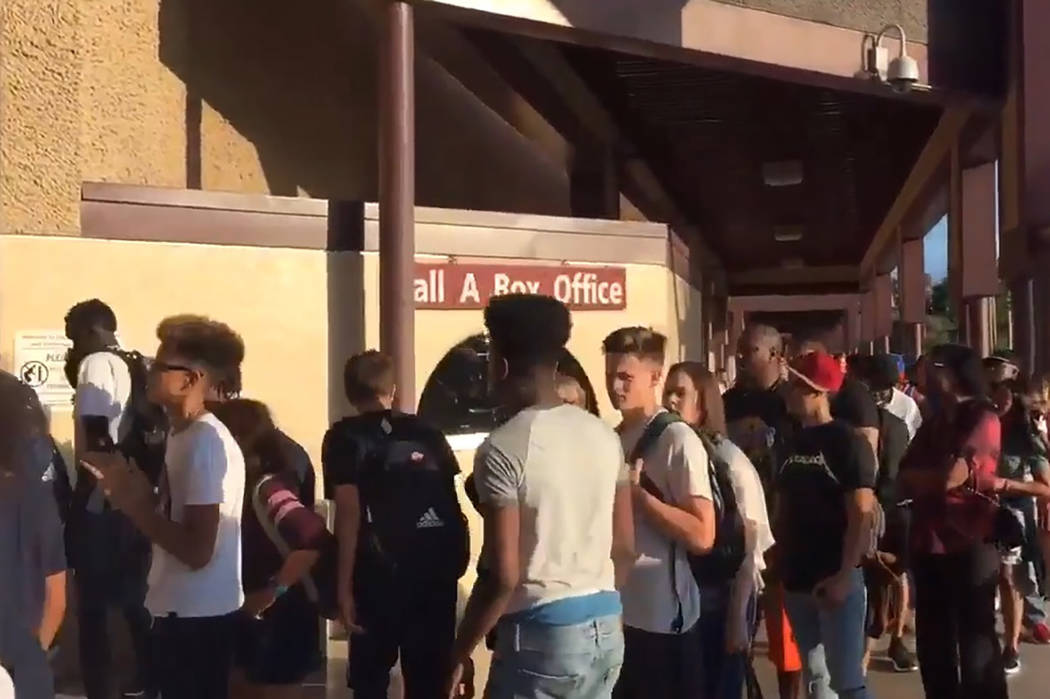 An AAU basketball game at Cashman Center was nearly canceled Wednesday night due to fire-code and safety concerns as an overflow crowd jammed court 5 to watch LaVar Ball's Big Baller Brand face SC Supreme.
Tipoff was delayed for about 15 minutes after event officials and officers banned anyone else from entering the building an hour before the game. Adidas Summer Championships director Chris Rivers estimated at least 1,500 fans remained outside, where they stood to watch the game on a big screen inside through the transparent Cashman Center doors.
One star NBA player saw the large crowd and decided not to attend. The Cleveland Cavaliers' LeBron James had planned to watch the game, and was sitting in a car outside the venue, but was advised by his camp to stay away for "safety concerns."
"(The police and security) were extremely helpful in working with our staff and making sure it was a safe environment for everyone," Rivers said. "We made a decision that was best for our fans and the game. Everything was done for the safety of those in attendance."
Rivers added: "We've had some good dialogue with local authorities and made plans that will put us in a better position going forward to ensure everyone can come in and enjoy some great summer basketball."
The hype was brought on because of SC Supreme's Zion Williamson, the No. 2 overall recruit for the class of 2018, and Big Baller Brand's elite 2019 recruit LaMelo Ball, the brother of Lonzo Ball — the top pick of the Los Angeles Lakers in June's NBA Draft. SC Supreme won the game 104-92.
Crowds shuffled in hours early just to get seats and police officers and security personnel were forced to set up barricades before tipoff and make room for an estimated crowd of 3,500-4,000. The court that was used sits on the west end of the Cashman Center pavilion and has a capacity of 6,971.
Margaret Kurtz, a Public Information Officer at City of Las Vegas, said the responsibility of not exceeding that occupancy load "rests with the person operating the venue."
Mostly everyone in the building, though, chose the court 5 game at one time, which led to crowding.
"The expectations were that we'd have a full house and it would be exciting," Rivers said. "We underestimated how much social chatter there would be all day. From 8 o'clock in the morning, Zion's phone was blowing up. Even though they're two different players and they play opposite positions, people were coming to see Zion versus LaMelo."
An announcement before the game warned people to clear the congested walkways or the fire marshal would have to shut down the event, which was scheduled to begin at 9 p.m.
"Clear the front rows. Let's go people. Work with us, please," the public address announcer said.
Throughout the game, police officers continually asked fans to "back up six inches" from the baselines.
Rivers confirmed James was supposed to attend the game, and was waiting in a car outside, but made a last-minute decision to leave.
Inside, fans stood on chairs and structures, and filled up the baselines. On one fast-break play in the first half, Williamson was fouled on a dunk and came down on a police officer under the basket.
Rivers said he doesn't expect the rest of the tournament to be as crowded as the Big Baller Brand-SC Supreme game.
"I don't think so," Rivers said. "It was just because it's those two guys playing at the same time. Whether you're a fan of LaMelo or Lavar (Ball) or Zion, they came together at one time. (But) I'm sure we'll still have some good crowds."
Ball, a 6-foot-2-inch guard, is ranked eighth overall in the ESPN 60 rankings for the class of 2019. He committed to UCLA in 2015.
The 6-7, 230-pound Williamson is the No. 2 overall recruit in the 2018 class and is the highest-rated player in Las Vegas this week. He currently is uncommitted, but has scholarship offers from nearly every major program, including Connecticut, Kansas, Kentucky, Louisville, North Carolina and UCLA.
Williamson finished with 31 points and nine rebounds, while Ball had 36 points, 12 rebounds and five assists.
Contact reporter Ashton Ferguson at aferguson@reviewjournal.com or 702-383-0430. Follow @af_ferguson on Twitter.