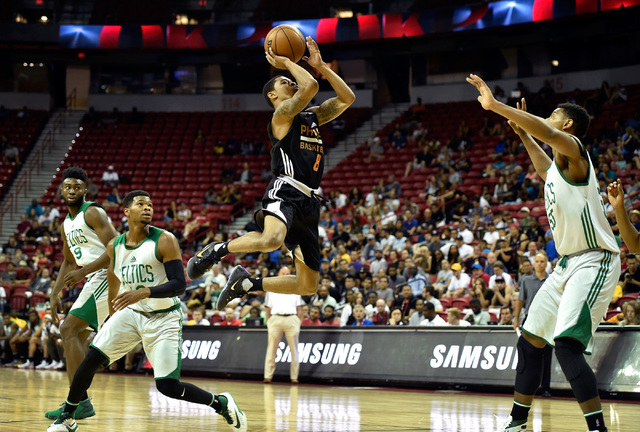 If you didn't catch any of the NBA Summer League action last weekend, there's still plenty of time before it leaves Las Vegas.
Games at the Thomas & Mack Center and Cox Pavilion go for another week. The summer league's tournament starts Wednesday, culminating with Monday's championship game.
Besides taking in the games, there's a lot fans can do at the arena.
HOW YOU MEASURE UP TO THE PLAYERS
Fans can test out their jumping skills just like hopeful players do at the NBA Combine. Outside portals 19 and 23 you'll find a Fan Combine where you can compare yourself to the pros.
You can compare your wingspan to Los Angeles Clippers' DeAndre Jordan, which by the way is 90 inches. 90 INCHES! You can also compare your hand width to San Antonio Spurs' Kawhi Leonard — 11.25 inches — your hand length to Sacramento Kings' DeMarcus Cousins — 9.25 inches — and your height to Phoenix Suns' Tyson Chandler, who is 7'1".
SHOOT SOME HOOPS
Fans can shoot some hoops outside portals six and 13 with arcade-type basketball games set up by NBA Cares.
AUTOGRAPHS
Following each game, one player is available for autographs outside portal 10. Random players are selected for fan autographs. The players aren't announced beforehand, or even obligated to show up, but are available for seven minutes following the game.
And if you're lucky, you might even catch a player walking around the concourse or even outside the arenas.
PLAYER INTERVIEWS
NBA TV's The Starters, a daily TV show, podcast and blog, host its live nightly TV show from the Thomas & Mack outside portal three each night. If you get there early enough, you may even get on camera.
#TheStarters will be LIVE nightly from Las Vegas during #NBASummer League! pic.twitter.com/PBtQKYiMkh

— NBA TV (@NBATV) July 8, 2016
So far, The Starters have had Los Angeles Lakers' Brandon Ingram, New Orleans Pelicans' Buddy Hield, Miami Heat's Justise Winslow and Phoenix Suns' Dragan Bender on the show.
MERCHANDISE
NBA Summer League merchandise is sold outside portals 28 and 29.
FOOD
You've got your choice of standard arena food at the Thomas & Mack. Grab yourself a beer for $8 and a hot dog, or rather a Rebel dog, for $5. If beer isn't your thing, you can also grab a cocktail in a few different spots around the concourse.
SEATS
Let's be honest, there's really not a bad seat in the Thomas & Mack or the smaller Cox Pavilion, and with the games not likely to sell out, you can get a seat pretty close to the court and even move around to other seats throughout the game.
One of the greatest things about Summer League tickets is that you pay $30 for a general admission ticket (kids $20), and you can hang out at the arena all day if you want and even bounce back and forth between the Thomas & Mack and Cox Pavilion. Of course, if you absolutely have to be courtside, you can shell out $350 for those tickets.
TV
If you're unable to make any of the games at the Thomas & Mack or Cox Pavilion this week, you can also catch them on TV. Games can be seen on ESPN, ESPN2, ESPNU, ESPN3 streaming and NBA TV.
Contact Kira Terry at kterry@reviewjournal.com. Find her on Twitter: @kiraterry