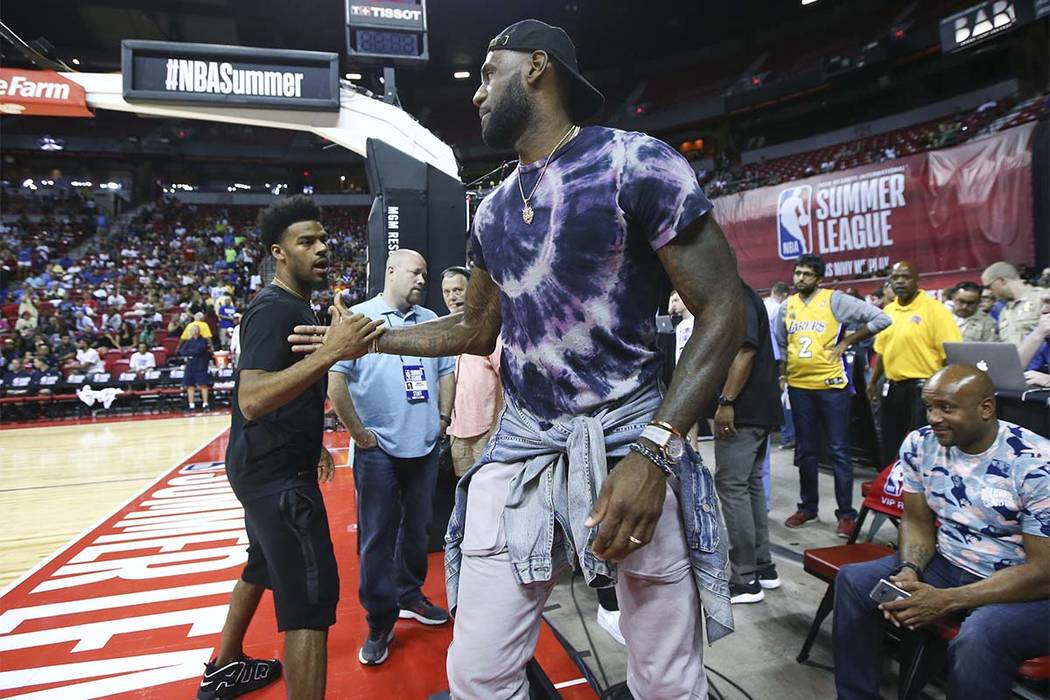 The seventh day of the 2017 NBA Summer League is the second day of tournament play, with the winners from Wednesday facing off against the top eight seeds. It will feature eight games in total — four in the Thomas & Mack Center and four in the adjacent Cox Pavilion.
The winners from today will move on to the quaterfinals Saturday, and the losing teams will play the losers from the Wednesday's games in the consolation round Friday.
The 11-day NBA Summer League will present 67 games in total. A record 24 teams will participate in the tournament-style format, which culminates with a championship game that will be televised by ESPN on July 17.
Game of the day
Los Angeles Lakers vs. Cleveland Cavaliers — The Lakers edged out a close one against the 76ers last night behind Lonzo Ball's best game so far in the tournament: 36 points, 11 assists, and eight rebounds. They will face an undefeated Cavaliers team that has beaten their opponents by a combined total of 51 points.
What to look for
— Six teams remain undefeated so far in Las Vegas: Boston Celtics, Cleveland Cavaliers, Dallas Mavericks, Los Angeles Clippers, Memphis Grizzlies, and Toronto Raptors. Will they continue to remain unblemished or, to quote a notorious Irish pugilist, does somebody's "0" have to go?
— New Orleans Pelicans guard Quinn Cook has been having a nice showing during Summer League. The former Duke Blue Devil is averaging about 21 points per game, while going 6-for-13 from 3-point range. Will he continue to bring the heat against the San Antonio Spurs?
— Phoenix Suns forward Josh Jackson, the fourth overall pick, has been impressive so far, looking very comfortable out there on an NBA court. Some would say "but it's only Summer League ball," which is true. But if Jackson, who is averging 18.5 points and 9.5 rebounds in the tournament, continues to get better, it paints a bright future for a young, talented team to emerge out of Phoenix.
Schedule/Latest lines*
Today
At Cox Pavilion
No. 24 New Orleans vs. No. 8 San Antonio, 1 p.m. (Spurs -3½, 174)
No. 22 Golden State vs. No. 6 Boston, 3 p.m. (Celtics -3½, 162)
No. 15 Phoenix vs. No. 4 Memphis, 5 p.m. (Grizzlies -1½, 171½)
No. 16 Portland vs. No. 1 Toronto, 7 p.m. (Raptors -3½, 163½)
At Thomas & Mack
No. 23 Denver vs. No. 7 Brooklyn, 1:30 p.m. (Nets -2½, 167)
No. 12 Miami vs. No. 5 Los Angeles Clippers, 3:30 p.m. (Clippers -2½, 165½)
No. 19 Sacramento vs. No. 3 Dallas, 5:30 p.m. (Mavericks -4½, 164½)
No. 15 Los Angeles Lakers vs. Cleveland, 7:30 p.m. (Cavaliers -2½, 173)
Tickets
Per session: $30 adults, $20 kids 12 and under
TV
ESPN, ESPN2, ESPNU, ESPN3 streaming, NBA TV
Roster's for teams playing today