Q&A: G League showcase affirms NBA commitment to Las Vegas
Updated December 22, 2018 - 8:40 pm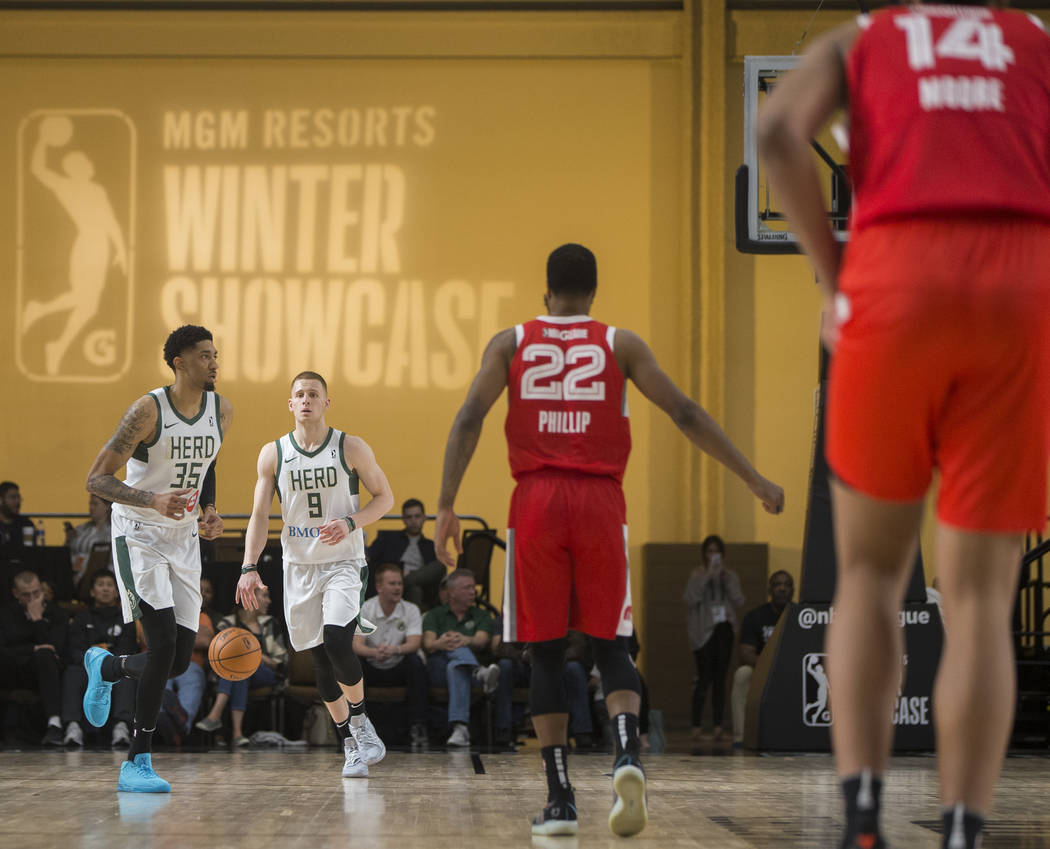 Former NBA All-Star and soon-to-be G League president Shareef Abdur-Rahim marveled Friday at the presentation of the G League Winter Showcase at Mandalay Bay Events Center.
And for good reason.
For four days, the facility morphed into a hub of basketball complete with two game courts, three practice courts and all 27 G League teams — plus the droves of NBA personnel on hand to evaluate the players.
Never in the event's 14-year history had it been this grandiose. This spectacular.
Las Vegas might have something to do with that.
The scouting extravaganza concluded Saturday, marking the end of the G League's first Winter Showcase in Las Vegas after 13 years in smaller markets. Abdur-Rahim, who assumes presidency Jan. 11, spoke to the Review-Journal about the NBA's commitment to Las Vegas, his vision for the G League and the implementation of select contracts for elite high school players.
RJ: How crucial was it for the G League to have the Showcase in Las Vegas, where the NBA has established itself with the summer league and the WNBA's Aces?
Abdur-Rahim: It's huge. It continues that partnership, right? … To be able to come here, to be able to continue to partner with MGM, have a new look to the showcase and have everyone be excited — it's awesome … This is by far different and better than anything we've been able to do in the past. It's exponentially better. It's awesome.
RJ: As a former player, how have you watched the NBA's presence evolve in Las Vegas over time?
Abdur-Rahim: The opportunity is here. The space is here. It's a location where folks want to come. I think the town gets it. Las Vegas gets the ability of sports to energize folks and get folks together. A partner like that, it's easy for us to come and make that work here.
RJ: The G League has made so much progress in the past 10, 15 years. How do you want to build on that as president?
Abdur-Rahim: Looking and taking advantage of opportunities. No. 1, we'll have 28 teams now. We'll get to 30 (by 2022). Continue to build on opportunities to showcase our players and the talent we have. Continue to give our teams opportunities in places where they can come to scout and see our players all in one place like this. Continue to grow and build on the platform we have. We're in a great position right now, but I think there's untapped potential.
RJ: How much more competitive is the G League becoming?
Abdur-Rahim: I think with the addition of NBA teams being able to be more connected to players, with two-way contracts, training camp contracts, young players that are being assigned to teams, I think the level of play and the quality of basketball has continued to grow. We expect that as we continue to grow the league.
RJ: The new rule, with kids being able to come straight to the G League out of high school, how do you expect that to impact the league?
Abdur-Rahim: We'll have to see. I think it'll take time to make an impact on the league as a whole. Right now, it's (about) giving kids an alternative to college and what they want to do.
Contact reporter Sam Gordon at sgordon@reviewjournal.com. Follow @BySamGordon on Twitter.
G League Showcase
Fort Wayne Mad Ants 100, South Bay Lakers 97 — Edmond Summer scored 23 points for Fort Wayne.
Santa Cruz Warriors 102, Canton Charge 91 — Marcus Derrickson led the Warriors with 21 points.
Stockton Kings 132, Wisconsin Herd 125 — Harry Giles III had 21 points and eight rebounds for the Kings. Former UNLV standout Christian Wood scored 34 points.
Rio Grande Valley Vipers 109, Greensboro Swarm 103 — Dakarai Tucker had 27 points and nine rebounds for the Vipers.
Oklahoma City Blue 112, Long Island Nets 108 — Deonte Burton scored a team-high 21 points for the Blue.
Salt Lake City Stars 99, Delaware Blue Coats 93 — Isaiah Cousins led Salt Lake City with 21 points.