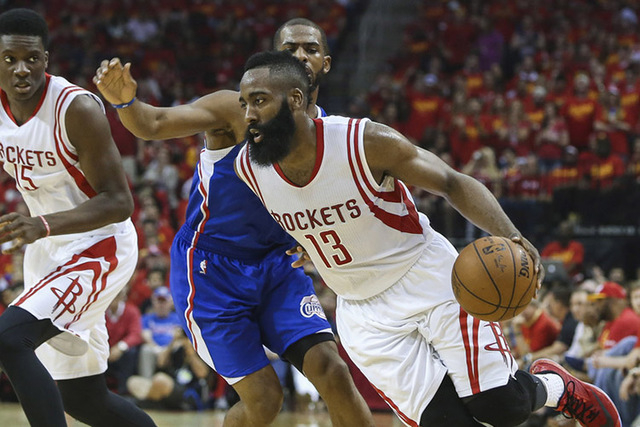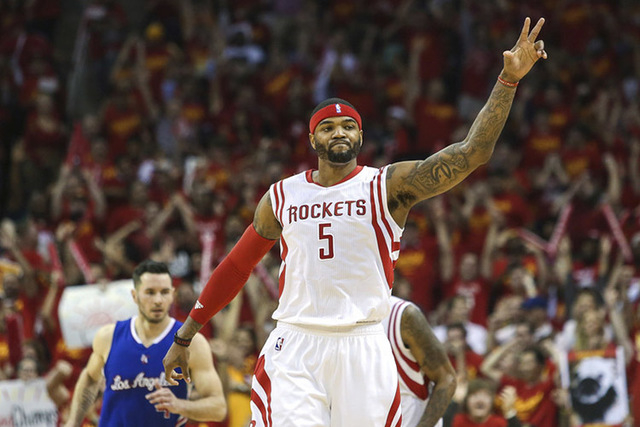 HOUSTON — Trevor Ariza buried a corner 3-pointer with just under a minute remaining and the Houston Rockets completed a stunning comeback from a 3-1 series deficit to claim Game 7 of the Western Conference semifinals against the Los Angeles Clippers 113-100 on Sunday at Toyota Center.
Rockets guard James Harden had 31 points, seven rebounds and eight assists and center Dwight Howard added a double-double of 16 points and 15 rebounds. But it was Ariza who helped stabilize the shaky Rockets late, nailing a 3 after the Clippers cut a 20-point deficit to eight.
Ariza finished with 22 points and seven rebounds as the Rockets won the final three games of the series to set a date opposite the Golden State Warriors in the Western Conference finals. The Clippers again failed to advance beyond the second round, having never done so in franchise history.
Clippers guard Chris Paul played brilliantly in defeat, recording 26 points, 10 rebounds and five assists. Forward Blake Griffin added 27 points, 11 rebounds and six assists while center DeAndre Jordan scored 16 points and grabbed 17 rebounds. Los Angeles never led in the game.
Rockets reserve guard Pablo Prigioni proved surprisingly instrumental in the third quarter, starting with a 3-pointer at the 5:26 mark that enabled Houston to regain its double-digit lead at 70-59.
From that point forward Prigioni was a defensive force, recording a pair of steals to ignite the Rockets in transition. Houston had surrendered nine points off its 15-point lead when Paul scored in succession, but once Prigioni provided the spark, the Rockets got rolling.
The Clippers made just two field goals over the last four minutes, and over that stretch the Rockets got an Ariza 3, a Harden basket in transition, and a Harden step-back buzzer beater for an 85-68 lead.
After a scoreless second period Harden scored 10 in the third, a nice bookend to his 12-point opening period. Harden scored seven consecutive points to give the Rockets the lead for good at 14-7 and later added a driving layup and a 3-pointer for a 22-13 lead.
Houston extended to a 36-21 lead on a Corey Brewer 3-pointer just two minutes into the second quarter, setting the stage for the Clippers to keep working uphill just to slice into the deficit. The Rockets had an answer for every Clippers surge, including a Howard alley-oop dunk to end the half for a 56-46 lead after Los Angeles cut the deficit to six.
NOTES: Rockets coach Kevin McHale and Clippers coach Doc Rivers met as players in Game 7 of the 1988 Eastern Conference semifinals. Their memories of the Celtics' 118-116 victory over Rivers' Hawks were similar. "I was guarding Dominique (Wilkins) and he was going off on me," said McHale, who finished with 33 points, 13 rebounds and four blocked shots. "Dominique was guarding Larry (Bird) and Larry was going off on him, and I said, 'I need to guard Tree Rollins for a while.'" Said Rivers, who posted 16 points and 18 assists for Atlanta: "I would take Dominique (against Houston). I just don't want Larry to play." … The Rockets were 3-1 in home Game 7s prior to Sunday, losing their previous contest against the Utah Jazz 103-99 in the first round in 2007. … Rivers noted a difference between the seven-game series Los Angeles played against the Spurs in the first round and this showdown with the Rockets. "This series has been played very uneven, from both teams," Rivers said. "I wish I could tell you why that's happened, but it has happened."