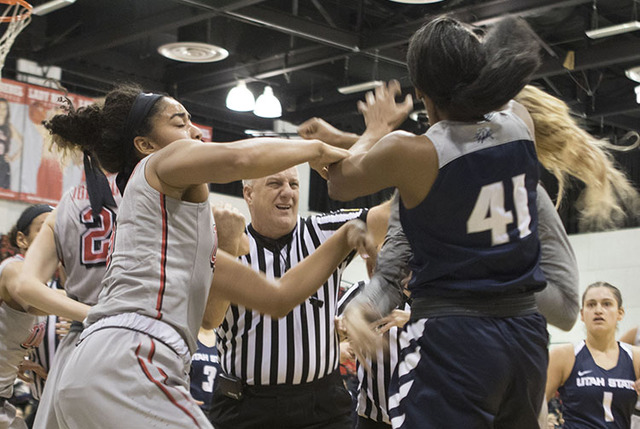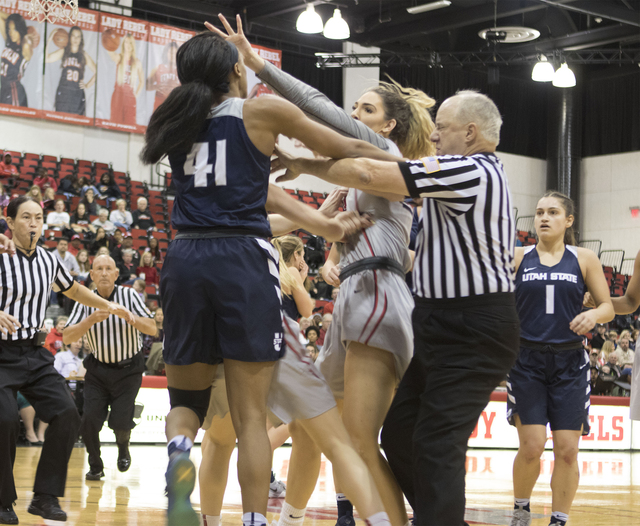 Decisions from the Mountain West on suspensions following Sunday's brawl against Utah State are expected to come Monday.
Four Lady Rebels were ejected from the game — Katie Powell for fighting and Destiney Lee, Kennedy Wharton and Rodjanae Wade for coming off the bench.
Powell likely will be suspended for at least one game — possibly more — after she and Utah State's Antoina Robinson got into a fight in the third quarter of UNLV's overtime victory shortly after Brooke Johnson was fouled.
Powell said she was going to help Johnson up when the fight began.
"Throughout the game she was playing a little dirty. Words were exchanged. I just told her to chill out," Powell said Saturday. "And then we came to the other side of the floor. Brooke got fouled. I was walking to go help her up. She bumped me and then pushed me and then I just kind of swung at her."
Powell, a starter, has averaged 7.8 points and 6.1 rebounds per game in her sophomore season.
Contact Betsy Helfand at bhelfand@reviewjournal.com. Follow @BetsyHelfand on Twitter.
A fight broke out in the UNLV Utah State women's basketball game. pic.twitter.com/JzwutY8A9n

— Tyler Bischoff (@Bischoff_Tyler) January 8, 2017