Fab future is now for top freshman Leonard
March 14, 2010 - 12:00 am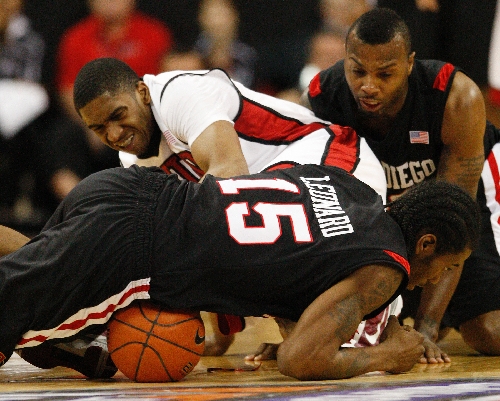 Sleep well, Mountain West coaches. You might have to game plan against Kawhi Leonard for three more years.
Leonard, voted conference Freshman of the Year, had a performance for San Diego State on Saturday that couldn't have been comforting for the rest of the league and definitely wasn't for UNLV.
The 6-foot-7-inch forward dominated the conference final, scoring 16 points and grabbing a tournament-record 21 rebounds in the Aztecs' 55-45 victory over the Rebels at the Thomas & Mack Center.
"I just tried to play with a lot of energy," said Leonard, who became the first Freshman of the Year to also be voted tournament Most Valuable Player. "We came here to win a championship and everyone contributed, not just me."
Leonard's 21 rebounds broke the tournament record of 19 set by San Diego State's Marcus Slaughter in 2006.
"Kawhi is very talented. Everybody knows that," Aztecs coach Steve Fisher said. "He was Mr. Basketball in California. He's at San Diego State for this (pointing to the championship trophy).
"He knew where he belonged. He knew where people would care for him. He knew where we would be true to helping him grow his game and grow as a person, and he trusted in us.
"We (can) recruit against the Pac-10. We don't beat 'em often. But we got a guy that right now they would all love a mulligan to try and get involved with him."
Leonard is exactly the kind of athlete who has given UNLV trouble the past few years. His length, quickness, toughness and ability to cover the court make him difficult to match up against. He averaged 14 points and 15 rebounds in three games against UNLV this season.
"He's just got an air about him that you're looking for in an athlete," Rebels coach Lon Kruger said. "Very confident. Finishes. Makes big plays. Went to the line (Saturday) and made all his free throws. He just delivers.
"He's awfully tough. Everybody would like to recruit a guy to match up with him, but it's hard to find those."
Leonard was active early on the glass, getting 13 rebounds by halftime to help the Aztecs take a 25-22 lead. Late in the game, he made his final eight free throws to help San Diego State pull away.
"I've been working on my free throws, and the ones I hit were big," said Leonard, who shoots 70.8 percent at the line. "If I miss, and they come down and hit a 3, it could have been a different game."
As for his domination on the boards, Leonard said it's a matter of pride.
"That goes back to the playground where if you lost, you had to leave the court," he said. "I didn't want to leave, so I went after every rebound so we could keep playing."
Contact reporter Steve Carp at scarp@reviewjournal.com or 702-387-2913.