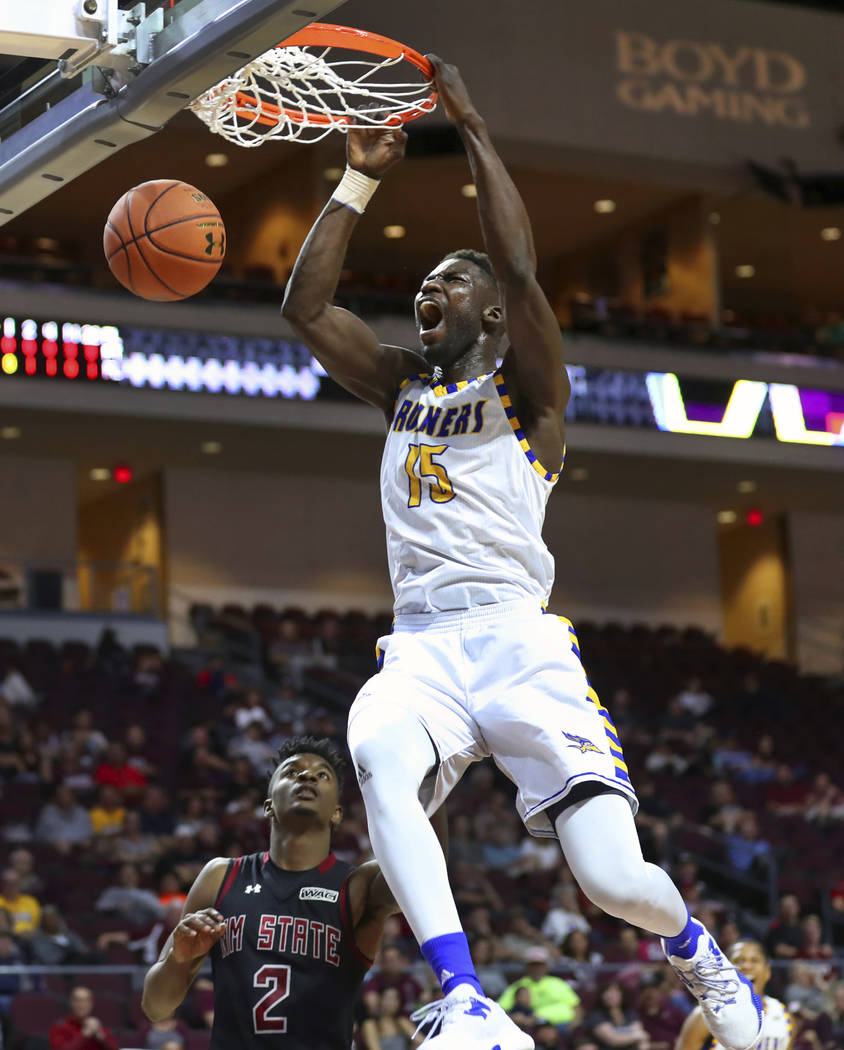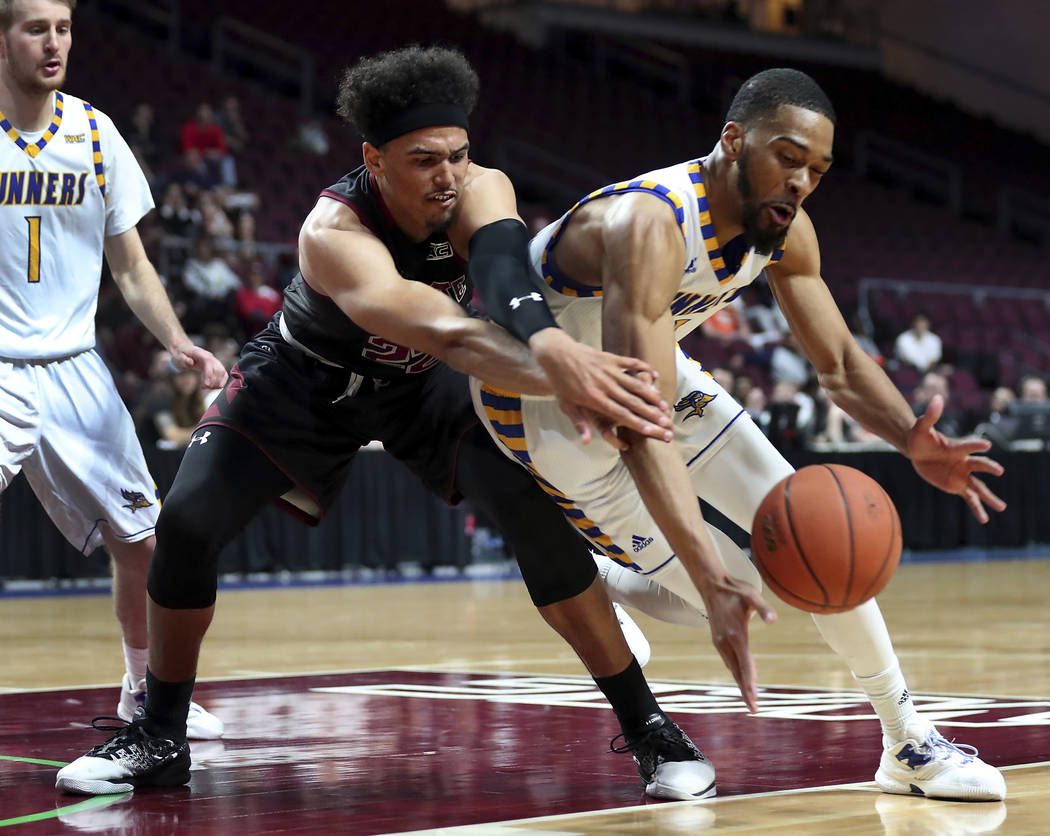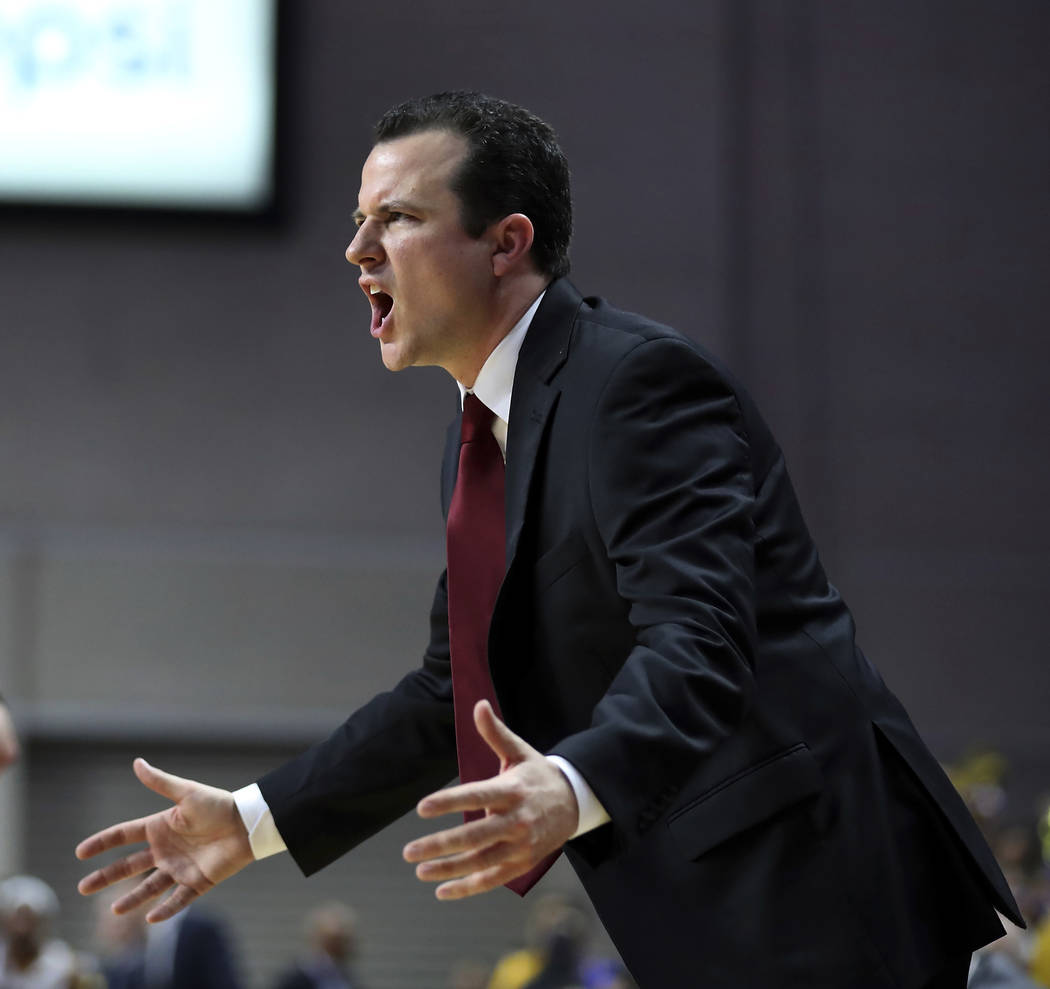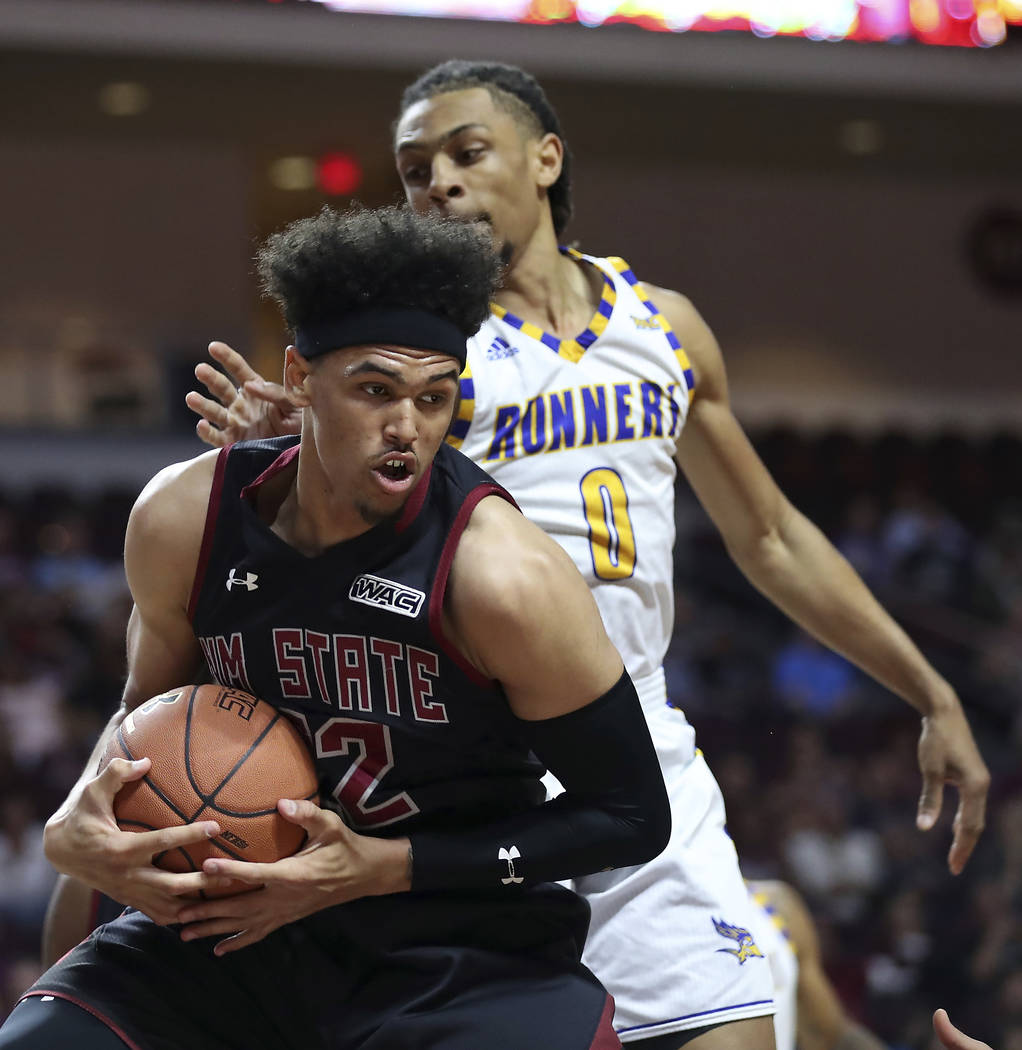 Normally when a college basketball team wins a tournament, one of the players is the first to cut a piece of the net.
But when New Mexico State regained its Western Athletic Conference men's basketball tournament crown Saturday night at Orleans Arena, coach Paul Weir climbed the ladder first.
"That wasn't anything honorable," he said. "That was just a rookie coaching mistake."
In his first year as the Aggies' coach, Weir led second-seeded New Mexico State back to the NCAA Tournament with a 70-60 comeback victory over top-seeded and defending champion Cal State Bakersfield in the championship game.
He is the first coach to lead the Aggies to the NCAA Tournament in his first season since Lou Henson in 1966.
New Mexico State (28-5) had won four straight WAC tournament titles and five of six before losing to Bakersfield in last year's final.
The Aggies appeared to be in trouble Saturday when they fell behind by 13 points in the first half and trailed 29-20 at intermission after shooting 28.6 percent from the field in the first 20 minutes.
"We were just telling each other to stay calm," senior Ian Baker said. "Don't let them speed us up, which is obviously what they were doing in the first half. Don't get down on each other and let the game come to us."
Baker said the Aggies thought Bakersfield (22-9) would tire out at some point after the Roadrunners played a four-overtime marathon against Utah Valley on Friday night.
That appeared to be the case. The second half was all New Mexico State, which outscored Bakersfield 50-31 in the final 20 minutes.
Baker finished with 15 points, all in the second half, and his 3-pointers sparked the comeback. Sophomore Eli Chuha led the Aggies with 16 points.
"I just told myself I had to be aggressive," Baker said. "Those were pretty much the best looks I got all game. Credit to Bakersfield, they made it hard for me, as they usually do.
"I just happened to find a look at the basket and take advantage of it."
Baker averaged 16.0 points in the tournament and was named the MVP.
"I just think it feels much better to win this championship game," he said. "I'm thankful for the MVP, but I'm just excited for my team and happy we'll be able to go back to the NCAA Tournament."
In their last NCAA Tournament game in 2015, the Aggies lost to Kansas in the first round. Baker started and scored four points.
"I feel really good about our team," Weir said. "We have great balance, we have a great group of kids. They believe in each other, and I feel that we're there."
The WAC did not release attendance figures for the game.
ALL-TOURNAMENT TEAM
Jaylin Airington, Cal State Bakersfield
Dedrick Basile, Cal State Bakersfield
Ian Baker, New Mexico State
Eli Chuha, New Mexico State
Braxton Huggins, New Mexico State
MVP: Baker
Contact reporter Bill Slane at bslane@reviewjournal.com or 702-380-4559. Follow @bill_slane on Twitter.