Rebels hit mark from start in MWC Tournament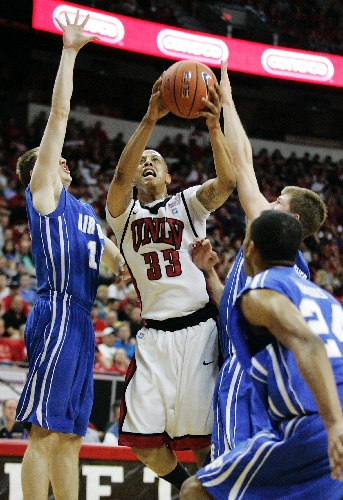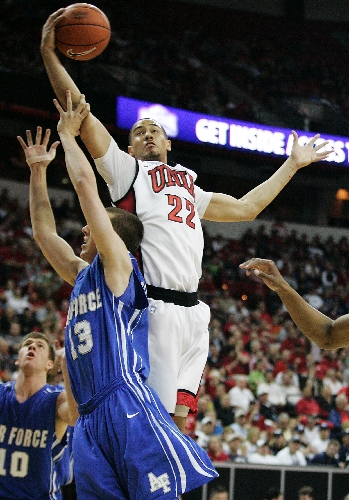 From all four corners of the floor, UNLV junior Chace Stanback was on target. When his first 3-pointer dropped, he knew it wouldn't be the last.
"When you hit your first shot, your confidence is up and you feel like you can make another one and just keep it flowing," he said.
Stanback hit six 3-pointers and scored 20 points, and senior Tre'Von Willis also finished with 20 points, as the Rebels' duo shot down Air Force 69-53 in the Mountain West Conference tournament quarterfinals at the Thomas & Mack Center on Thursday night.
It was the warm-up to the main event. Stanback and Willis now have their sights are set on a much bigger game.
A final four is set for perhaps the most hyped night in the 12-year history of the Mountain West, with two of the nation's top 10 teams in opposite halves of the semifinal bracket.
UNLV (24-7) faces seventh-ranked San Diego State (30-2) at 8:30 p.m. The Aztecs, who advanced with a 64-50 victory over Utah, have won seven of the past eight games against the Rebels.
Jimmer Fredette and No. 8 Brigham Young (29-3) square off against New Mexico (21-11) at 6 p.m. The Lobos swept two games from the Cougars in the regular season.
San Diego State defeated UNLV 55-45 in the MWC tournament championship last season.
"We know it's going to be a big game, and we haven't played well against them," Stanback said. "We all know it's going to be a physical game. We've been picking it up lately and playing pretty well."
The Rebels ran their winning streak to six games, and their third victory of the season over the Falcons came far easier than the previous two.
Stanback sank his first 3-pointer 23 seconds into the game, and he launched it from the right corner. His third 3, from the left corner, put UNLV up 24-14 at the 5:54 mark.
The Rebels led 37-23 at halftime, with Stanback scoring 11 points and Willis 10. UNLV shot 13-for-23 (56.5 percent) in the half with five 3-pointers.
"We had some defensive breakdowns," Air Force coach Jeff Reynolds said. "Stanback made two really highly contested shots in the corner which got his rhythm going."
Taylor Broekhuis bounced in a 3-pointer to bring the Falcons within 42-34 with 14:30 remaining. But Stanback responded with his fourth 3, Willis knocked down a 15-foot jumper and the Rebels started to put it away.
Stanback's fifth 3-pointer stretched UNLV's lead to 50-36 with 11:50 to play. He finished 6-for-8 on 3s.
The Rebels shot 11-for-20 from the 3-point line, as Oscar Bellfield made three and Willis hit two.
"If they shoot the ball with that type of consistency from the outside, along with their defense, they can play with anyone in the country," Reynolds said.
Derek Brooks, Michael Lyons and Evan Washington each scored 10 points for Air Force (15-15).
The Falcons lack the size and strength of San Diego State, which clamped down defensively and forced UNLV to shoot a combined 2-for-33 from 3-point range in the two meetings this season. The Aztecs won each game by six points.
"Our guys know how tough it's going to be. It will be a huge challenge," Rebels coach Lon Kruger said. "Shooting the ball like we've been helps a lot.
"We went through some stretches where we didn't hit shots. Right now we are at the other extreme."
Willis, who also had eight assists and seven rebounds, said UNLV is a team riding high on confidence.
"This is tournament time," Willis said. "Our goal is to try to win this thing, and San Diego State is in our way right now."
Contact reporter Matt Youmans at myoumans@reviewjournal.com or 702-387-2907.
MWC TOURNAMENT BRACKETS
UNLV — 69
AIR FORCE — 53
KEY: Chace Stanback scored 20 points and hit six of the Rebels' 11 3-pointers.
NEXT: UNLV vs. San Diego State, 8:30 p.m. today, MWC tournament semifinal, Thomas & Mack Center, CBSC (333), KWWN (1100 AM, 98.9 FM)
TODAY'S GAMES
At Thomas & Mack Center
MEN
• Brigham Young (29-3) vs. New Mexico (21-11), 6 p.m., CBSC (333)
• San Diego State (30-2) vs. UNLV (24-7), 8:30 p.m., CBSC (333)
WOMEN
• Utah (16-16) vs. Brigham Young (23-7), noon, The Mtn. (334)
• New Mexico (13-17) vs. Texas Christian (21-9), 2:30 p.m., The Mtn. (334)