UNLV banks on NCAA bid despite tourney loss to San Diego State
March 14, 2010 - 12:00 am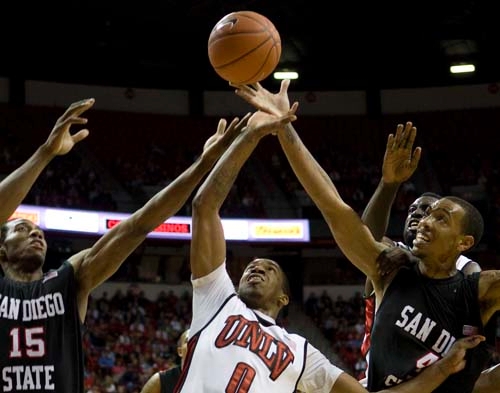 Of all the athletes in San Diego State's attack, Kawhi Leonard is the most impressive. The freshman forward appears to have a future in the NBA.
But the smallest player on the floor Saturday was 6-foot guard D.J. Gay, and he struck the biggest blow in a battle that assured the Aztecs a spot in the NCAA Tournament.
Gay scored all 11 of his points in the second half to lift San Diego State to a 55-45 victory over UNLV in the Mountain West Conference Tournament championship at the Thomas & Mack Center.
"I can finally take a deep breath. This is something I've been waiting for for the last two years," Gay said.
The muscular, 6-foot-7-inch Leonard was voted the tournament Most Valuable Player after producing 16 points and 21 rebounds.
The fourth-seeded Aztecs (25-8) won their first MWC tournament title since 2006.
The third-seeded Rebels (25-8) were denied their third tournament title in four years, and their postseason fate will be decided when the NCAA Tournament bracket is unveiled at 3 p.m. today.
"We have to wait," said coach Lon Kruger, adding he thinks "everything pretty clearly indicates" the Mountain West deserves four teams in the 65-team field.
New Mexico, the regular-season champion, and Brigham Young are safe bets. The Rebels beat the 14th-ranked Cougars 70-66 in the semifinals.
"This is high-level basketball," San Diego State coach Steve Fisher said. "This is a really good league that has nine teams in it, and four of us are going to the NCAA Tournament. Now we know we're in. We're where we belong."
The championship game, played before a crowd of 12,728, does not belong in the category of a classic. But the play of Gay and Leonard was noteworthy.
Fading out of bounds with the shot clock down to one second, Gay connected on a 3-pointer that put San Diego State ahead 46-40 with 5:33 left. The shot staggered the Rebels, and they never recovered.
"Coach Fisher pulled me aside in a timeout and said, 'D.J., I need you to hit a 3 for me. I need you to carry us to this victory,' " Gay said. "The opportunity came. I saw an opening and took the shot."
Both teams were obviously fatigued from playing games that went to the wire Friday night. The first half was an aesthetic disaster, as the teams combined to miss their first 12 shots from the field. The Rebels went the first 6½ minutes without a field goal, a drought that ended when Oscar Bellfield banked in a 20-foot jumper.
UNLV, which trailed 25-22 at halftime, took its last lead on Tre'Von Willis' jumper that made it 40-39 with 7:45 left.
But the Rebels went almost five minutes without scoring again, and the Aztecs seized the opportunity. Billy White hit back-to-back jumpers in the lane, and Gay's clutch 3-pointer stretched San Diego State's lead to six.
Willis finally made a short jumper to cut the deficit to 46-42 with 2:54 to go, but Leonard shot 8-for-8 on free throws in the final two minutes while UNLV continued to misfire.
San Diego State's defense proved impenetrable, with its taller and more athletic front line leading the way in limiting the Rebels to 17-for-52 (32.7 percent) shooting from the field.
"It was definitely frustrating for us. It seemed in the beginning we couldn't really get into a rhythm offensively," said Chace Stanback, who had 10 points and seven rebounds for UNLV.
Bellfield and Willis each scored 11 points, but they combined to shoot 9-for-27 with a total of eight turnovers, six by Bellfield. Willis was bothered by a sore left ankle that he injured late in Friday's victory.
"Tre'Von had some swelling and soreness, but he's not going to lean on that. He's not going to use that as an excuse," Kruger said. "I thought he battled through it."
Leonard, White, Willis and Stanback were joined on the all-tournament team by BYU's Jimmer Fredette and New Mexico's Darington Hobson.
White, a former Green Valley High School star, celebrated as the Aztecs cut down the nets in his hometown.
"It came down to who wanted it more," he said. "It means a lot to me. I never won anything like this in my life."
Contact reporter Matt Youmans at myoumans@reviewjournal.com or 702-387-2907.
View the slide show
SAN DIEGO STATE — 55
UNLV — 45
KEY: Freshman Kawhi Leonard had 16 points and 21 rebounds, and D.J. Gay scored all 11 of his points in the second half to lift the Aztecs.
NEXT: UNLV, postseason TBA; San Diego State, NCAA Tournament