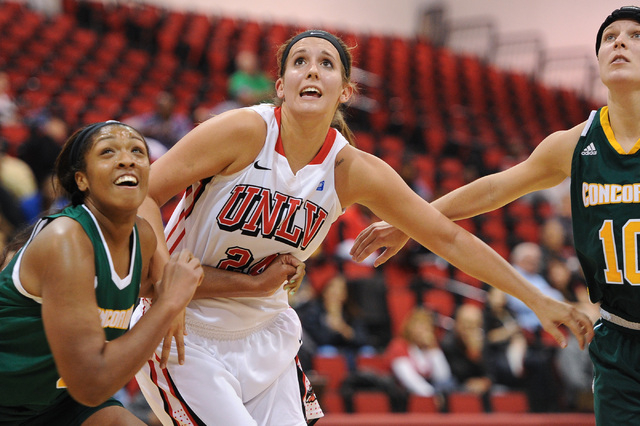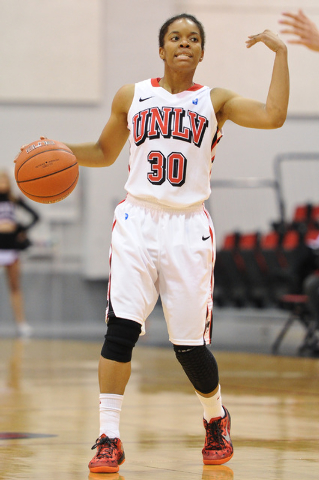 Whenever fear or doubt crept into Alana Cesarz's psyche as she rehabilitated her left knee this summer following surgery to repair a torn anterior cruciate ligament, she was reassured by Mia Bell, her UNLV basketball teammate who was recovering from microfracture knee surgery.
"She was there to say, 'It's going to be OK,' so I really appreciated Mia," said Cesarz, a junior forward/center. "She really knows what I went through. She knows what it's like not to be able to play."
Bell, a senior team captain and former all-conference point guard who redshirted last season following her second knee surgery in three years, spoke frequently with Cesarz about being mentally strong.
"Rehab is a tough process. You have days where it just knocks you down. We just talked about not being down about it," Bell said. "It's all about being mentally tough. You're going to go through adversity in the season, too, but you can't give up.
"That's going to help her throughout the rest of her life. I know for sure it helped me. Being able to get through those tough times, I can get through anything."
Back at full strength, Bell and Cesarz will help lead the Lady Rebels in today's 4:30 p.m. season opener against Santa Clara at the Thomas &Mack Center.
"I have never wanted to play basketball more than I want to now," said the 6-foot-1-inch Cesarz, who has returned a month ahead of schedule and is one of six returning starters, including Bell.
UNLV, coming off an injury-plagued season in which it went 12-19, also returns starters Rejane Verin (6-1 sophomore forward), Amie Callaway (6-1 sophomore forward/center), Danielle Miller (5-8 junior guard/forward) and Rmanii Haynes (5-6 senior guard). Added to the mix is 6-4 sophomore transfer center Aley Rohde, who started for Arizona as a freshman.
"I tell people they should be worried about us this year," Cesarz said. "We bring so much passion, maturity and experience and so many well-rounded players. We're really going to be a threat."
Verin averaged 8.4 points and 6.8 rebounds last season en route to Mountain West freshman of the year honors. Miller was the team's third-leading scorer, at 10.5 points per game, behind departed leading scorer Kelli Thompson (18.2 ppg) and Cesarz — who averaged 15.6 points and a team-leading 7.1 rebounds before suffering her season-ending knee injury Jan. 23 at Wyoming.
"I look at it as a blessing now," she said. "I honestly feel like I really found myself as a person. I got mentally tougher and learned a lot about myself and my teammates as well."
While Cesarz said her knee feels better than ever, Bell — who had surgery to repair meniscus in the same right knee before her sophomore year — said her knee still bothers her and plans to rely on her veteran savvy to compensate for it.
"Something's always going to be there. Little pains," Bell said. "I don't feel 100 percent. I'm not my fastest, but I've added different things to my game to overcome the little things in my game I lost with this knee injury."
One thing the Las Vegas native and former Durango High standout plans to do more of this season is lead.
"I'm just trying to be more vocal on and off the court," she said. "Having someone being a leader out there, things go more smoothly."
Bell averaged 9.2 points and 4.0 assists and hit several game-winning baskets in 2011-12, when UNLV went 22-10.
Sixth-year coach Kathy Olivier said this season's balanced squad could be better.
"I don't know if this team is as gifted, but they have better chemistry, they go harder, and they're a deeper team," she said. "This year we have depth, and I'm very excited about that."
Every day she entered the gym last summer, Bell envisioned the Lady Rebels cutting down the nets at the Mountain West tournament.
"I pictured us winning the conference. That's the only thing that matters to me," she said. "That drove me this entire summer to keep working, and I think it's going to pay off for us."
Contact reporter Todd Dewey at tdewey@reviewjournal.com or 702-383-0354. Follow him on Twitter: @tdewey33.