Bills 'D' can hang with Denver
December 6, 2014 - 11:57 pm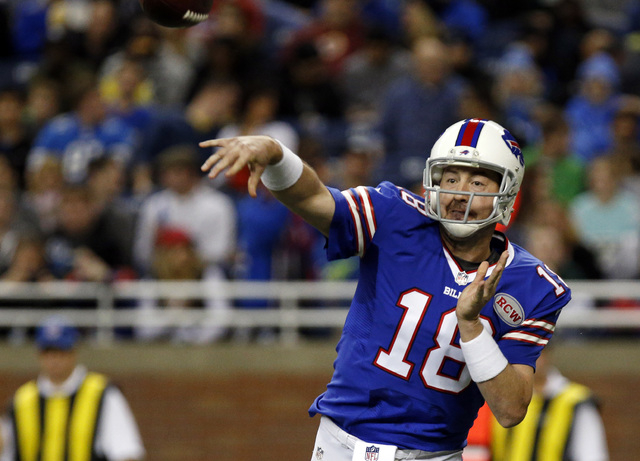 It's a long shot, but for the Buffalo Bills to still have a shot at the playoffs in December is rare. Their odds would become more realistic with an upset of Peyton Manning.
The Denver Broncos are 10-point home favorites over the Bills today, and Systemplays.com handicapper Doug Fitz is siding with the double-digit underdog.
"Betting against Manning and the Broncos at Mile High can be as dangerous as playing Russian roulette with five rounds in the chamber, not odds in your favor," Fitz said. "But I think that empty chamber finds the firing pin in this matchup.
"The conventional and popular wisdom perpetuated since Manning's arrival is how unbeatable Denver is at home, but reality shows a 3-3 record against the spread this season."
The Broncos (9-3) are atop the AFC West and in a sandwich spot off a win at Kansas City and with a trip to San Diego up next week.
Behind one of the NFL's best defenses, the Bills (7-5) have won two in a row, and they are 5-3 with Kyle Orton as their starting quarterback. Orton has completed 64.3 percent of his passes for 2,000 yards and 13 touchdowns with five interceptions.
"These are not your father's Bills, who usually have faded into oblivion by this time of year," Fitz said. "This version is actually a good team and arguably one of the best since their four straight Super Bowl teams in the early 1990s. Their defense has been solid, with a pass rush among the best in the league. The defense won't stop Manning, as few teams ever do, but it should put on enough pressure to chase him out of the pocket where he becomes far less effective.
"Orton can help the offense do some damage. The Bills are actually better than Denver in overall yards-per-points relative to scoring, which shows how far they have flown under the radar. This line is inflated. Buffalo is 3-2 ATS in road games and fighting for a playoff berth."
Fitz (@fitz_doug on Twitter) analyzes the rest of today's Week 14 schedule:
■ Baltimore at Miami (-3): The Dolphins blew a game to Green Bay in October but are otherwise pretty solid at home with a 3-2 ATS record. The Ravens are respectable (3-3 ATS) on the road, and I have to think they have a huge chip on their shoulder after questionable officiating last week contributed to their loss to San Diego. Baltimore's run defense could suffer without suspended Pro Bowl lineman Haloti Ngata. I lean to taking the points with the Ravens, who will be motivated with the threat of a playoff spot slipping away.
■ Pittsburgh at Cincinnati (-3): Several teams are hard to figure out, including the Bengals, who can appear downright unbeatable or downright awful. I don't trust quarterback Andy Dalton, and Cincinnati is 2-4 ATS as a favorite and 2-6 ATS in its past eight games against Pittsburgh. I'll go with Ben Roethlisberger to outplay Dalton.
■ Indianapolis (-3½) at Cleveland: This sets up as a bad spot for Indianapolis, which is off a three-game homestand and then returning home next week to face a division rival. The Browns can capitalize in this spot. The Cleveland defense is more than capable of limiting Andrew Luck and the Colts' high-powered offense on grass in cold weather.
■ Houston (-6) at Jacksonville: One thing I've finally gotten through my thick skull is to avoid backing a bad team under any circumstances because those teams tend to screw up something or everything. The Jaguars are as bad as it gets, and they will find a way to put forth yet another miserable effort. Laying points with the Texans on the road is no picnic, but I'll lean that way and stay away from Jacksonville.
■ New York Giants (-1) at Tennessee: Speaking of bad teams, this matchup gives us two for the money. The Giants have lost seven straight to slip to 3-9, and they blew a 21-0 lead to the Jaguars last week. Both of these teams have offenses capable of scoring, and both usually get bombed on defense, so I'll look over the total of 45½. There is no reason for hopeless teams to be conservative on offense.
■ Carolina at New Orleans (-10): The wheels have fallen off the Panthers, who have allowed an average of 30.8 points in their past four games. Drew Brees and the Saints, averaging 24 points in their past four games, should light up the anemic Carolina secondary. The number is too high to recommend New Orleans, but I see scoring in abundance and will call this over the total of 50.
■ Tampa Bay at Detroit (-10): Matthew Stafford has passed for 3,333 yards, an average of 278 per game, and the Lions can be explosive if wide receiver Calvin Johnson is at full speed. The porous Buccaneers defense allows an average of 245.8 yards passing. Neither team runs the ball well, so Detroit should destroy Tampa Bay through the air and send this score over a low total (41½).
■ St. Louis (-3) at Washington: The Rams had 22 sacks in November after starting the season with one sack in the first five games, so their defense is peaking. It's unlikely St. Louis can come close to the 52 points it hung on Oakland last week. But the Rams should contain a weak Washington offense, and I don't see quarterback Colt McCoy and the Redskins doing much scoring. I'll look under 44½.
■ New York Jets at Minnesota (-5½): It's obvious the Jets are pathetic, and their passing offense is nonexistent with Geno Smith or Michael Vick. The Vikings scored 31 points last week, but that was a fluke and they normally don't come close to that. Scoring should be at a premium, and it will be cold in Minneapolis, so I recommend looking under the total of 40.
■ Kansas City (-1) at Arizona: Both teams are desperate to stop two-game losing streaks. It appears Cardinals wideout Larry Fitzgerald will play, and his absence was a big part of their recent offensive struggles. Arizona is returning home, and that should be the difference in a close game. I'll go with the Cardinals, who are 6-0 straight up at home.
■ San Francisco (-8) at Oakland: The Raiders are typically reliable home underdogs, but I can't back them here. Although quarterback Colin Kaepernick has issues and his offense is struggling, the San Francisco defense is still strong. Rookie quarterback Derek Carr remains inconsistent for the Raiders, who were shut out last week and just don't have the weapons to overcome the 49ers.
■ Seattle at Philadelphia (-1): The Eagles are 5-1 ATS at home, all as favorites. The Seahawks are 2-4 ATS on the road. Despite Seattle's recent resurgence, Philadelphia is too good at home, and this number is too short. Eagles coach Chip Kelly will find enough ways for quarterback Mark Sanchez and the offense to be successful.
■ New England (-3½) at San Diego: Patriots quarterback Tom Brady is 5-0 straight up in San Diego against the Philip Rivers-led Chargers. As obvious as it might sound, I really don't expect New England to lose back-to-back games, especially against a team off a gift win thanks to suspect officiating last week in Baltimore.
COMPILED BY MATT YOUMANS