Ex-WSOP Main Event champ Joe Cada nears making final table
Updated July 11, 2018 - 11:40 pm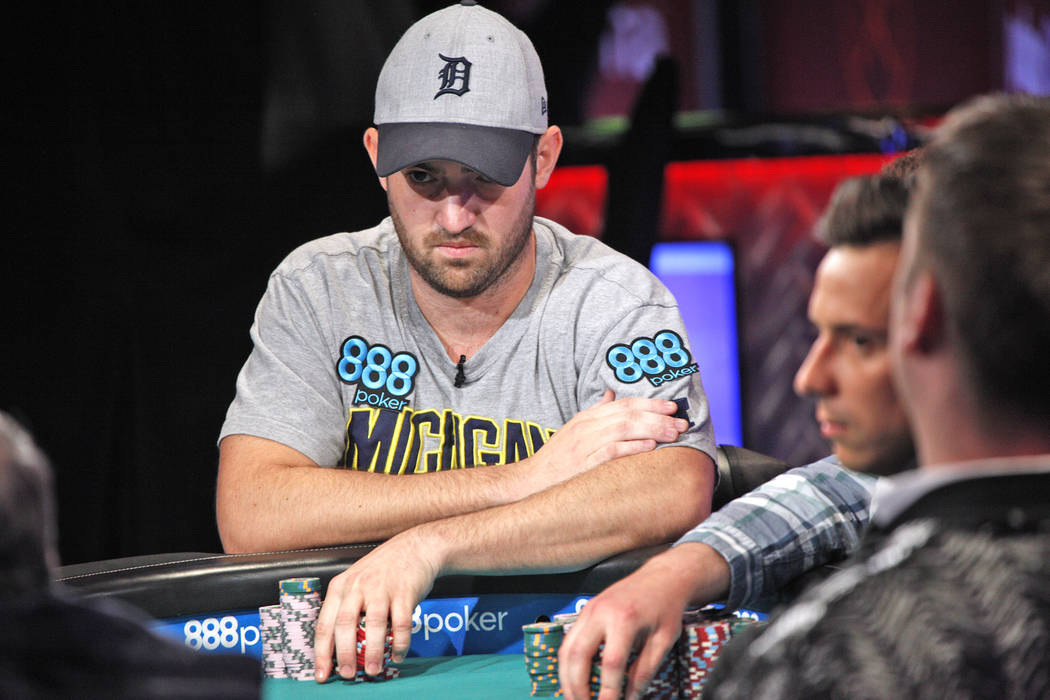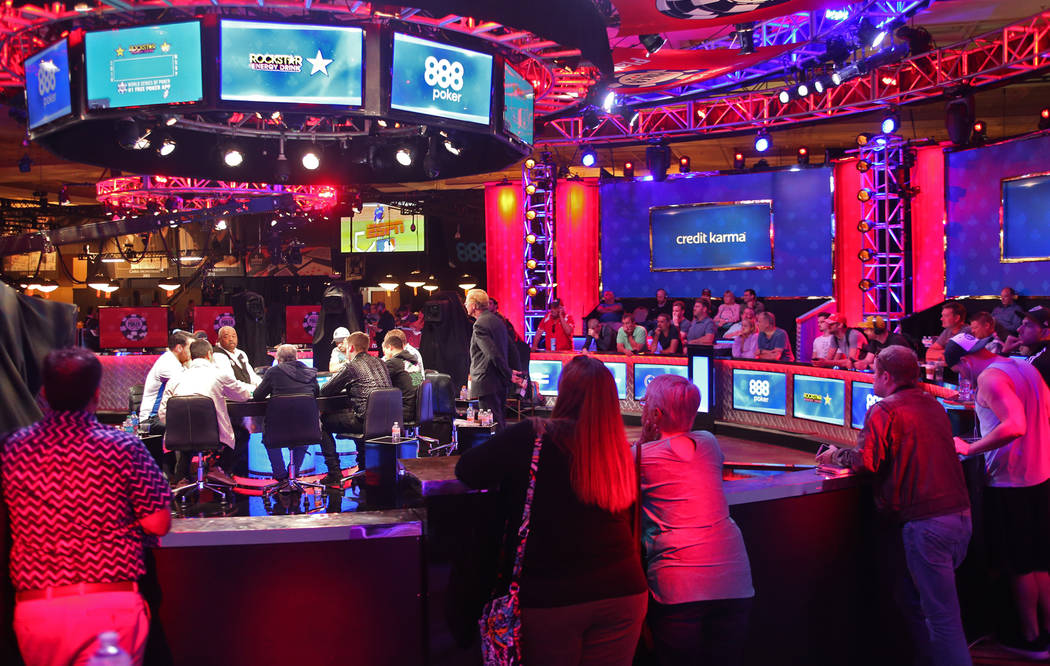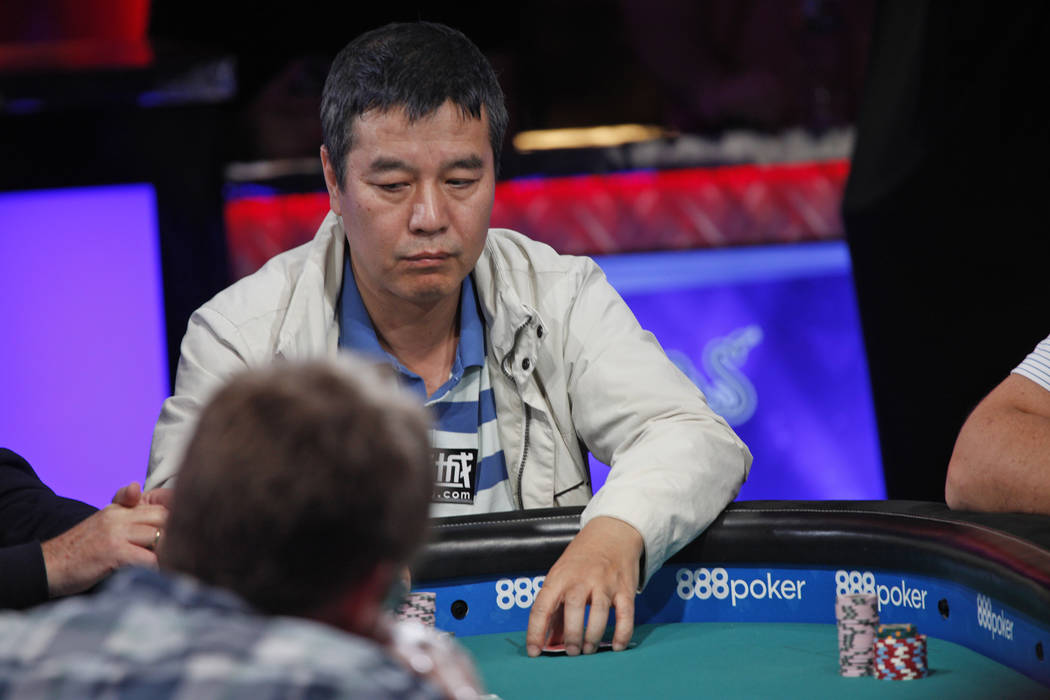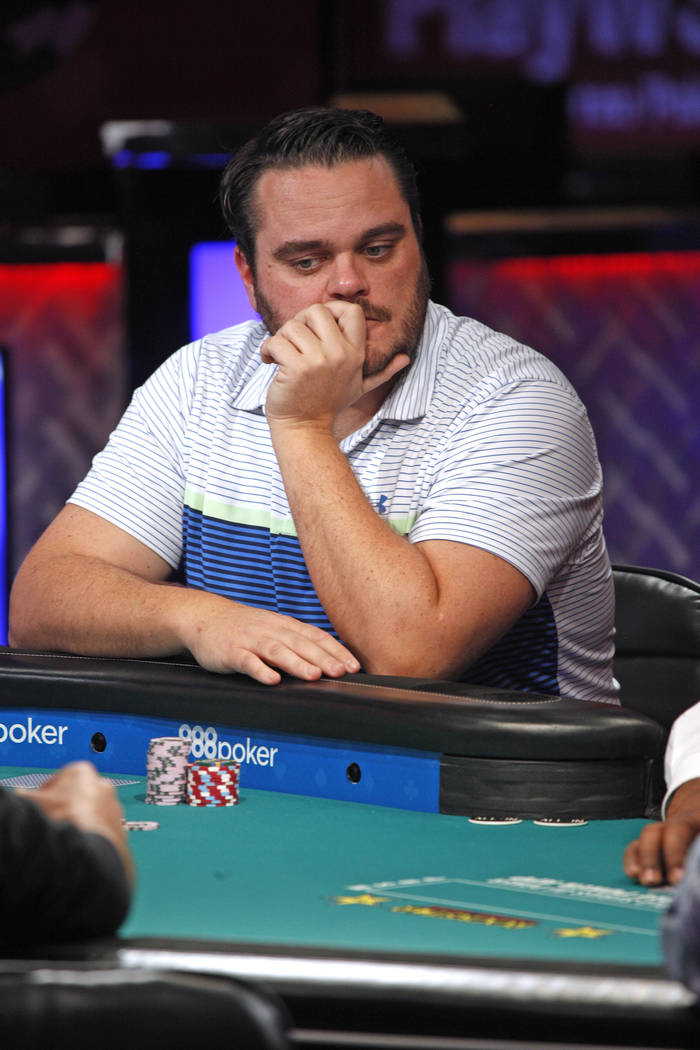 Facing elimination from the World Series of Poker Main Event, Joe Cada went all-in Wednesday and survived when he hit a flush on the river.
The tournament has been that type of grind for Cada, who at 21 in 2009 became the youngest player to win the $10,000 buy-in No-limit Texas Hold 'em World Championship.
"This one's a lot more scrappy. I've been short-stacked the entire tournament. I never really even caught up to the average (chip stack) ever," Cada said after doubling his chips through Denmark's Frederik Brink shortly before the dinner break at the Rio Convention Center.
"The first year I won, I was almost double the average the whole tournament, until the final day and the final 15. I was never all-in until the final table. This time, I'm all-in a ton of times, so it's different."
Nine days after the massive Main Event field of 7,874 started pursuit of the $8.8 million first prize, it was whittled to the final table of nine on Day 7 of the tournament.
Cada of Shelby Township, Michigan, was eighth with 24,200,000 chips at 10:30 p.m., whe the field was down to the final 10 players.
Michael Dyer of Houston was the unofficial chip leader with 97,000,000. He has $95,020 in career tournament earnings. His biggest cash was his first, when he placed eighth in the $2,000 buy-in No-limit Texas Hold 'em event at the 2009 WSOP for $65,905.
Antoine Labat of France was second with 49,300,000. Labat has $194,789 in career winnings.
Artem Metalidi of Ukraine was the short stack in 10th place with 18,700,000 and Aram Zobian of Cranston, Rhode Island, was in ninth with 20,500,000.
Cada was trying to become the first player since Dan Harrington in 2004 to reach the final table after winning the Main Event.
At the final table of the 2009 Main Event, Cada twice went all-in preflop with small pocket pairs. He was dominated by higher pocket pairs both times, with his 3s against jacks and his 2s against queens, but Cada flopped the winning three of a kind each time.
To the critics who called Cada's world title lucky, is this deep run validation?
"I don't really look at it like that. I've played poker my whole life. It's what I've been doing for a living," he said. "I don't need validation, really."
Cada, 30, has $10.7 million in career earnings and won his third WSOP bracelet in May, taking home the title of the $3,000 buy-in No-limit Texas Hold 'em Shootout for $226,218.
The Main Event will be his sixth cash of the summer as he also placed in the massive Millionaire Maker and Colossus events.
"Some years, you do worse than others. This year, the cards have been going my way, I guess," he said. "I've had a lot more discipline this year."
When Cada won the 2009 Main Event, he split the $8.5 million first prize with his backers, New York business partners Eric Haber and Cliff Josephy. This time, he can keep all of his winnings.
"I have all of myself this time around," he said. "I was doing well in poker when I was 21 but summers are expensive. If you play all the tournaments, it can be up to $100,000 in buy-ins just in the Hold 'em events.
"At that time, I felt more comfortable having a financial backer."
The final nine players are guaranteed to earn at least $1 million, the ninth-place prize. Second place is worth $5 million, third $3.75 million, fourth $2.825 million, fifth $2.15 million, sixth $1.8 million, seventh $1.5 million and eighth $1.25 million.
The field will be trimmed to six Thursday and to three on Friday, with the winner to be crowned on Saturday. More betting: Follow sports betting coverage at reviewjournal.com/betting and @RJ_Sports on Twitter.
Contact reporter Todd Dewey at tdewey@reviewjournal.com. Follow @tdewey33 on Twitter.
World Series of Poker
Main Event
Rio Convention Center
Final 10 players
Unofficial chip counts at 10:30 p.m. Wednesday
Place, player, chip count
1. Michael Dyer — 97,000,000
2. Antoine Labat — 49,300,000
3. John Cynn — 43,800,000
4. Nicolas Manion — 41,300,000
5. Alex Lynskey — 40,600,000
6. Tony Miles — 32,200,000
7. Yueqi Zhu — 26,200,000
8. Joe Cada — 24,200,000
9. Aram Zobian — 20,500,000
10. Artem Metalidi — 18,700,000