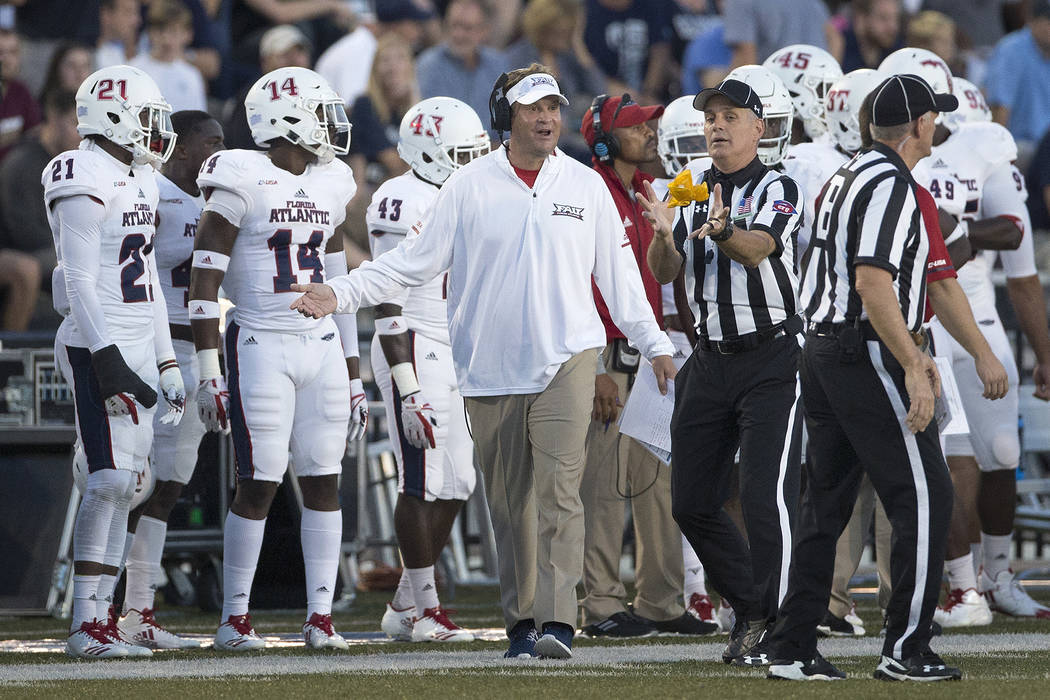 As sports betting has become mainstream, it's common now for coaches and athletes to talk about point spreads and odds.
But Florida Atlantic's Lane Kiffin might be the first coach to joke about intentionally affecting the outcome of the point spread.
The Owls closed as a 6½-point favorite Friday in their 30-25 win over Marshall. In what was arguably the weekend's worst bad beat, Florida Atlantic led 30-23 with 14 seconds left when Kiffin had his punter run out of the end zone for an intentional safety rather than risk having the punt blocked.
After the game, Kiffin wrote on his Twitter account, "Didn't want to cover because of too much rat poison #keptuwatching #5-0 #cometothefau #playersgetweekendoff."
Didn't want to cover because of too much rat poison #keptuwatching #5-0 #cometothefau #playersgetweekendoff https://t.co/HCsRjZKh4E

— Lane Kiffin (@Lane_Kiffin) November 4, 2017
The mention of rat poison was a reference to Alabama coach Nick Saban's past remarks about media praise being like "rat poison" to his players' focus.
Of course, he's joking
Not surprisingly, Kiffin told ESPN on Saturday that the tweet was made in jest.
"I did not know the safety changed the result of the spread until last night after I got home," Kiffin said. "Someone sent me the funny tweet that I was supposedly trolling everyone by taking a safety to not cover, and as a joke, I retweeted it adding the rat poison line and put a shoutout to our players for earning a well-deserved weekend off. If that's a story, it must be a slow news day."
Boyd Gaming sports book director Bob Scucci said it was probably the first time he'd heard a coach talk about the outcome of the game in regard to the point spread. But he knew Kiffin was joking.
"He's not going to punt the ball deep in his own territory up seven points," he said. "The play made perfect sense. That's why he was able to joke about it."
Biff Tannen Jr.?
An unidentified bettor dubbed "the double-up guy" by Wynn Las Vegas sports book director Johnny Avello went undefeated at Las Vegas sports books on his World Series wagers, which were capped by a total of more than $3 million on the Dodgers in Game 6, industry sources estimated.
The bettor, who sources said started his hot streak with a string of UFC winners and rolled the tickets over into the World Series, didn't bet Game 7. He beat Las Vegas sports books for more than $10 million on the World Series overall, according to estimates by ESPN.
"He won a lot of money. He started with a couple hundred thousand (at the Wynn) and he just kept doubling up," Avello said. "Doubling up like that, that's rare. Guys usually don't start with that big a number. They usually start with a smaller number and keep doubling up."
Avello said the bettor wagered on Games 2, 3, 5 and 6 at the Wynn.
"He won them all," he said. "He's the Doublemint guy. Double your pleasure. He didn't double mine."
A source said the bettor laid some bad numbers along the way.
"Normally, if professional guys lay minus-120 and we go to 125, they're done betting because they feel they're getting a worse number," the source said. "But this guy didn't care what the number was. We'd change the line after every bet and he'd bet it again."
The source joked that the rumor was the bettor had Biff Tannen's sports almanac from the "Back to the Future" movies.
Cantlay cashes in
Patrick Cantlay cashed tickets as the 20-1 second choice to win the Shriners Hospitals for Children Open on Sunday at TPC Summerlin. Cantlay, who was 15-1 after the second round and 10-1 entering the final round, beat Alex Cejka and Whee Kim in a playoff for his first PGA Tour victory at an event that always generates a relatively large betting handle.
"We wrote about three times what we do on other non-majors at this time of the year," Westgate sports book manager Jeff Sherman said. "We did pretty well with (Cantlay).
"He's going to have a big year."
Contact reporter Todd Dewey at tdewey@reviewjournal.com. Follow @tdewey33 on Twitter.
Biggest line moves
The Wynn Las Vegas sports book posts the opening college football lines at 3 p.m. each Sunday. Here are the biggest line moves in the first 24 hours (home team in CAPS):
Favorite; Open; Current; Underdog
UNR; 16.5; 20.5; San Jose State
ARIZONA; 20.5; 23; Oregon State
N. ILLINOIS; 29; 31.5; Ball State
N. TEXAS; 21; 23.5; Utep