Numbers don't lie: Line is too high
February 6, 2016 - 12:21 am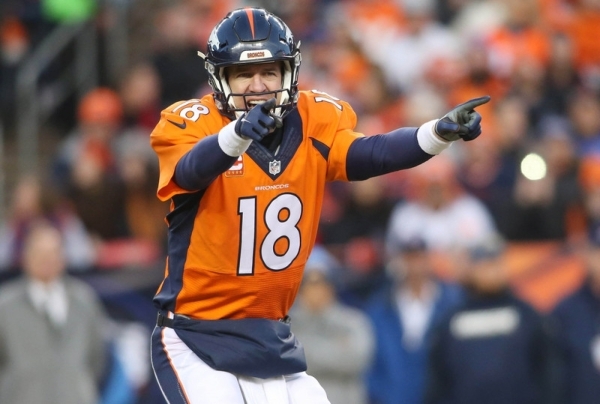 Fifteen years ago, quarterback Trent Dilfer stayed out of the way, avoided turnovers and allowed the Baltimore Ravens' historic defense to lead the way to a 34-7 victory over the New York Giants in the Super Bowl.
Dilfer completed 12 of 26 passes for 153 yards and one touchdown with no interceptions. On Sunday, Denver will need a similar game from Peyton Manning, which means no turnovers and probably at least one touchdown pass, to allow the historic Denver defense to lead the way to a Super Bowl 50 win.
Just like two weeks ago, when about 69 percent of the bets were on New England in the AFC Championship Game, as of Friday morning, 68 percent of the tickets were being written on Carolina. The only question left is just like two weeks ago: Will Denver upset the Panthers as it did the Patriots and defy most bettors?
The final stats in the Broncos' 20-18 victory over New England showed the Patriots averaging 4.4 yards per play and Denver 3.8 yards per play. But New England threw the ball 25 more times, while Denver ran the ball 13 more times. If the Patriots had been balanced on offense like the Broncos, both teams would have ended up at about 3.8 yards per play.
In the NFC Championship Game, Carolina destroyed Arizona, forcing seven turnovers in a 49-15 shredding of the Cardinals and outgaining Arizona 7.2 yards per play to 4.8. The win capped an 80-39 two-game playoff run for the Panthers.
While defeating Arizona is certainly noteworthy, the Cardinals were not the same team at the end of the season. They were crushed at home in a meaningless final game against Seattle, outplayed by a less-than-spectacular Green Bay team but luckily found a way to win, then looked horrible against Carolina. The Cardinals' faults showed up at the end of the season, and they paid the price.
A combination of Carolina easily winning both of its playoff games, while Denver seemingly got lucky to defeat Pittsburgh in the minds of bettors and then holding on against New England, has driven the opening line from minus-4 to as high as minus-6 before settling in at 5½. The total, which had been bet from 45 to as high as 46, has been bet to 44½ .
While the majority of the tickets are being written on Carolina and the line has pushed up, the numbers and situations don't support this high of a line.
Using one set of my power ratings, I do get Carolina by as much as 7½ points, but those numbers factor in the plus-28 turnover margin the Panthers enjoyed this season against a soft schedule. Using another formula, which is scoring-based, I would get Carolina by five points if we again factored in its success on turnovers. But using just yards from scrimmage and not factoring in turnovers, I make this game a pick'em.
I blend in a percentage of that turnover-backed scoring number with the line of scrimmage-backed number, but even after doing so, I still get Carolina by only two points. All numbers were run with the Broncos healthy on defense and Manning healthy, which basically eliminates Weeks 10 to 15 for Denver when it was not a healthy team.
If you think Carolina is going to win the turnover battle by two or more, then obviously you should be betting on the favorite. Each turnover is worth about four points, so if my numbers using line-of-scrimmage numbers make this game about even, then a plus-1 in turnovers for Carolina would give it about a four-point win. But I'm not sure the Panthers will enjoy the same type of success in this game as they did during the regular season.
Against the three best defenses they played, the Panthers were even in turnovers in one game versus Houston and in two games against Seattle. Carolina won those games by seven, seven and four points. And, while Manning had his problems turning the ball over early in the season, the Broncos were plus-1 in turnover margin with Manning playing and Denver having the heart of its defense healthy.
The Broncos were 3-0 straight up and against the spread as underdogs with Manning and a healthy defense.
Carolina has been pretty steady on offense regardless of the opponent. Against those two strong defenses (Houston and Seattle in three games), the Panthers were average from the line of scrimmage, which is what they have been all season.
But Denver's defense has been even better when healthy and Manning has played. Denver allowed only 33 percent third-down conversions on the season, but with a healthy defense and a healthy Manning, Denver has allowed only 28 percent third-down conversions, including 4 of 29 in the playoffs against Pittsburgh and New England. Both of those offenses are better than Carolina from the line of scrimmage. Pittsburgh and New England came into their games against Denver converting almost 47 percent of their third downs when they had their key players this season.
Carolina does not figure to move the ball as easily and will probably see more drives getting stalled because of Denver's defense. The Panthers have averaged a score on about 47 percent of their drives this season. Against the best defenses they faced, they averaged scores on only 35 percent of their drives. Short of turnovers turned into scores, Carolina figures to score on about only four drives in this game. That's 28 points, or more likely 20 to 24 points.
Denver's defense gave up 34 points in a game at Pittsburgh, but it was missing both starting safeties in that game. Both of those safeties were hurt late in the game against New England, and the Patriots almost came back to force overtime. The safeties need to be healthy in this game. When Denver has had its key defensive personnel on the field this season, it allowed more than 20 points just twice — 27 points at Indianapolis and 24 points at Kansas City.
The Broncos have scored on about 37 percent of their drives with Manning and about 24 percent against the best defenses he has faced in Kansas City and New England. Denver figures to score between three to four times, again short of turnovers being turned directly into touchdowns. That should give Denver 16 to 20 points.
Carolina has looked great in the playoffs, but teams in the playoffs coming off two games when scoring at least 70 points combined are 20-43-1 ATS in the playoffs, including 2-16 ATS the past four years, and 2-6 ATS in the Super Bowl. When installed as a favorite in this situation in the Super Bowl, those teams are 0-5 ATS. Also, since 1995, playoff teams in the divisional round or later coming off a game when scoring 39 or more points are 4-25-1 ATS, as long as it's not off a bye, and 1-13 ATS when favored in this situation.
The Panthers have the potential to jump to a lead and force Denver to play from behind, which isn't how this Broncos team is built.
But there's a good chance this Denver defense keeps the team in the game and limits the success of the Carolina offense to stay within this inflated point spread. The line is a bit too high, and the situations suggest Denver is in a good position to cover, if not win this game straight up, as long as it can limit its turnover margin to minus-1 or better.
I'll take Denver at plus-6 as a best bet if we see it again, with a strong lean to Denver at less than 6. I'll also lean to the under and would consider the total a best bet at anything higher than 45. The first half under 22½ also is a good play, although I'd wait to see if we see 23 again.
Manning does just enough, and the Denver defense reminds us again that defense wins championships.
Pick: Denver 21, Carolina 20
Scott Kellen handicaps the NFL at SixthSenseSports.com. Follow him on Twitter: @SixthSenseNFL