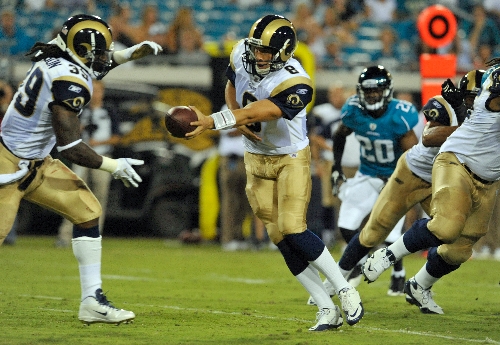 From a dogfighting scandal to the "Dream Team," Michael Vick has come a long way after doing time. But how far can the dual-threat quarterback lead the Philadelphia Eagles?
It's the first Sunday of the NFL regular season, and many are predicting the Eagles will be playing on Super Bowl Sunday.
Bruce Marshall, executive editor of The Gold Sheet and a VegasInsider.com handicapper, is not getting swept up in the hype.
"I think Philadelphia could be insanely overrated," Marshall said. "Vick can be a difference-maker, but there are times he can look extremely good and then he'll disappear. The Eagles are not a 14-2 team like everybody says. More like 10-6, I think."
The Rams finished 7-9 last season, behind rookie quarterback Sam Bradford and second-year coach Steve Spagnuolo, but they were underrated by oddsmakers and went 10-6 against the spread.
Marshall said the Rams' defense, rebuilt by Spagnuolo, can keep them in the game as Bradford trades shots with Vick, and he's siding with St. Louis as a 4- to 4½-point home underdog.
The Eagles boosted their power rating by signing free-agent cornerback Nnamdi Asomugha and a cast of stars. Still, in this matchup, the under-the-radar underdog looks appealing.
"Bradford is a special quarterback," Marshall said. "The Rams could win the game. I really think they could have a breakthrough year and be a 10- or 11-win team."
Marshall (goldsheet.com) analyzes the rest of today's Week 1 schedule:
■ Pittsburgh at Baltimore (-2): My gut feeling is blowing the playoff game to the Steelers is going to linger with Ravens quarterback Joe Flacco, and I don't see where Baltimore has improved over last season. Too many times, Ben Roethlisberger has outplayed Flacco. My preference is Pittsburgh.
■ Detroit at Tampa Bay (-1½): I hate to go with the team du jour right now, but sometimes you've got to believe what you see. Matthew Stafford is the right quarterback, Ndamukong Suh could be the best defensive tackle we've seen in years, and I'm going to ride the Lions for a while. I expect the Bucs to regress a little bit. Detroit went 13-3 against the spread last season. Tampa Bay is 3-15-1 ATS in its past 19 games at home.
■ Atlanta (-2½) at Chicago: This one's a tough call for me. I'm still waiting for the Mike Martz offense to click with the Bears, and they are counting on their defense again. The Falcons are favored, but I think that's too much of a reach. It's going to be tough to run on the Bears. The value is on the Chicago side.
■ Buffalo at Kansas City (-5½): The Chiefs might regress this year. I thought Matt Cassel, who had 27 touchdown passes to seven interceptions last year, benefited greatly from former offensive coordinator Charlie Weis. The Buffalo defense has improved considerably by adding Shawne Merriman and Nick Barnett as impact players. I'm looking under the total (40) and leaning to the Bills.
■ Indianapolis at Houston (-8½): Maybe the gates have opened for the Texans in the AFC South with the Peyton Manning injury. The Colts are mediocre at best without Manning, and I don't know if Kerry Collins is an upgrade over Curtis Painter. At year's end, we might say the best offseason coaching move was Gary Kubiak getting Wade Phillips as Houston's defensive coordinator. I just can't see Indianapolis trading points with Collins at quarterback. I think the Texans win and cover.
■ Cincinnati at Cleveland (-6½): This looks like a play under the total (35½). I don't like either team's quarterback situation, and both offenses will struggle. Colt McCoy was 2-6 as a rookie starter for Cleveland. I can't envision the Bengals doing much damage with rookie Andy Dalton at quarterback. This could be a 13-10 sort of game.
■ Tennessee at Jacksonville (-2): I'm kind of perplexed by the Jaguars' move to cut veteran quarterback David Garrard and give the job to Luke McCown. It had to be a shock to the whole system for that team, with coach Jack Del Rio's job on the line. I lean to the Titans. They have running back Chris Johnson in there, so Matt Hasselbeck doesn't have to rely so much on throwing the ball. I doubt Jacksonville's offense will scare anybody with McCown.
■ N.Y. Giants (-3) at Washington: I actually think the Redskins might be undervalued. I'm going to give coach Mike Shanahan the benefit of the doubt. He's going with veteran Rex Grossman at quarterback, and Tim Hightower was a nice addition at running back. Washington's defense will be better. I've got some questions about the Giants. The Redskins are a very live dog in this spot, so I'll take the points.
■ Carolina at Arizona (-7): The Panthers are in a complete rebuild situation. Rookie quarterback Cam Newton has a long way to go, and this offense does not have a lot of ways to score. Carolina could be 0-6 in October. Kevin Kolb is kind of an X-factor at quarterback for the Cardinals. I would take Arizona and also look under (37).
■ Seattle at San Francisco (-5½): I like the Jim Harbaugh-Pete Carroll coaching matchup, but both are going to struggle with negative quarterback situations. San Francisco's defense has been playoff caliber, and that could be enough. It's probably an ugly, lower-scoring game. The price is a little high, but I lean to the 49ers.
■ Minnesota at San Diego (-8½): I don't think Vikings quarterback Donovan McNabb is going to be able to snap his fingers and get this thing to work. I never like taking the Chargers early in the year because coach Norv Turner is such an introvert and he does not motivate the team. But I'll be going against Minnesota at the start of the season, and San Diego is worth a look.
■ Dallas at N.Y. Jets (-5½): The pressure is really on Cowboys quarterback Tony Romo to deliver. I know the Jets have gotten far in the playoffs the past couple years, but I'm still not sure Mark Sanchez can get them over the hump. It's risky laying points with the Jets, who had a lot of close games last year. I'm going to take Dallas.
COMPILED BY MATT YOUMANS/REVIEW-JOURNAL