Salerno helped build Leroy's into a powerhouse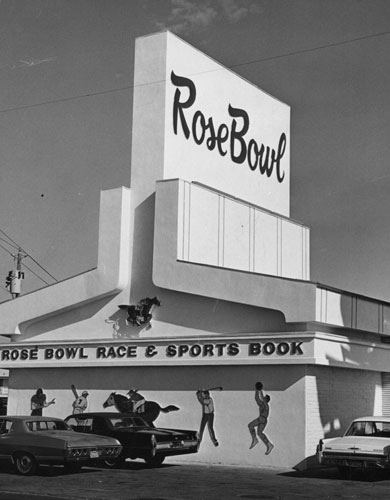 Leroy's Race and Sports Book spent 34 years evolving into one of the truly innovative local gaming companies.
The bookmaker behind the company is Vic J. Salerno, who never regretted giving up his dental practice and a view of the harbor in Marina del Ray, Calif., to move to Las Vegas, and marry Leroy Merillat's daughter, Judy.
"Leroy was my father-in-law," Salerno said. "The funny thing was he always went by Bud. He started it in 1977 and I came here in 1978."
Before taking over for his father-in-law, Salerno spent two months taking the late Western Airlines flight on Friday from Los Angeles, only to fly back early Monday so he could be in the office to see patients.
Along the way, Leroy's developed into a leader in designing and implementing technology, including mobile betting applications, and replacing handwritten tickets with computerization as sports betting grew into a multibillion-dollar business.
Leroy's also expanded to 53 sports books and 19 kiosks statewide.
Salerno said sports books used to be storefront operations. It wasn't until state law was changed in 1983 to allow multiple operations under one license that the sports betting industry blossomed.
Even the names have changed over the years.
"On the Strip you had Churchill Downs, the Rose Bowl and Santa Anita," Salerno said. "Downtown, there was the Hollywood, Saratoga, which we took over and renamed Leroy's, and then there was the Derby. There were about 13 sports books in Nevada in the early 1970s."
BOOKS BEGINNINGS
In the mid-1970s Union Plaza and Stardust became the first hotel-casinos to offer sports betting, he said.
Leroy's and Brandywine Bookmaking LLC, parent of Lucky's sports books, and Club Cal Neva in Northern Nevada eventually replaced independent betting parlors. The business is changing again, with Cantor Gaming and with the arrival of British bookmaker William Hill Plc.
Some believe an era has come to an end in Las Vegas with William Hill's $18 million acquisition of American Wagering Inc. Leroy's and Computerized Bookmaking Systems Inc. were subsidiaries of American Wagering.
"It was very bittersweet," Salerno said. "We didn't have a choice. If we wanted the company to continue to grow, we had to sell. It was a very difficult thing to do."
Leroy's has always been a family business, with Vic's son, John, employed as head of customer service and his wife, Terina, its general counsel. Today, John Salerno remains head of customer service for William Hill, while Terina Salerno stepped down as general counsel once the sale of American Wagering was complete.
He said his daughter, Stacy, avoided joining the family business. Salerno was named chairman of the board and chief technology officer of William Hill's Nevada subsidiary, William Hill U.S. Holdco Inc.
Salerno said his new position will allow him to do other things, including spending more time with his family.
"It's a whole new ballgame now," the 68-year-old bookmaker said. "You got some big companies in Las Vegas with Cantor Gaming and now William Hill. Ladbrokes is a little late to the party, but I'm sure that they'll want to be bookmakers."
Salerno said other so-called independents, MGM Resorts International, Caesars Entertainment Corp., Wynn Resorts Ltd. and LVH-Las Vegas, are succeeding on their own. He said he expects the industry's evolution to continue over the next few years.
"Most of the betting on sports is now being driven by convenience," Salerno said. "You'll still go to the book if it's convenient. But when you can't get there, it's going to be mobile or online betting. That's where we are going."
EVOLVING BUSINESS
Salerno said in the old days Wynn Las Vegas or LVH weren't considered independent sports books.
"Independent used to be defined differently," he said. "Independent bookmakers used to be small places that operated by themselves in a storefront. They weren't associated with a hotel."
Although the classic image of a bookie is a guy in a plaid jacket, smoking a cigar and reading the Daily Racing Form, in reality the suit is tailored and the money comes from Wall Street or banks in London.
ttWilliam Hill is traded on the London Stock Exchange and posted $441 million in profits in 2011. The bookmaker operates 2,370 betting shops in the United Kingdom, has more than 1.4 million active online customers, and processes more than 1 million betting slips a day.
William Hill sees its recent Nevada acquisitions as an opportunity for future growth in the United States as more states approve online poker, and even fewer, California and New Jersey, consider defying a federal ban on sports wagering. William Hill Online offers sports wagering, poker and casinos games.
The company last year agreed to pay $55 million for Leroy's parent company as well as Brandywine and Club Cal Neva. Nevada gaming regulators approved William Hill's acquisitions on June 21, giving the company 55 percent of the sports book market.
Cantor Gaming, which operates seven sports books in Las Vegas, is an affiliate of the New York-based financial services firm Cantor Fitzgerald L.P.
Salerno said the people being hurt by the industry's consolidation are intelligent bettors who will go and shop for a price.
"If you just take the William Hill acquisition," he said. "Before you could get three different numbers at three different places, now that's not there anymore. You'll only have one uniform number across William Hill outlets. Now where William Hill is going to help, is they are willing to put a lot more money into (upgrading) the books."
William Hill has already launched a new website, with more changes planned before the National Football League kicks off in September.
"They are not going to bring little betting shops to Las Vegas," Salerno said. "William Hill has already said they want Americans to run it and they want to tailor their business to Americans."
FOCUSING WIDE
But, Salerno said gamblers can expect more European sports and more betting options, including in-game wagering on American sports. So say hello to lines on snooker, darts and cricket being posted next to lines for the NFL, NBA and college football.
Salerno has always been more than just another bookmaker in Nevada, the only state where operating sports books is legal. He and his partner, Javed Butter, a Pakistani computer programmer, in 1985 created Computerized Bookmaking Systems, a company specializing in hardware and software designed for the sports betting industry.
"Butter didn't know a daily double from a doubleheader," Salerno said.
The Las Vegas-based company revolutionized sports betting by replacing handwritten tickets with computer-issued slips. The system allowed faster transactions.
It also eliminated fraud – customers trying to change $10 tickets to $100 tickets and losers to winners.
"We had time stamps and forms in triplicate, but people would hit a button, time stamp the ticket then wait for the race to be over and then they would write in a winner," Salerno said.
Salerno said computerized betting gave the book more control over its business.
"What the computer did for sports betting was it counted every bet … and kept adding them all up," he said. "We got a much more accurate count. It was about risk management and it brought internal controls and satisfied gaming regulators."
Computers, he said, made the business "even more legitimate than it ever was before, not to say it wasn't, but now there were records."
MORE GAMES, MORE BETS, MORE GROWTH
In 1985, the Nevada Gaming Commission gave the company a boost when it required all sports books to computerize their records to guard against skimming.
America's growing appetite for sports betting is helping increase the amount wagered annually at legal sports books in Nevada. Casino visitors wagered more than $2.8 billion on sports in 2011, with 47 percent, or $1.342 billion, on football alone, according to the Nevada Gaming Control Board.
However, Salerno's introduction of kiosks and computerized betting will soon be overshadowed by his former company's development of a hand-held mobile wagering system that has applications for BlackBerry, Android and iPhone smartphones.
American Wagering even released apps for iPads and Android tablets.
"We saw smartphones come along and so we said 'why can't these phones become your terminal for a sports book system,'" he said. "We knew there must be a way to (verify) location and once we found it, it was really exciting. It was one of the highlights of my career – writing a bet on a smartphone, see it be recorded in the main computer and when the game was over … if you won, automatically put it in your account."
Salerno said it took two years to get Leroy's BlackBerry app approved by regulators.
"After the BlackBerry app, it got really exciting with the Android, and iPhone and now iPad apps," Salerno said. "Right now, up to 50 percent of our business was mobile. It really has come a long way."
Contact reporter Chris Sieroty at csieroty@reviewjournal.com or 702-477-3893.