Though not a blowout, this Super Bowl will feature similar script for Seahawks
January 31, 2015 - 5:49 pm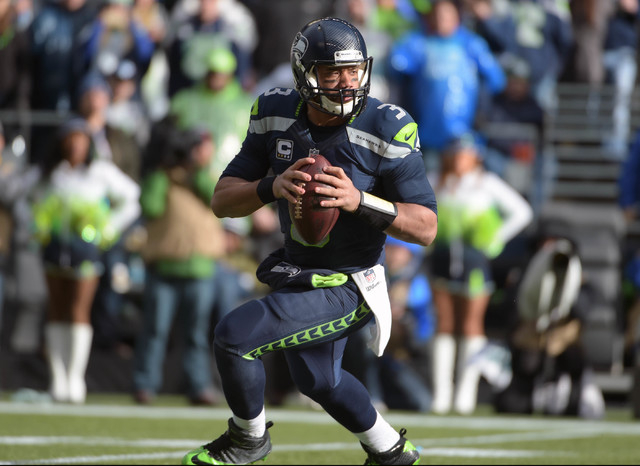 When both teams go to bed tonight after Super Bowl XLIX and wake up Monday, it will be Feb. 2, and it's likely to feel like the movie "Groundhog Day" for the Seattle Seahawks.
Just like when Phil Connors wakes up each day and relives the same day over and over, the Seahawks are likely to wake up thinking they just did this in the last Super Bowl.
Have we seen this story before?
Flash back to Jan. 19, 2014, and Seattle hosting San Francisco in the NFC title game. On the Seahawks' first series, Russell Wilson turned the ball over. San Francisco went on to kick a field goal and would increase that lead to 10-0. It would take until the fourth quarter for Seattle to grab the lead and eventually win 23-17.
Fast forward to Jan. 18, and Seattle hosts Green Bay in the NFC title game. On the Seahawks' first drive, Wilson turns the ball over, Green Bay turns it into a field goal and increases the lead to 16-0 before a late rally in the fourth quarter leads the Seahawks to a 28-22 overtime win.
Seattle would open as a favorite over Denver in Super Bowl XLVIII before money would come in on the Broncos, who closed as 2½-point favorites. This time around, as New England was romping to a 45-7 victory over Indianapolis in the AFC title game, the books opened the Super Bowl line with Seattle as a 2½- to 3-point favorite. Bettors rushed to the windows and brought the line to pick'em. The Patriots are now listed as 1-point favorites at most sports books.
Yes, we have seen this story before.
Bettors frequently remember what they last saw. What most people saw was New England manhandle Indianapolis, and Seattle get outplayed for 3½ quarters by Green Bay before rallying with the help of several mistakes by the Packers.
Indianapolis defeated a Denver team with a banged-up Peyton Manning before being blown out by a Patriots team that matches up very well against the Colts.
The Seahawks won a game in which they outgained the Packers 5.7 yards per play to 4.7, outrushed them 5.5 yards per rush to 4.5 and outpassed them 5.8 yards per pass to 4.9.
Seattle held Aaron Rodgers to 171 yards passing, and did it while overcoming five turnovers. But, in the midst of turning the ball over five times, the Seahawks held Green Bay to six points off turnovers. Most teams would have been blown out of the game.
People criticized Green Bay for not blowing out Seattle at that point. It's probably time to give the Seahawks credit for their outstanding defense. Seattle is successful because its defense keeps it in almost every game, which means the Seahawks always have a chance to win the game, and in the case of Super Bowl XLIX, that's all they will be asked to do to cover this number.
New England gets a lot of credit for winning three Super Bowls and going to two others with coach Bill Belichick and quarterback Tom Brady. But it's not as if the Patriots are blowing out teams in the Super Bowl. Just as easily as New England could be 5-0 in Super Bowls, it could have easily lost at least four of the games and maybe a fifth.
The Patriots won all three Super Bowls by three points each and are 0-4 against the spread as favorites, including losses in their past two Super Bowls when they faced a superior defense from the New York Giants. I went against New England in both of those games.
What the Giants did so well was rush four linemen to put pressure on Brady and allow them to defend the pass with seven players. Seattle rarely blitzes and will rush four linemen on about 75 percent of plays, allowing them to defend the pass with seven players. Those seven players are much better than what the Giants had in their secondary. While Seattle is not getting the same pass rush this season, it still pressures the quarterback.
I was on the Seahawks last year because of a seasonlong stat I use for the Super Bowls, which plays on certain underdogs who possess certain stats around passing offense and defense. Teams with this profile are 9-2 ATS in the Super Bowl, including 9-1 ATS in the past 10 occurrences.
While I didn't expect the 43-8 blowout we saw last year, the profile was similar to the Tampa Bay profile against Oakland in 2002, when the Buccaneers won 48-21. And this year's profile is similar to the profile of the Giants when they defeated Buffalo 20-19 in 1990.
That Giants team was a 7-point underdog largely because they struggled to win at San Francisco and needed a 49ers fumble with about two minutes left to give them the chance to kick the winning field goal. Combine that with a 51-3 Buffalo blowout over Oakland in the AFC title game, and it had the makings of another Super Bowl blowout.
That Buffalo team played great defense in its final 10 games, similar to New England this season. The Bills lost their last regular-season game, which was meaningless, and allowed 30-plus points in the divisional playoff game before blowing out their opponent in the AFC title game.
Sound familiar, New England?
But, as we know, defense wins Super Bowls, and the Giants played great defense and ran the ball well. Similar to Buffalo in 1990, the Patriots are coming off their 45-7 blowout of Indianapolis.
But teams scoring 39 or more points in their previous playoff game are 3-25-1 ATS since 1995, including 0-4 ATS and 1-3 straight-up in the Super Bowl, with New England defeating Philadelphia 24-21 for the only straight-up win. In addition, teams getting fewer than 10 points or favored, coming off a win of at least seven points in their last playoff game and facing a team off an ATS loss, are 6-20-2 ATS. That plays against New England as well.
Seattle faced the top three offensive scoring teams this season and allowed an average of 22 points to Denver, Dallas and Green Bay twice. This Seahawks defense should contain New England to give the offense a chance to win the game.
The Patriots have struggled against this type of opponent, a team that plays excellent defense and whose quarterback can run the read-option or the opponent runs a zone blocking scheme. We witnessed Miami rush for 191 yards, Kansas City rush for 207 yards, Baltimore rush for 136 yards and the Jets rush for 218 yards and 116 yards against the Patriots.
Just as Phil Connors started realizing he had lived this day before, and started taking advantage of knowing what was going to happen, the Seahawks are realizing the same thing.
Seattle again will prove that defense wins championships, and a physical defense will control the New England offense enough for the Seahawks to win their second straight Super Bowl.
Have we seen this story before? Seahawks 24, Patriots 20.
Scott Kellen (SixthSenseSports.com) was the winner of this season's $50,000 Friday Football Showdown handicapping contest presented by the Review-Journal, ESPN Radio and Golden Nugget sports book.