Andre Ward's victory over Sergey Kovalev ends with controversy again
Updated June 18, 2017 - 5:19 pm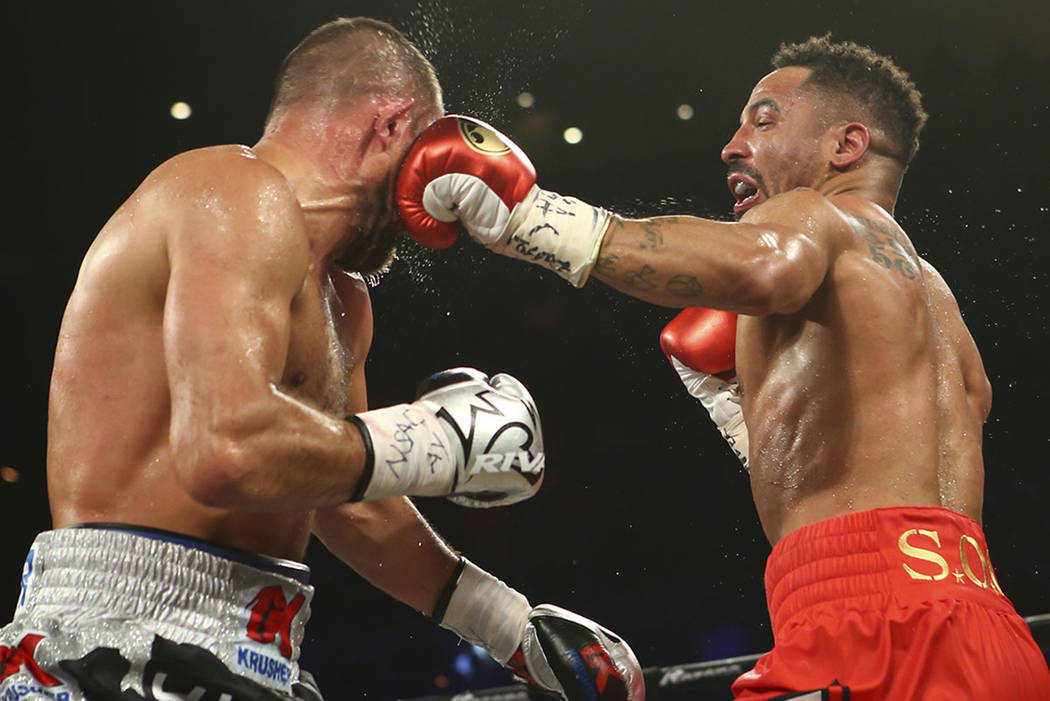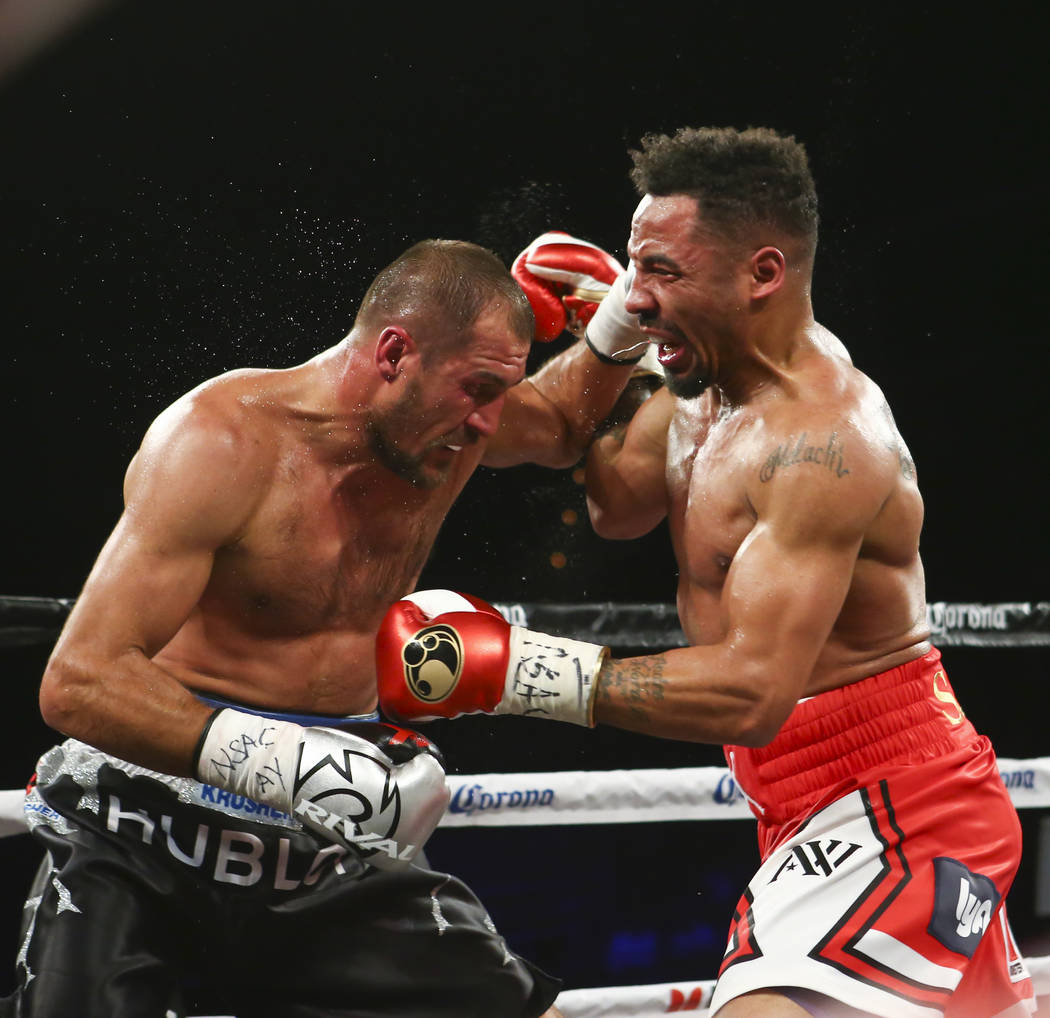 The first time Andre Ward and Sergey Kovalev met the post-fight hashtags were "robbery" and "favoritism" by the judges.
After the rematch, quick stoppage and low blows were the phrases often used. But Ward didn't want to hear it Saturday night after he knocked out Kovalev in the eighth round at the Mandalay Bay Events Center.
"We're not going to knitpick tonight," Ward said. "I really don't have a lot to say about what they said. Whatever the excuses were this time, I just don't have the energy."
Kovalev and his promoter, Kathy Duva, had a lot to say about the multiple low blow shots Kovalev took and referee Tony Weeks' stoppage at 2:29 of the eighth round. They called it premature and criticized Weeks' officiating for not protecting Kovalev.
Duva said she asked the Nevada Athletic Commission for an instant replay analysis on the potential low blows and was denied. She plans to file an appeal Monday on the results.
Ward was leading 67-66 on Dave Moretti's and Glenn Feldman's scorecards at the time of the stoppage. Steve Weisfeld had it 68-65 for Kovalev.
"I'm having a hard time processing what I just witnessed. I saw someone who should have been disqualified (instead) of get his hand held up," Duva said as many Ward fans in the media center booed. "If you're a fan, shut up. We're here to work. If you're Andre Ward fans, it's not your place to talk.
"(Kovalev) got hit with three low blows. Four, actually, in the last round … I've never seen anybody knocked out on a low blow until tonight. I hope I don't have to ever see it again."
It was a rough night for the commission after having controversial endings to the final two fights of the card.
In the co-main event, Guillermo Rigondeaux was awarded a first-round knockout after drilling Moises Flores with an uppercut seconds after the bell had rung.
Flores was laid out on the canvas motionless, but some might argue he flopped in an attempt to win the WBA junior featherweight belt on a disqualification.
Referee Vic Drakulich didn't know what to rule and went over to talk to fellow referee Robert Byrd and NAC executive director Bob Bennett, causing minutes of delay.
"Roc Nation got away with two fights tonight," said Egis Klimas, Kovalev's manager, about Rigondeaux's and Ward's promotional company. "Rigondeaux was holding a guy on the head, which is completely illegal … and Ward got away with the low blows.
"We don't have a beef with Ward. We have a big beef with the referee."
Duva, who operates Main Events, told reporters she doesn't plan on returning to Las Vegas.
World's best boxer?
Ward and Kovalev have delivered two close fights with controversial endings, but it's hard to argue against Ward being the better of the two after taking a 2-0 lead in the series. Ward won a highly debated unanimous decision in November.
The 2004 Olympic gold medalist made it an emphasize to attack Kovalev's body in the rematch, but a handful of the shots went below the belt. Ward, however, did tire out the Russian and stunned him with a power right hand to solidify his second victory.
"Ward was a lot better this time," said Kovalev, who called the first fight a robbery. "But I wasn't hurt. The referee didn't let me continue for the next four rounds. It was a close fight."
Ward, the WBA/IBF/WBO title holder, now has a strong case to be considered the best boxer on the planet, but he might need one more signature victory to convince the naysayers of his controversial wins over Kovalev.
The Oakland, California, native could fight WBC champion Adonis Stevenson to unify the light heavyweight division. But that could be too much of a hassle at the negotiating table since Stevenson is with Showtime and Ward with HBO.
The road is more murky for Kovalev, who got exposed by Ward twice. Ward proved that Kovalev's power can be taken away by fighting in the clinch to wear him down.
"I don't know what's next," Ward said. "Maybe cruiserweight. Maybe heavyweight."
Contact Gilbert Manzano at gmanzano@reviewjournal.com. Follow @gmanzano24 on Twitter.
Review-Journal's P4P list
1. Gennady Golovkin
2. Andre Ward*
3. Terence Crawford
4. Roman "Chocolatito" Gonzalez
5. Saul "Canelo" Alvarez
6. Vasyl Lomachenko
7. Errol Spence
8. Keith Thurman
9. Mikey Garcia
10. Manny Pacquiao
*Defeated Sergey Kovalev for a second time Saturday at the Mandalay Bay Events Center