Bob Arum's Top Rank ahead of the curve by ditching HBO for ESPN
Updated July 14, 2017 - 11:49 pm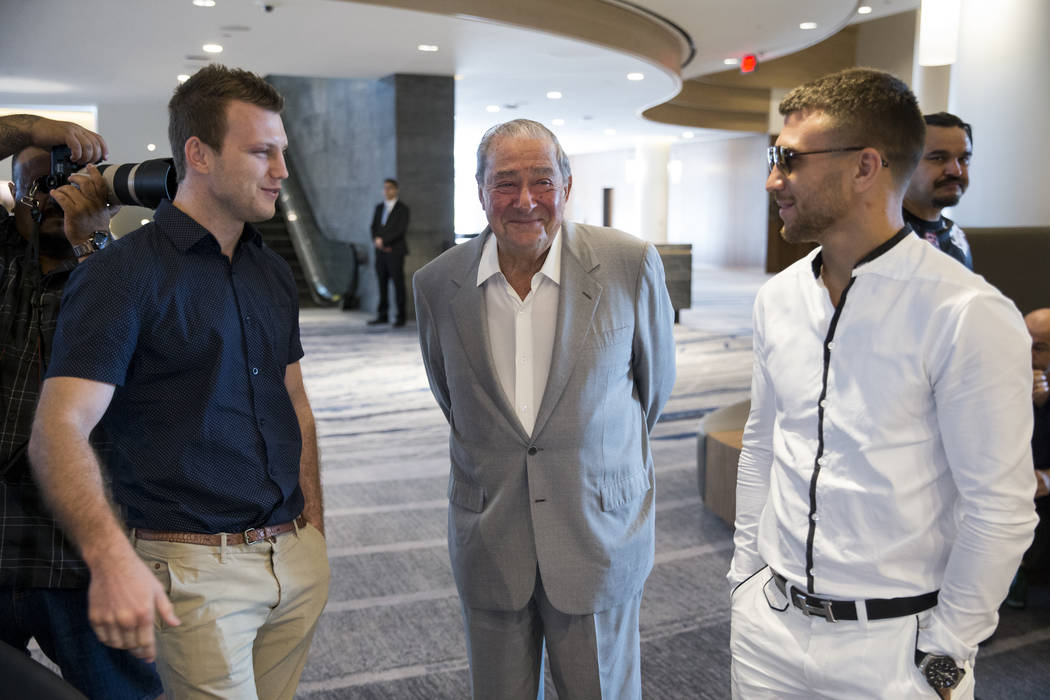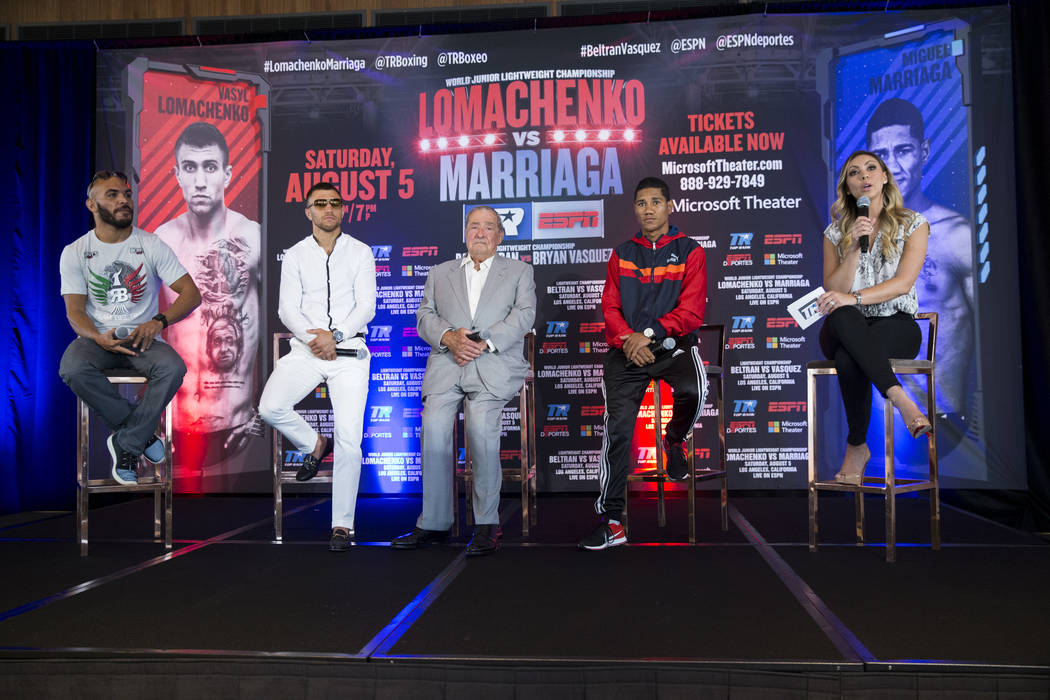 LOS ANGELES — Top Rank promoter Bob Arum and UFC president Dana White have thrown verbal jabs at each other for many years through the media.
White flung the most recent dig Tuesday during the Floyd Mayweather-Conor McGregor news conference in Los Angeles when discussing negotiations for the blockbuster cross-sport bout.
"Just goes to show you what an (expletive) Bob Arum is, actually," White said. "I literally got in a room with those guys. It was one of the easiest deals I've ever done."
It took Arum and Mayweather's team almost six years to reach an agreement before Mayweather faced Arum's fighter, Manny Pacquiao, in 2015 at the MGM Grand Garden.
Arum hasn't responded to White's latest shot, but he did have nice things to say about the UFC when discussing his ESPN deal Wednesday after the Vasyl Lomachenko-Miguel Marriaga news conference.
"The UFC showed us that you need free television to advertise your product to people to become familiar with," Arum said. "Their deal with Fox helped make UFC the product it became, while we in boxing were limiting ourselves to premium networks."
Top Rank's first fight on its new multifight deal with the cable sports giant was a huge success. The Pacquiao bout against Jeff Horn on July 1 delivered the most-watched boxing event on cable since 2006.
Pacquiao-Horn peaked at 4.4 million viewers, the highest-rated boxing event on ESPN since 1995. Las Vegas led the way as the top local market that tuned in for the bout.
"I always believed that once we could get our best product on a network like ESPN, with the way ESPN promotes its shows with college football, professional football, that we would do (big) ratings," Arum said.
"Nothing against HBO and Showtime, but they are premium channels that mostly do entertainment and a little bit of sports and boxing. They are not sports stations, and no one covers sports better than ESPN."
Arum and his Las Vegas-based promotional company have had the majority of their fights on HBO since the premium cable channel got into the boxing business in the 1980s.
HBO has drastically cut back on its boxing budget and has recently done poor pay-per-view numbers when the event doesn't feature Mexican superstar Saul "Canelo" Alvarez.
Top Rank created its own TV crew and has produced its own pay-per-view events in the past year.
"We limited our market to that premium television, which was really in the business of selling 'The Sopranos' and selling other great shows to subscribers, that didn't have the bandwidth to promote the sport," Arum said. "Initially, they did and then it was less and less, so you see a fight like we had with Sergey Kovalev-Andre Ward on pay per view, and HBO was scripting, they did the old tired '24/7,' which was never revised. They put it on after some show and it maybe did 100,000 viewers.
"That's not the way to promote a major sport. UFC knew how to promote a major sport using FS1, using Fox. Doing product free to the public, so when they did a PPV show they had a built-in audience."
Many promotional companies, including Top Rank, have done deals with ESPN and other cable stations over the years, but most have failed since it was strictly events featuring prospects, while HBO and Showtime got the stars.
Arum said he's all-in with allowing ESPN to televise Top Rank's biggest stars, including Pacquiao, Lomachenko and Terence Crawford. The exciting Lomachenko is next up on the ESPN schedule on Aug. 5 when he defends his junior lightweight title against Marriaga.
On Aug. 19, ESPN will broadcast a rare undisputed title matchup between Crawford and Julius Indongo for the four major belts in the junior welterweight division.
"We were giving ESPN crap before," Arum said. "It was hard to get them on board because of that, but we said there are no boundaries. We will give you our best product.
"This isn't Joe Jones against Bill, the prospect. No, we'll give you Lomachenko and Crawford and Pacquiao."
Contact Gilbert Manzano at gmanzano@reviewjournal.com. Follow @GManzano24 on Twitter.