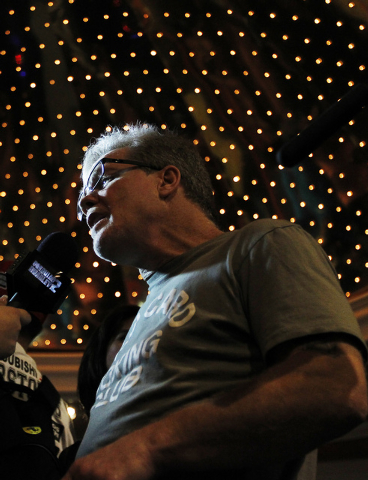 When Manny Pacquiao found himself flat on his back after walking into Juan Manuel Marquez's right hand at the end of the sixth round on Dec. 8, 2012, he got up with the knowledge that his family was still very much in his corner.
That included the man standing in Pacquiao's corner, trainer Freddie Roach.
When things are going good and victories are routine, it's easy to get along with everyone. But lose, especially the way Pacquiao did that night against Marquez at the MGM Grand Garden, and watch everyone jump ship.
Roach never considered taking that path. His loyalty and friendship to Pacquiao cuts too deep.
And as the 35-year-old congressman from the Philippines winds down his boxing career, he can count on Roach to be there for him. He'll be there Saturday at the MGM when Pacquiao looks to avenge his controversial split-decision loss to Timothy Bradley on June 9, 2012, that cost him his World Boxing Organization welterweight championship.
And Roach said he'll be there for Pacquiao long after he retires from boxing.
"We've had a great run," Roach said of his association with Pacquiao, which began in 2001. "But we have the kind of relationship that goes beyond boxing. I trust Manny, and Manny trusts me. It's much more than just a typical fighter-trainer relationship."
Pacquiao said: "It's more like family with me and Freddie. I trust my life to him."
Pacquiao is 100 percent sincere when he says that. He has said many times that if Roach tells him it's time to quit, he will walk away from boxing.
"I always trust Freddie's judgment," Pacquiao said. "We've known each other for a long time, and I know that he wants what's best for me and my family."
Both have plenty of motivation entering Saturday's rematch. Pacquiao admitted Tuesday that this training camp was unique for him.
"We did a lot of different things in this camp," he said. "We had Justin (Fortune, conditioning coach) come in and work to develop my strength and my muscles, because we've focused on being more aggressive in this fight than the last one."
Roach said he knows Pacquiao (55-5-2, 38 knockouts) still has a killer instinct. And while Pacquiao hasn't stopped an opponent since he flattened Miguel Cotto in 2009, Roach said he thinks Pacquiao can generate enough aggression to stop Bradley (31-0, 12 KOs) and regain the title.
"I think we had moments in that fight where we hurt him," Roach said. "I don't want Manny to show Bradley any pity."
Pacquiao said he is doing something else for this fight that he doesn't normally do — create his own motivational scenario. Bradley has said he is going to end Pacquiao's career, which is the usual rhetoric one would expect to help hype a fight. Normally, Pacquiao couldn't care less what an opponent says. But this time, he's taking Bradley's message to heart.
"Manny said to me, 'Can you believe what (Bradley) said about me?' " Roach said. "He never does that. So if that's going to motivate him for the fight, great. I'm all for it."
The last time Pacquiao was motivated like this, he dominated Antonio Margarito on Nov. 13, 2010, in Arlington, Texas. Margarito, his trainer, Robert Garcia, and fellow fighter Brandon Rios were caught on camera before the fight taunting Roach, who has Parkinson's disease. The video angered Pacquiao, who defended Roach's honor in the ring.
That night, Pacquiao showed his relationship with Roach went beyond the normal one between fighter and trainer. Margarito might as well have messed with Pacquiao's family with his antics.
And when Pacquiao fought Rios on Nov. 24 after Garcia and Roach had a run-in in Macau the week of the fight, Pacquiao also made Rios pay by dominating him for 12 rounds. Now, he plans to do the same to Bradley.
"We are in this together," Pacquiao said of he and Roach.
Contact reporter Steve Carp at scarp@reviewjourrnal.com or 702-387-2913. Follow him on Twitter: @stevecarprj.