David Lemieux looks to reshape image in comeback fight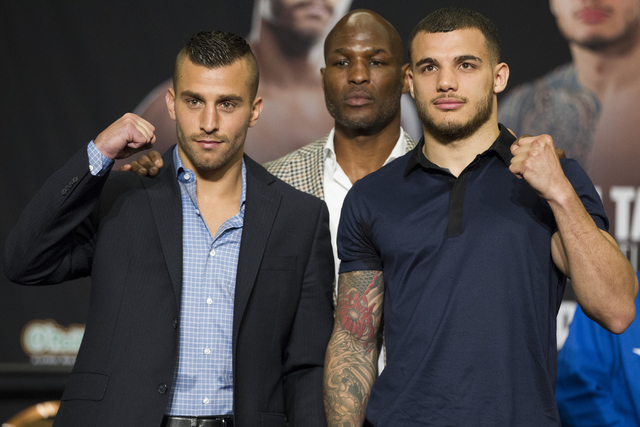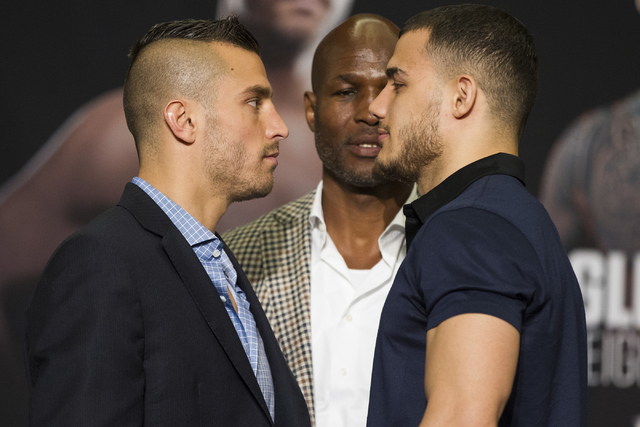 David Lemieux's image has drastically changed since stepping into the ring with Gennady "GGG" Golovkin in October.
Lemieux was once viewed as the dangerous power puncher from Montreal.
He's now just another guy on Golovkin's long list of knockouts. The boxer known as "Triple G" pummeled Lemieux into an eight-round technical knockout.
To make matters worse for Lemieux, he failed to make weight in March for a comeback fight in Canada.
Lemieux has lost his sizzle in the boxing world, but he's own up to his mistakes by facing the media this week leading up to his fight against Glen Tapia in the 10-round undercard main event of Canelo Alvarez-Amir Khan tonight at T-Mobile Arena.
The 27-year-old Canadian accepted all the uncomfortable questions regarding his setback loss and weight issues.
Lemieux (34-3, 31 knockouts) didn't flinch when James de la Rosa — the opponent he would have faced if he made weight in March — threw an oral jab during the undercard news conference Thursday at the MGM Grand.
"We all know David is going to make weight this time, isn't that right?" said de la Rosa, who opens the Canelo-Khan card against Jason Quigley.
Lemieux got the last jab in when he made his way to the podium.
"And regarding James de la pollo (chicken in Spanish), we made weight," a smiling Lemieux said with two thumbs up.
Lemieux told the truth. He stepped onto the scale Friday at 160 pounds, right at the middleweight requirement. Tapia (23-2, 15 KOs), who is making the jump from junior middleweight, weighed 159.5.
Lemieux's purse is $200,000, and Tapia will make $150,000. The vacant North American Boxing Organization title will be up for grabs.
Tapia, a 26-year-old from New Jersey, hasn't fought since losing to Michel Soro in May 2015. Tapia is viewed as the heavy underdog and a confidence-booster opponent for Lemieux.
Lemieux could be in line for another title fight with a win, but he's not looking past Tapia.
"Boxing is a very dangerous sport," Lemieux said. "You can't jump ahead of time. First you got to get your A before you get your B. So we're going to take proper care of Glen Tapia. I can't take him lightly. He's a serious opponent and then the doors will be open."
Lemieux, a former International Boxing Federation middleweight champion, looked lean during his media workout Wednesday. He displayed power during his sparring session, as the punches boomed off his trainer's pads.
Lemieux hopes his Las Vegas debut is the start of a comeback trail.
"This is my first fight in Vegas; let's see how this one rolls," Lemieux said. "Vegas is huge, it's the center of the world in boxing. I'm ready."
Contact Gilbert Manzano at gmanzano@reviewjournal.com or 702-383-0492. Follow him on Twitter: @gmanzano24