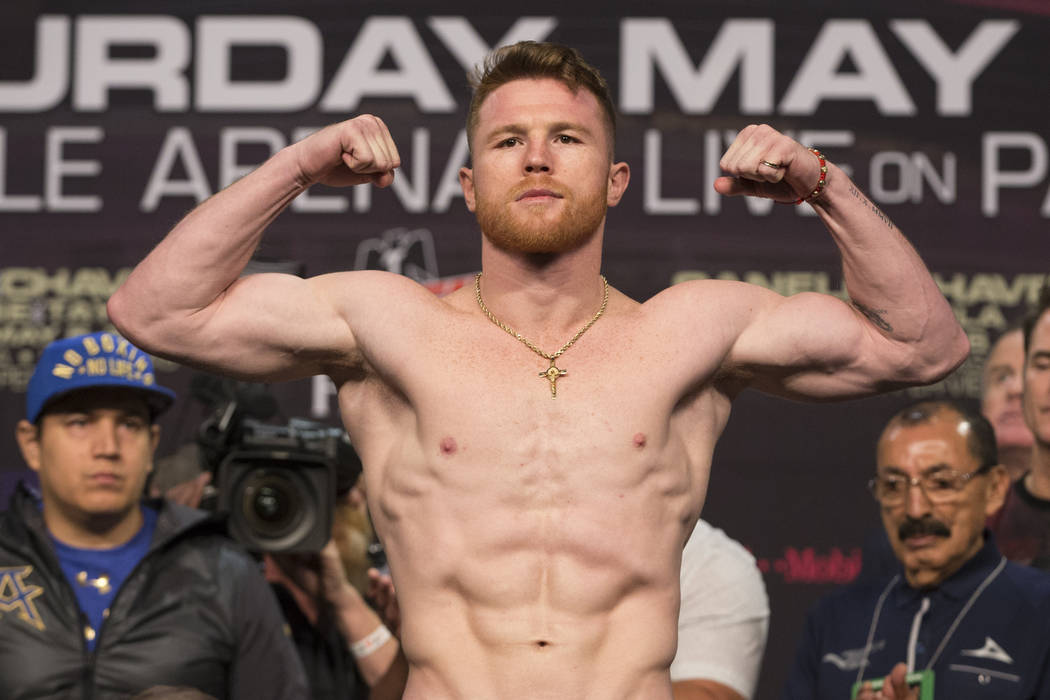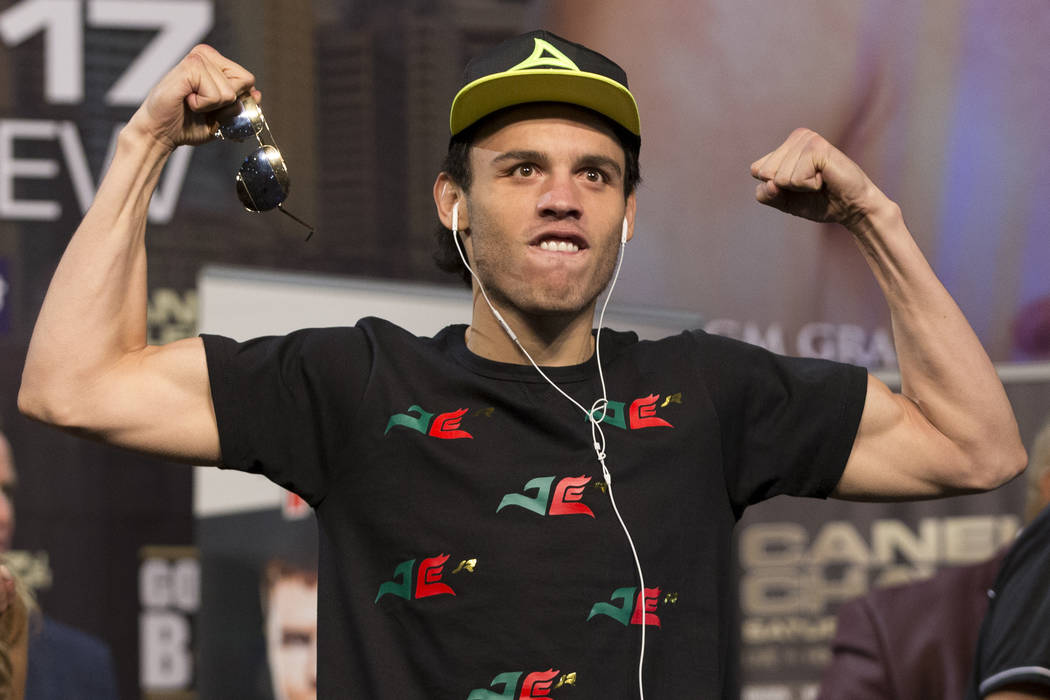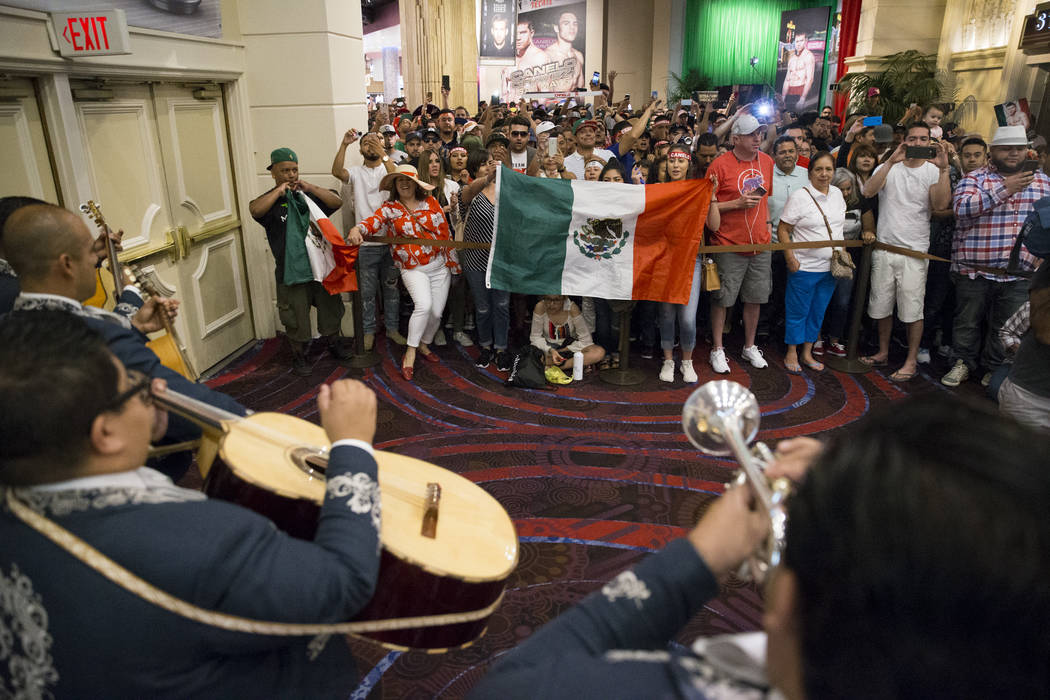 Hundreds of boxing fans packed the MGM Grand Garden on Friday to witness if Saul "Canelo" Alvarez and Julio Cesar Chavez Jr. would make the 164.5 weight limit.
Most weigh-ins are uneventful, but when Chavez is on the main event, there tends to be drama the day before the fight.
Chavez, who hasn't fought under 168 pounds in five years, needed to meet the weight requirement to avoid a $1 million fine for every pound he went over, and most importantly, not put Saturday's bout in jeopardy. Chavez will face Alvarez at the T-Mobile Arena on an HBO pay-per-view event.
Fans from both sides were on edge waiting to see if Chavez came through. It wasn't the usual wild scene when two Mexican fighters clash.
Turned out the son of the Mexican legend with the same name didn't need the extra half pound for insurance. Michael Buffer announced Chavez stepped on the scale at 164 pounds as the crowd erupted and the Mexican party was on.
"I feel like 168 is too heavy for me," said Chavez, who has missed weight multiple times since losing his middleweight belt in 2012. "I love the way I feel. I'm light, I'm faster, and I actually feel more powerful.
"It's not that I feel proud, it's my job to make weight. I can't give Canelo any advantages. … I had to make sure that I was at top shape to win."
There weren't concerns about Alvarez, who has never fought above 155 pounds.
Alvarez is known for being one of the hardest workers in boxing, and he proved that again with a ripped physique of 164 pounds.
The Mexican superstar doesn't have the size advantage against the taller Chavez, but he'll be the favorite among the fans and sports books. Alvarez is a minus-600 favorite and Chavez is a plus-450 underdog, according to VegasInsider.com.
"I think I'll come in around 180 to 190 on fight night," said Chavez, 31. "Most likely 185 because I don't want to be too heavy."
Alvarez's purse for Saturday's fight will be $5 million and Chavez will get $3 million, according to the Nevada Athletic Commission.
Fans of Alvarez could be heard chanting "Ca-nel-o! Ca-nel-o!" on the MGM Grand casino floor.
The cheers became louder when the red-haired sensation appeared on the scale with a sprinkle of boos mixed in.
Women screamed at the top of their lungs for him. Men under 40 threw up their fists and repeatedly shouted Alvarez's nickname.
Alvarez, 26, has taken over as boxing's biggest superstar since Floyd Mayweather Jr. retired in 2015, and that became evident this week. Alvarez (48-1-1, 34 knockouts) and Chavez (50-2-1, 32 KOs) will draw close to 21,000 spectators at T-Mobile Arena, which would be the largest attendance for an indoor boxing event in Las Vegas.
But not everyone is on the Canelo bandwagon, especially the older crowd.
Chavez's father is practically a saint in Mexico, and still holds a strong fanbase that roots for anyone with the Chavez family name. Chavez Sr. was the king of Mexican boxing in the 1980s and 1990s.
"No, his fans will always be his fans," said Alvarez when asked if he's hoping to win over the Chavez fans. "That's how it's going to be."
The older Latino community has backed the younger Chavez during fight week. Red headbands with the Chavez name were visible among the sea of Canelo shirts on Friday.
Alvarez is heavily admired in Mexico and among the Mexican-American community, but not everyone is buying the hype.
A portion of Mexican natives believe Alvarez is a pretty face diva who doesn't give it his all in the ring.
Most Mexican boxing fans want to see blood, sweat and tears in the ring before giving approval. They have yet to see Alvarez engaged in a bout similar to what Erik Morales and Marco Antonio Barrera displayed against each other on three occasions.
Alvarez's brand also took a bit of a hit last year when he didn't fight Gennady "GGG" Golovkin.
Boxing's biggest star was asked if he needs to defeat Chavez on Saturday and Golovkin in September to win back the fans he lost or never had.
"The criticism will never stop," Alvarez said. "If I beat Chavez … then if I beat Golovkin, then another one will come up, then another, and that's life."
The criticism will never stop, but victories over Chavez and Golovkin would only improve his legacy.
"I want to be remembered as one of the greats," Alvarez said.
Follow all of our boxing coverage online at reviewjournal.com/boxing and @RJ_Sports on Twitter.
Contact Gilbert Manzano at gmanzano@reviewjournal.com or 702-383-0492. Follow @gmanzano24 on Twitter.