Mayweather stands firm on plan to retire after Berto fight
September 2, 2015 - 10:45 pm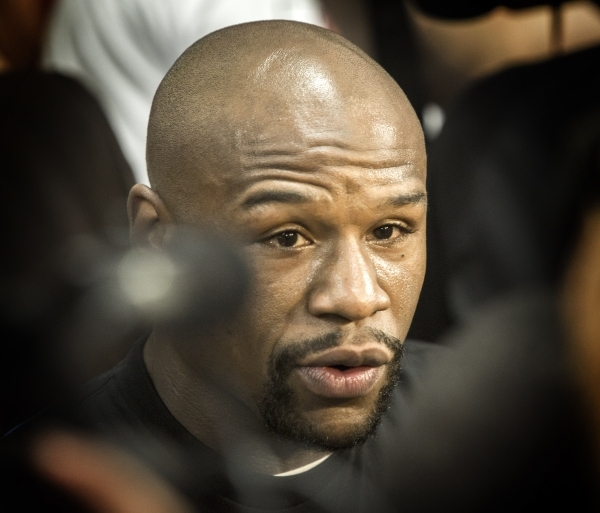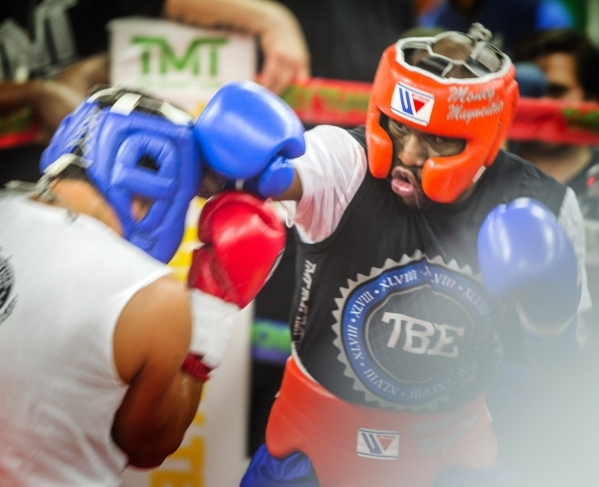 As the days dwindle down to what he claims will be his final appearance in the ring, Floyd Mayweather Jr. said he's fine with everything leading up to his Sept. 12 fight with Andre Berto at the MGM Grand Garden.
Speaking to reporters Wednesday on a conference call to promote the bout on Showtime Pay Per View, the last of his six-fight deal with the cable network, the 38-year-old said people need to take him seriously when he says this will be his final fight.
"This is it," he said. "My health is more important than anything. I have a sharp mind, and I want to leave the sport the same way."
Said his manager, Leonard Ellerbe: "Why can't he go out the way he wants?"
Mayweather (48-0, 26 knockouts) said there's not much he will miss about boxing and that he has plenty to occupy his time when he retires. Ellerbe said he received three movie proposals in the past week, and while Mayweather said he would prefer to be behind the scenes, maybe he can be the next Marvin Hagler and do movies after he's done with boxing.
As for Berto (30-3, 23 KOs), Mayweather again said he did not overlook his opponent and trained even harder than usual for the fight.
"The older you get, the harder you have to work," he said. "It's like in football, they say, 'On any given Sunday.' For me, it's 'on any given Saturday.' Berto is coming in with nothing to lose. That makes him dangerous. So I sparred more, and I pushed myself a lot more for Berto than I did for the (Manny) Pacquiao fight.
"I'm not overlooking this guy. I want to win just like he does."
Unlike his previous fight May 2 against Pacquiao that did record numbers, Mayweather's upcoming bout has the feel of ones against Robert Guerrero or Marcos Maidana or Victor Ortiz.
Yes, there's interest, but not the kind that is generating huge demand. The fight isn't sold out, and at $75 for the pay per view, some are prediciting Mayweather-Berto might do less than 1 million buys, a far cry from the 4.4 million purchases at $100 apiece for Pacquiao.
When asked what would be a good pay-per-view number for the Berto fight, Mayweather declined to answer.
"We'll just have to see," he said. "I hope we do a good number."
Another reason there might be a perceived lack of buzz is that many fans and most of the boxing media don't believe this is the end for Mayweather. If he beats Berto, he'll improve to 49-0 and tie Rocky Marciano's record.
The $375 million, 20,000-seat MGM-AEG Arena will open in April. Many believe Mayweather will change his mind and go for 50-0 in the new facility behind New York-New York as its first sporting event.
Ellerbe said no one from the MGM has talked to Mayweather about opening the arena.
"We have not been approached by the MGM," Ellerbe said. "We have a great relationship with the MGM, and I'm sure whatever they decide to do will be great."
Mayweather said he's not aware of the criticism over his selection of Berto and that he's not bothered by what is being said and written.
"No one's forcing anyone to watch," he said. "If you want to watch, watch. If you don't want to watch, don't watch."
Mayweather said the only regret of his career was he didn't have adviser Al Haymon in his corner from the beginning. Mayweather left Top Rank to work with Haymon in 2006 after Bob Arum signed him after the Olympics in 1996.
But Mayweather sounded very much like someone who is indeed ready to move on, help grow his boxing promotional company, oversee his children's education and enjoy his life.
"I'm going to be TBE (The Best Ever) till the day I die," he said.
Contact reporter Steve Carp at scarp@reviewjournal.com or 702-387-2913. Follow him on Twitter: @stevecarprj.